Activities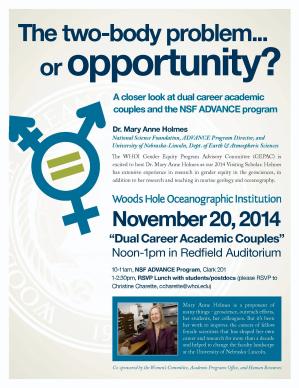 Related Files




GEPAC Calendar of Events
Link to GEPAC's Google Calendar



Visiting Scholar Program, 2014



Dr. Mary Anne Holmes
National Science Foundation, ADVANCE Program Director, and University of Nebraska-Lincoln, Dept. of Earth & Atmospheric Sciences


Thurs. November 20, 2014

10-11AM, Discussion about NSF ADVANCE Program, Clark 2-01 (Fuglister Room)
12-1PM, Presentation on Dual Career Academic Couples, Redfield Auditorium
1-2:30PM, RSVP lunch with students/postdocs, Smith Conf. Room (please RSVP to Christine Charette, ccharette@whoi.edu)

Co-sponsored by the Women's Committee, Academic Programs Office, and Human Resources

GEPAC is excited to host Dr. Mary Anne Holmes as our 2014 Visiting Scholar. Holmes has extensive experience in research in gender equity in the geosciences, in addition to her research and teaching in marine geology and oceanography. She will be presenting a talk on the topic of Dual Career Academic Couples and will also lead a discussion of the NSF ADVANCE Program.

Holmes led the Dual Career Assistance initiative at University of Nebraska-Lincoln, a successful program developed to aid recruitment, hiring, and retention for dual career academic couples (for more, see http://www.nature.com/naturejobs/science/articles/10.1038/nj7415-327a).

Holmes recently took the helm for the NSF ADVANCE Program (http://news.unl.edu/newsrooms/unltoday/article/holmes-takes-work-to-nsf/). Goals of the NSF ADVANCE program include developing innovative and sustainable ways to promote gender equity in the STEM academic workforce (http://www.nsf.gov/crssprgm/advance/index.jsp).

Holmes is also co-author for the chapter "The New STEM Faculty Profile: Balancing Family and Dual Careers" in the new book "Gender Transformation in the Academy." She previously served as president of the Association for Women Geoscientists. Holmes received a Ph.D. in Marine Geology from Florida State University.



Visiting Scholar Program, 2013


Convinced that negotiation requires bluffing, steamrolling, and playing hardball, many people avoid negotiating whenever they can. Find out how to improve your skills at 'Personal Fulfillment, Professional Success, and the Power of Negotiation: What Women—and Men—Need to Know' presented by Sara Laschever. The seminar will be at 2pm on October 17, 2013 in Clark 507. A question and answer session will follow at 3pm with light fare and drinks. Co-sponsored by the Women's Committee (http://www.whoi.edu/page.do?pid=36355), Academic Programs Office, and Human Resources.
Laschever is co-author of the the book "Women Don't Ask: The high cost of avoiding Negotiation--and positive strategies for change," and she also worked as a research associate for Project Access, a Harvard University study funded by NSF, ONR, and the Bunting Institute. Two books published from Project Access included "Gender Differences in Science Careers: The Project Access Study" and "Who Succeeds in Science? The Gender Dimension."
(http://saralaschever.com/womendontask/Home.html)




Co-sponsored speaker, 2012


On 12 March 2012, GEPAC co-sponsored a seminar on "Why smart people suffer from the Imposter Syndrome," by Valerie Young (http://www.impostorsyndrome.com/valerie-young/).
Link to announcement on Women's Committee website



Visiting Scholar Program, 2011


Dr. Kathleen Flint Ehm
National Postdoctoral Association's ADVANCE: From Postdoc to Faculty: Transition Issues for Women Scientists
Website
Presentation in Redfield Auditorium on July 19, 2011 (please click on file in upper right of this page)
Other presentations by Flint Ehm



Visiting Scholar Program, 2009


Gender bias and a dozen other cognitive errors — How can we rise above them?
This workshop focused on unintended biases and other cognitive shortcuts that many of us unwittingly rely on during evaluation and peer review processes.

How we can learn to self-correct and rise above these errors?
What institutional practices would prompt and nudge us to perform this self-correction?
Workshop Leader
Dr. JoAnn Moody, PhD, JD, a national specialist in faculty development and diversity who works with a wide variety of campuses and professional schools. (Website: diversityoncampus.com)

The workshop was held on May 12, 2009 at 4:15 p.m. Clark 507, followed by an informal reception.

» Link to summary of recommendations that came out of this workshop



Visiting Scholar Program, 2008


Dr. Joyce Yen, Program/Research Manager of The University of Washington's ADVANCE Center for Institutional Change, conducted a workshop that included the Implicit Association Test (IAT) to a group of 15 people.



Visiting Scholar Program, 2007




Its a Jungle Up There - Juggling Family and Career as a Tropical Biologist
by Margaret Lowman, Director of Environmental Initiatives, Professor of Biology and Environmental Studies, New College of Florida

Sponsors
Director of Research, Gender Equity Program Advisory Committee, Women's Committee, Committee on Work & Family Life.

Time, Date and Place
Monday, January 8, 2007, 3:30 p.m., Clark 507
Reception to follow

Speaker Bio
Meg Lowman (aka Canopymeg) is the Director of Environmental Initiatives at NewCollege, the premier honors college for the State of Florida, with professorships in biology and environmental studies. Meg received a B.A. with honors in biology and environmental studies from WilliamsCollege (1976), M.Sc. in ecology from AberdeenUniversity (1978), and Ph.D. in botany from the University of Sydney (1983).Her expertise involves forest canopy ecology, particularly plant-insect relationships, and spans over 25 years in Australia, Peru, Africa, the Americas, and the South Pacific. She has authored over 95 peer-reviewed publications and three books.Previously, Lowman served first as Director of Research and Conservation and then Chief Executive Officer of Selby Botanical Gardens, and before that was a professor in Biology and Environmental Studies at Williams College, Massachusetts where she pioneered temperate forest canopy research. Working in Australia on forest ecology, she was instrumental in determining the causes of the eucalypt dieback syndrome that destroyed millions of trees in rural Australia, assisted with conservation programs for tree regeneration, and ran a successful ecotourism business in the outback.

Meg has a passion for science education and frequently speaks about her jungle adventures and about rain forest conservation to educational groups, ranging from elementary classes to corporate executives to international conferences.She received the Margaret Douglas Medal for Achievement in Conservation Education from the Garden Club of America (1999), The Eugene Odum Prize for Excellence in Ecology Education from the Ecological Society of America (2002), election to Leadership Florida (1997), serves on Board of Directors for the Explorers Club, and is part of the senior management team of NEON for the National Science Foundation. Carolyn Shoemaker of the US Dept of the Interior named an asteroid after her (2003). She co-chaired the First and Second International Conferences on Forest Canopies (1994, 1998), and was chief scientist for the Jason Project in Education (1995, 1999, 2004). Two of her books, Life in the Treetops, and It's a Jungle Up There document the challenges of juggling parenthood and career involving intensive field-oriented scientific research. For more information about Meg please see her website (www.canopymeg.com ).





WHOI Gender Equity Update, June 2005


The following Powerpoint presentation was given at Institution-wide meetings held on June 20 and 23, 2005. The presentation includes the results of a survey that was conducted in conjunction with the recent "Chilly Climate" workshops, and a summary of progress at the Institution since the 2000 Report of the Gender Equity Committee.

» View WHOI Gender Equity Update, June 2005 [PowerPoint presentation]





Visiting Scholar Program, 2004


MIT's response to A Study on the Status of Women Faculty in Science at MIT
by Nancy Hopkins, Amgen Professor of Molecular Biology at MIT

Sponsors
Director of Research, Gender Equity Program Advisory Committee, Tenured Scientists Executive Committee, Staff Committee, and Women's Committee.

Time, Date and Place
Tuesday, December 21, 2004 3:30 p.m. Special Presentation Reception to follow Clark 507

Speaker Bio
Nancy Hopkins is the Amgen Professor of molecular biology at MIT. She obtained a B.A. from Radcliffe College in 1964, a Ph.D. from Harvard University in 1971, and was a postdoctoral fellow of James D. Watson and Robert Pollack at the Cold Spring Harbor Laboratory. She has been a professor at MIT since 1973. Her research focus has been on retroviruses that cause leukemia in mice and more recently on the genetics of zebrafish development. She co-developed and taught the first freshman biology course required of all MIT undergraduates for which she was named a Class of 1960 Fellow. In 1995 Prof. Hopkins was appointed Chair of the first Committee on Women Faculty in the School of Science at MIT and in 2000 she was appointed Co-Chair with Provost Robert Brown of the First Council on Faculty Diversity at MIT. She is a member of the National Academy of Sciences, a fellow of the American Academy of Arts and Sciences, and a member of the Institute of Medicine of the National Academy of Sciences. She was recently presented with the Maria Mitchell Association 2004 Women in Science Award for her efforts to raise awareness about gender equity issues for women in academia.




An Introduction to the Chilly Climate, 2004


by Dr. Bernice Sandler

The committee is organizing an Institution-wide series of workshops entitled "An Introduction to the Chilly Climate" and run by Dr. Bernice Sandler (http://www.bernicesandler.com) that will take place during 2004. These workshops are designed to promote awareness of gender equity issues and provide strategies for rectifying them.

» Related Links



2006 Space Survey
2006 Space Survey
AOPE
M
F
Assistant Scientists
253 (4)
440 (2)
Assoc. Sci. w/o tenure
268 (1)
273 (1)
Assoc. w. tenure
210 (5)
____
Senior Scientists
251 (8)
____
Standard Deviation (all)...274
Biology
M
F
Assistant Scientists
831 (2)
1266 (1)
Assoc. Sci. w/o tenure
1282 (1)
____
Assoc. w. tenure
1284 (6)
907 (3)
Senior Scientists
1459 (10)
1728 (2)
Standard Deviation (all)...
677
Marine Geology and Geophysics
M
F
Assistant Scientists
339 (6)
481 (2)
Assoc. Sci. w/o tenure
334 (8)
484 (1)
Assoc. w. tenure
638 (5)
811 (2)
Senior Scientists
701 (12)
555 (3)
Standard Deviation (all)...
347
Marine Chemistry and Geochemistry
M
F
Assistant Scientists
754 (5)
974 (4)
Assoc. Sci. w/o tenure
978 (2)
___
Assoc. w. tenure
1049 (4)
1311 (1)
Senior Scientists
1219 (7)
___
Standard Deviation (all)...
292
Physical Oceanography
M
F
Assistant Scientists
140 (4)
130 (2)
Assoc. Sci. w/o tenure
158 (3)
178 (3)
Assoc. w. tenure
195 (3)
___
Senior Scientists
325 (20)
326 (1)
Standard Deviation (all)...
150




Key:

A number like 253 (4) means that 4 scientists in the indicated gender and rank group have an average of 253 square feet of lab plus office space.

Status of Action Items as of 2005
ACTION ITEMS

STATUS

ACTION TAKEN

1.

Review Salaries of Women Scientists:
a. Salary Analysis of Scientific Staff
Complete (pdf)
July 16, 2001
b. Review of Merit Increase Processes
Complete (pdf)
July 24 , 2001
2.
Review of Space Allocations

Part of campus planning

3.
Attract and Retain Women on the Scientific Staff
On-going
4.
Mentoring Activities:
a. Scientific Staff Handbook
Published (pdf)
December 21, 2001
b. Mentoring Committee
Complete
July 24, 2001
c. Pilot mentoring Program
Complete
2003-2004
d. Mentoring Program
Complete
January 2005
5.
Systems to Identify Why Candidates Decline Offers and Why Employees Leave WHOI:
a. Candidate Inquiry System
In Process
b. Exit Interview Program
In Process
6.
Develop and Maintain Records on Internal Reward/Award
Programs
Ongoing
7.
Guidelines on Bridge Support
Complete
April 6, 2001
8.
Examine Distribution of all Hard Money Support
In process
9.
Description and Definition of Discretionary Funds
Complete
April 6, 2001
10.
Examination of Committee Participation Ratios
In process
11.
Development Activities Report and Guidelines for Allocation of Support for these Activities
Complete
December 21, 2001
12.
Increase the Number of Women in the Postdoc Applicant Pool - Report and Action Plan
Complete (pdf)
August 6, 2001


Progress Report on Postdoctoral Scholar Fellowship Action Plan
Complete
June 13, 2003
13.
Initiation of Study Affecting Gender Climate in the Workplace

a. Climate Assessment Advisory Committee--Membership Charge
Climate Assessment Advisory Committee--Report and Recommendation (A Retrospective)

Complete
Complete (pdf)
July 24, 2001
January 8, 2002
b. Web Publication of Summary of 1988 Equity Climate Assessment Study
Complete (pdf)
April 6, 2001
c. Gender Equity Program Advisory Committee
Complete
January 2004
14.
Series of Talks Addressing Gender Equity Issues
In process

1. "Why So Slow? The Advancement of Women" by Dr. Virginia Valian

Complete

March 28, 2003
2. Kathleen Crane, Author of "Sea Legs, Tales of a Woman
Oceanographer"
Complete
June 27, 2003
3. Nancy Hopkins, "MIT's Response to a Study of Women Faculty in Science at MIT"
Complete
December 21, 2004