| | |
| --- | --- |
| ITP 12 Deployment Operations | |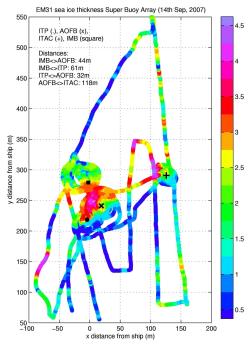 Ice thickness survey using the EM31 sled at the "Super Buoy" site, with marks at buoy deployment locations.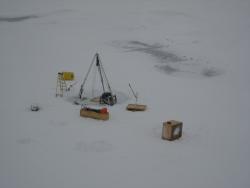 Aerial photo of the ITP deployment site after drilling the 11" diameter hole, but before deploying the instrument.
Photo by L. Rabenstein.

In the first summer of the International Polar Year (IPY), over the Lomonosov ridge of the central Arctic Ocean, a "Super Buoy Array" consisting of ITP12, IMB, AOFB and ITAC was deployed overnight by an international team of scientists from Alfred Wegener Institute for Polar and Marine Research, Shirshov Institute of Oceanography, and Japan Agency for Marine-Earth Science and Technology. The ice cover in the region was thin, making floe selection difficult. Helicopter, reconnaissance flights were conducted and floes several were landed on and drilled for thickness determinations. Once the floe was selected and the ship docked to it, a substantial ice thickness survey was conducted using an EM31 on a sled. The equipment for the buoys was lowered over the side and hauled to selected areas of the floe and deployed. Drilling the large diameter hole for the ITAC provided certain difficulties, but otherwise the systems were installed as expected.
More information on the Polarstern Expedition and DAMOCLES deployments in 2007 is also available at:
http://epic.awi.de/Publications/Hub2008g.pdf
http://www.damocles-eu.org/TBA99/Task_8_3_Integration_of_the_AOOS_DAMOCLES1.shtml
Photos and plots to the right courtesy of Ben Rabe except as noted.