| | |
| --- | --- |
| ITP 8 Deployment Operations | |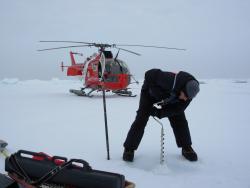 Kris Newhall augers a 2" hole through an icefloe to determine if it is the appropriate thickness for the deployment of ITP 8. Photo by Rick Krishfield.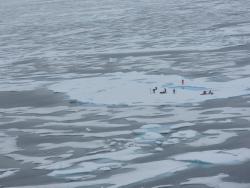 The only multiyear floe in the neighborhood. The selected icefloe for the ITP deployment stands out from the surrounding meager ice conditions. Photo by Rick Krishfield.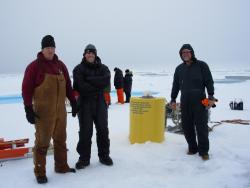 Jim Dunn, Kris Newhall and Rick Krishfield pose with ITP 8 shortly after deployment (not knowing that they would visit the same icefloe two years later to recover the instrument).

A survey by helicopter was conducted on August 11, 2007 to choose an icefloe between 3 and 5 m thick for deploying ITP 8. Extremely thin and loose ice conditions substantially limited the possibilities, but on the second landing, a suitable 3.49 m icefloe was found. After 5 flights to deliver the deployment team, apparatus and buoy, the ITP was installed after a routine 2.5 hour deployment. At the same, the icefloe was cored and surveyed by a team of scientists from UAF.
More information and photos on the deployment operation are also available at: http://www.whoi.edu/beaufortgyre/dispatch2009/dispatch17.html.