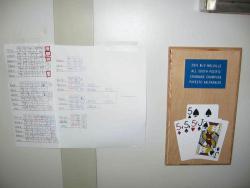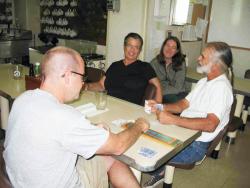 Wes (left) and Dave playing while Sheila and Wendi watch and cheer.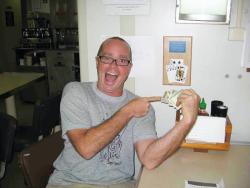 Liz Douglass
Well, the big event of this evening was the conclusion of the cribbage tournament. Tonight's final had been a long time in the making. The tournament started in the early days of the cruise, with 18 people ($5 buy-in, winner take all, plus a special trophy). Those 18 were divided into three groups of 6, who each played each other three games against each other, with a complex scoring system that included points for skunks and double skunks and perfect hands….overall, it was all very complicated, and I'm not sure of the details, as I didn't actually participate. I only know that for the first couple weeks of the cruise, someone was playing cribbage around any corner, at all hours of day and night (which isn't that unusual, as pretty much everything happens at all hours of day and night on a ship). Once we got to the second round, the excitement increased as people were eliminated. Finally, this evening arrived, when at 18:15, the captain Wes met Dave G. for the match -- best of three games.

It seemed that Dave was off to an incredible start, as he had a 24-point hand in the second half of the first game. In fact, he was only 5 points from winning game one when the captain pulled off an amazing come-from-behind victory. In the second game, Wes got the lead early on and never relinquished it. So in two games, Wes won the trophy, and is now off on a quest to find all the players who never paid their $5 in the first place.

Special thanks go to Wendi, who organized the tournament, and Dave, who created the trophy that he then lost in the final game. And congratulations go to the captain (who, as you can see in the picture, is very, very happy).