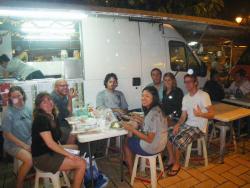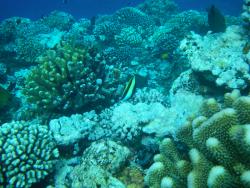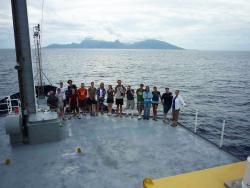 Departing crew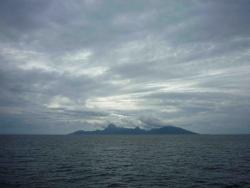 Liz Douglass
Welcome to the Leg 2 P6 Expedition Log! This part of the expedition started with all of us converging on Tahiti on New Year's Day. A few members arrived somewhat earlier to travel around the various islands, but by Jan 1 all 29 of the science team had arrived in Papeete (päpē'ātā). The Melville arrived (carrying many scientists happy to see dry land again) on Jan 2. It was a thrill for us to see the ship at long last and get ready to begin our part of this journey! We spent the next few days exploring Papeete while repairs were made to the ship and stores loaded for the next leg. There were many excursions had by all: hikes to waterfalls; snorkeling; surfing; and scuba diving. The water was warm and clear, and the coral, fish, and other wildlife was amazing -- including both sea turtles and sharks!

For the first two days of our time there, almost everything was closed for the New Year's holiday, but on Monday Jan 4, the whole city seemed to come alive, with shops on every corner selling all manner of things. The open-air marketplace was amazing, selling fresh fish, fresh fruit, and everything else from clothes to pearls to tattoos (fake or real). It was a thrill for us to be able to buy fresh pineapple, mango, and other tropical fruit, ready to eat. The weather was also rather different from home, especially for those of us from New England, who flew out during a blizzard and landed for midsummer in the tropics. The heat and humidity was intense enough that the afternoon showers were something of a relief, unless you were attempting to eat dinner at the "roulettes" -- little carts under the banyan trees selling very tasty local fare at good prices, but offering little protection from sudden, intense downpours. I don't think anyone escaped at least one dousing!

By January 5th, we had all moved onto the ship. We spent one last morning wandering the city, enjoying the experience and stocking up on last-minute necessities or things forgotten from home and generally trying to ensure that we had everything we'd need for 38 days at sea. At 4 pm local time, the R/V Melville loosed its mooring lines, slipped away from the pier and set sights for 32˚S, fully restocked with eager scientists ready to get going on our way to Chile and leaving Tahiti's mist-enshrouded mountains behind!