| | |
| --- | --- |
| Time on an oceanographic research cruise | |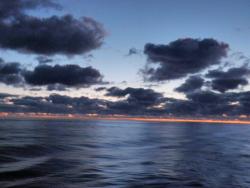 Beautiful view

Karen Stamieszkin
Jessica Lang swoons as a 1976 King Kong lifts her in his giant gorilla hand. The Melville is dressed as an exotic ocean liner and we complete the 100th cast of the CLIVAR P6 cruise. To celebrate, we play the movie on a computer monitor in the main lab, a couple of times. The following evening, I am bowled over when I realize that the time ticker in the lab reads 355 days, a few hours, some minutes and a handful of seconds: less than ten days before the new year begins. For a moment I wonder, "Are there actually 385 days in a year?" The answer of course is no; it's almost 2010.
The reality of time is painfully obvious to me right now. The days are marked only by the rise and set of the sun and moon. The most reliable marker of a week gone by is the steak that we eat every Sunday for dinner, and the occasional event, like the 100th cast, but who counts time in CTD rosette casts? Every day is the same, and every day is good. I feel as though I could have been aboard this ship for a week or a year.
On this cruise, we are trying to put the ocean into spatial and temporal scales that we can relate to, understand and predict. We seek to know, for example, how long it takes for seawater formed in Antarctica to make its way to the bottom of the Southwest Pacific Ocean. We are mapping the world's oceans into parcels of known size, origin and destination. And despite these immense efforts to compartmentalize and understand an entity as vast as the sea, our daily lives float along on currents that we have measured and graphed on paper. Time is quietly swallowed by the waves that rock us to sleep.