| | |
| --- | --- |
| Tropical storm Mick and my morning coffee | |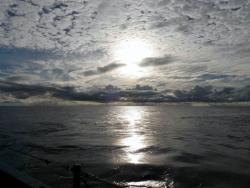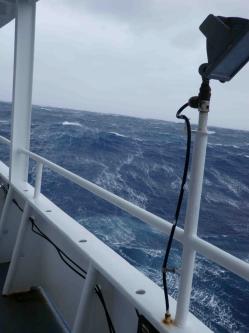 A picture taken from the upper deck on the day this entry was written. Right after I had gone out to take this picture, the Captain came out to tell me to get back inside. Getting slapped off the ship by one of those waves would be very bad.

Karen Stamieszkin
When my eyes open I am staring down at the floor with about five feet of empty space between a quick drop out of bed, maybe a sore limb or a bloody nose, and what has become a difficult night's sleep; talk about a rude awakening. With no time to spare, I turn over and am shortly serenaded to sleep by…sledgehammers? I realize that it is one o'clock in the afternoon and my shift begins in one hour; coffee must be made! I slide out of bed, and as I make my way out of the stupor of cloudy, all too conscious sleep, I become exceedingly aware of the fact that I am stumbling toward the bathroom like a drunk, being tossed off the ground by the residuals of a night on the town, and my stomach seems to be following suit. I pop a Bonine.
After dragging my bum up the stairs to the galley where coffee awaits, assuming that I can coordinate this morning ritual despite the tossing of the ship, I learn that we are on station in between high and low systems, in a swell produced by tropical storm Mick (must be an Australian storm). The sledgehammers were part of an attempt to secure a large table that houses a good deal of scientific equipment, after it slid a couple feet across the floor. "How are you; is your stomach ok," asks one of the scientists. "I'm fine," I half lie as I sip my (successfully!) brewed coffee.
Storms and rough seas are part of oceanographic fieldwork. There is a strong bias in oceanographic data toward good weather information, a fellow watchstander informed me, since no one wants to go out to collect samples with the assurance of a butt-kicking at sea. So here we are, with five kilometers of cable between our CTD rosette and ourselves, watching the tension on the cable go from near zero to over 4,000 lbs. I watch the tension bounce and am amazed at how fast the sea can change, and how we all have to change just as quickly, accepting that this is just how it will be for now: more challenging, more exciting, maybe even a little scary, but don't tell anyone I said that.