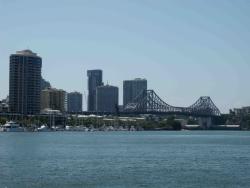 Enlarge image
Brisbane, in all its bridge-adorned glory!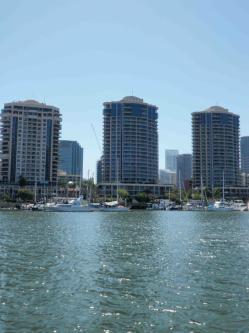 Enlarge image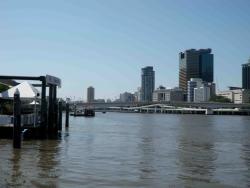 Enlarge image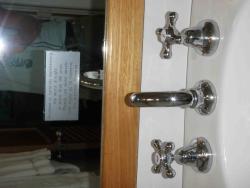 Enlarge image
What a surprise to find, displayed prominently in the hotel rooms of the Brisbane Quality Inn, a potential sign of the effects of climate change. Will we find any evidence as blatant as this at sea? This drought may be a part of the changing climate, but is it related to anthropogenic climate change?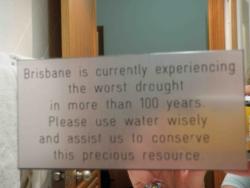 Enlarge image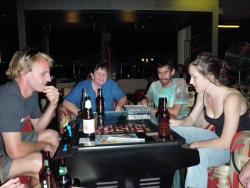 Enlarge image
Some of science party exhibiting their mad (Miss) Packman skillz at the Groovy Train restaurant/café, Brisbane
Brisbane, one of Australia's sparkling metropoli!
Karen Stamieszkin
I have only arrived in Brisbane from Cairns, Australia, a city further north in the state of Queensland. Brisbane is a beautiful, rather large city; it is very clean and very safe. It is situated up the Brisbane River, and has many bridges connecting its two banks. While modern and sheek like many large US cities, Brisbane has a European feel to it; it sports numerous outdoor cafes and restaurants, as well as an outdoor mall, complete with the latest fashions of Guess and Louis Vuitton. Fortunately for us, the dress code on the Melville is a good deal more relaxed than that for the cosmopolitan workforce of Brisbane. At first glance of my hotel room in Brisbane, I caught site of a plaque, explaining that Brisbane is experiencing the worst its worst drought in 100 years…climate change?
Introduction from Mimi Szeto
Mimi Szeto
Hi, My name is Mimi Szeto. I'm a graduate student at UNH and a CTD student watch stander on the CLIVAR P6. Literally just before I rushed to the airport, I handed in the final draft of my thesis on ocean optics to the UNH graduate school. With their approval, I should have a Master's degree soon! I'll be starting my Ph.D. at UNH in January. This is my first extensive cruise and I'm quite excited.
My thoughts on Brisy
Brisbane is a charming city. The downtown area has quite the metropolitan feel. Women are garbed in high fashion and heels, and the buildings and bridges have an avant-garde style to them.
Two of the best places to check out are the botanic garden and the South Bank (bank of the Brisbane River).
In the garden, you'll find all sorts of tropical vegetation like banyan fig trees, macadamia nut trees, grey mangroves, and birds of paradise flowers (Thanks to Liz, aka quarantine girl, also from UNH, I can remember these names!). There are also these ridiculous-looking birds with long narrow hooks for beaks that mark their territory here (not really in the literal sense, the park's pretty clean). Liz and I were fascinated by the Ibis birds, and then we found out they were a nuisance to the locals, kind of like the Canadian goose around our parts (New England).
South Bank looks like a city in itself. You can tell some developer must have some fun fixing this place up. A long lit-up walkway (looks like Christo's? Christe's orange walkway in Central Park without all the flags) lines the bank of the river and leads to a public infinity pool, as well as restaurants, shops, and bars. It's beautiful. Reminds me of Tsim Sha Tsui in Hong Kong where you can look across the river and see Victoria Peak above all the fancy buildings. How they city maintains the pool, I don't know. Frankly the New Yorker in me would be too scared to go in there no matter how gorgeous it is.
The people in Brisy are extremely nice. Liz and I were figuring out how to use the bus system, and a bus driver stopped his bus, stepped out and asked how he could help us! We had two other instances where people came up to us offering help. Maybe we just looked really confused.
Half an hour outside of downtown is the Loan Pine Koala Sanctuary where you'll find peacocks, iguanas, emus, kangaroos, koalas, tasmanian devils, warthogs?, carrawasies, lorakeets, bats, kookaburras, and lots more animals. We had a great time here learning about koalas and feeding wild lorakeets.