Down Under: A Glimpse of the Melville
Alison Mcdonald



We arrived in Brisbane this morning at 7:45 am (4:45 pm ET Nov 14th). I say we, because I met Ellen and Kevin in Los Angeles. They are both from WHOI. Ellen will be doing the helium/tritium measurements and Kevin is here to help set up. You can see them in the picture to right, or at least almost see them. It is a very bright morning and I am not good enough with the camera yet to get a picture of them inside with our plane in background out in the sun in one shot. We got through customs after ditching the apples and trail mix given to us on the plane and got a taxi to our hotels.

My drop off was first. Unfortunately, there are two Quality Inns on Kingsford-Smith Drive. I got my baggage, all two tons of it, out of the taxi and into the hotel, but the receptionist wasn't there. After waiting, ringing the bell and calling reception's number, but getting no response, I sent my friends and the taxi on their way. It turned out it was the wrong Quality Inn, so I pulled and carried my various pieces of luggage down the road to the other one. When I got there it was still only about 9:30 in the morning so my room wasn't ready, and they didn't have another to give me. So put my luggage in back closet, changed in my shorts (it's hot here, getting up to 35°C in the afternoon) and went out.

First stop: the original hotel where I thought I had left my airplane pillow. Nope, not there, I must have left it in the cab. Good thing it didn't cost much. Second stop: find a place that sells the Vegemite my son loves so much. Vegemite is a yeast extract, very salty and most Americans hate it, but I grew up on something very much like it and have passed that taste on to my son. I managed to find it and a post office (closed because it's Sunday) and then had brunch in an outdoor café (mushrooms on toast). I went back to the hotel, got my room, and afterwards took a walk down to the river where I was rewarded with the sight of a very small R/V Melville off in the distance across the water.


And that…was about all I could manage. I got back to the hotel and the next thing I knew it was the middle of the night.




Introduction from Karen Stamieszkin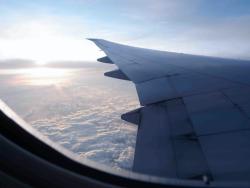 The sunrise over clouds, over the Pacific…a never-ending sunrise because when you fly west, you are "chasing" the sunrise. In other words, the earth is turning towards you as you fly over it. So you are relatively near to the sunrise for an extended period of time!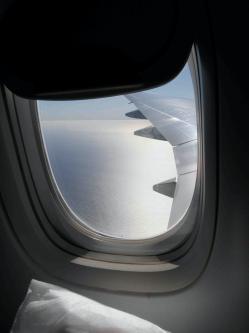 Now you can see the Pacific Ocean. And yes, it's a little daunting to think that we will be crossing that by ship.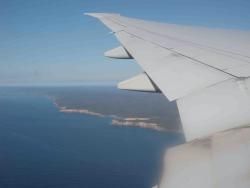 Land sweet land!! It looks boring and inconsequential now, but just wait until it's the first promise that you will be getting off the airplane after flying FOREVER!

Karen Stamieszkin
Hello! My name is Karen Stamieszkin; I am a CTD watch-stander aboard the R/V Melville, and will also be the primary liaison between you, and our scientists and crew throughout the P6 CLIVAR cruise. I will relay any questions you have for them, and return their answers to you, via this website. I would like to explain to you better what a CTD watch-stander does, but I have yet to learn. Generally, I aid in the deployment of the instruments used to measure certain characteristics about the seawater we are sampling, as well as collecting water for analysis. Specifically, I couldn't tell you what that really means; we will all just have to wait and find out.
Title: Flying to Australia is not good for one's health
If you are flying to Australia from anywhere in the United States, you are bound for a long, trying, and metaphysically challenging experience. First, it is a 15-hour flight, IF you are flying from the west coast. If you are flying from the east coast, however, add a good eight to ten hours to that, resulting in a grand total of around one complete 24 hour day of flying through the air at enormous speeds in far below zero, oxygen depleted air. How does one survive? One doesn't. Flying to Australia is an exercise in self control (to not smack the screaming child or chatty lady next to you), in endurance (you have to be able to move enough not to let your blood clot in your limbs, which would potentially result in death), and in the art of self entertainment, especially if you are flying by yourself (you may in fact hate yourself as much as that screaming child by the end of it all). However, there is a brilliant light at the end of this seemingly never-ending tunnel. After traveling across the great big blue Pacific Ocean for so long, the sight of red cliffs, of trees, of land, is like taking a deep breath of sweet, fresh, clean air, after sniffing 3% humidity, recycled, oxygen-depleted, jet fuel-infused airplane air. It's like regaining your footing after nearly falling off a cliff of insanity.
Oh, and then you think it's all over, until you realize that you have ceased to exist for a whole day! You have crossed the international dateline and pulled a metaphysical impossibility; where did that day go? Now, that can't be good for your health.