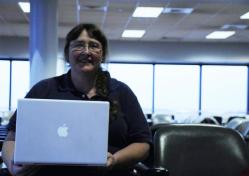 Related Links
Alison Mcdonald
3 pm ET (GMT – 5) I am sitting in Logan airport waiting for my flight to Los Angeles. Some of the science party have already met the ship in Brisbane, and one of our 'students', Karen who you will get to meet soon, left last Sunday and is SCUBA diving off Cairns, Australia (the Great Barrier Reef). It is supposed to be beautiful. I do hope she has taken some picture that she can share with us. Meanwhile, I am sitting in the terminal building looking around to see it there is someone who I might ask to take a picture. There is a likely pair, with two small children who will be entertained by one of their parents taking a picture of a stranger. For the next couple of months, wi-fi at the airport is free, so I might even be able to get this journal entry in before I leave Boston.
I was up late last night trying to sort out what to bring with me. My carry-on items are bulky as along with the computer and camera, I have notebook that has all the details I have collected about the cruise. It is fat with lists, email messages, forms, and schematics. Most, but not all of these, I also have on my laptop, but I feel safer having everything printed out and in one place. What would I do if my computer broke? Anyway, trying to determine what I should and shouldn't put in that notebook took me until 1 in the morning. After a shoving a cat out of the way to get into bed, I got about 3 hours sleep before I woke up worrying about things I had forgotten.
I got up at 6 am: fed the cats (we have 3); showered; packed up my bath items; woke up my youngest daughter who was not quite as grump as usual; walked the dogs (we have 3); made it home in spite the early morning cat that strolled across our path; put the kettle on (I'm English, so tea is a necessity); fed the rabbit (only 1); started trying to pack the rest of my luggage; put the last couple of t-shirts back in the drawer (they weren't going to fit); brought the goose (I'll tell you about that later); woke my son; rearranged both pieces of luggage again; and then around 7:30, we went out to breakfast. We had promised the kids we would take our time and they could go to school late today – we didn't want to say goodbye in the panicked rush of most Friday mornings. They both appeared to go off to school happy and that was a relief for me.
When I got to the airport, I discovered that my suitcase was 1 very small pound shy of the 50 lb limit for checked baggage. Who ever said there was no good luck on Friday the 13th? Of course, nobody has asked to weigh my carry-on luggage yet. I hope they don't.