| | |
| --- | --- |
| The Crew of the R/V Melville | |
Captain Chris "Rip" Curl
Favorite surf spot: Pasquales, MX
The first thing you may notice about Capt. Curl is his nickname. Yes, he surfs, and has been surfing for the larger part of his life. He began before the age of ten, while his family was living in Hawaii (surfing at Barbara's Point). Capt. Curl began his career of travel and world-exploration from birth, as his father was in the navy and moved with the family every four years or so.
The second thing about Capt. Curl is his striking ability to make you feel comfortable and listened to, a trait that is also likely a result of his childhood of moving from place to place, always making new friends in new places. These places ranged from Hawaii to Italy to Rhode Island (surfing at First Beach) to Southern California. It was in Coronado, in Southern California, that Capt. Curl learned from his brother of the California Maritime Academy; before deciding to attend the California Maritime Academy, Capt. Curl had been relatively unsure of what to do. He attended college for one year, and was a ski bum in Utah for a year.
It was only after some wandering that Capt. Curl decided to become a professional mariner. One week after graduating from the Maritime Academy, he was hired by Scripps Institute of Oceanography as an Able-Bodied Seaman (a technical term, seriously). It was after his very first cruise that he met his wife-to-be in Hawaii. He has been working on Scripps vessels ever since, totaling 26 years to date.
Capt. Curl is responsible for every individual on the R/V Melville during this research cruise, science party or ship crew. He is also the chief medic, and guy to whom everyone ultimately reports. He mentioned that one of the scariest medical emergencies that he has had to deal with was an epileptic seizure; luckily, the ship was close to shore, and the victim was in the hands of medical professional very quickly. The scariest weather Capt. Curl has ever experienced involved a rogue trough. These form when wave troughs combine (the way waves combine to form a rogue wave) to create a monstrous valley in the sea. His ship dove to the bottom of such a trough, and then plunged through the other side; seawater enveloped the stern of the ship, causing enough damage for the ship to be condemned upon return to port. Luckily, the ship rose to the surface almost immediately after being submerged, and no one was seriously hurt.
Being captain on a ship like the Melville is a lot of responsibility, but Capt. Curl accepts this with humility and quiet confidence. He mentioned that the hardest part of his job is being away from his family (his wife, 19 year-old son Cassidy and 15 year-old daughter Chrissie), though communication is certainly easier now with Internet capabilities onboard. The "coolest" things that Capt. Curl has seen at sea include a mom and calf pair of blue whales, surfing down a thirty food swell, bioluminescent doughnuts (most likely made up of bioluminescent phytoplankton) in the Sea of Cortez, and a baby sperm whale hovering in perfectly glassy water, so that it looked as though it were suspended in air.
While Capt. Curl deals on a daily basis with shipping agents, customs departments, border control agencies, cranky scientists and nosy people like me, he take it all in stride; he sees these things as the means to reach a more fulfilling end. Capt. Curl's enthusiasm for his work stems from his spirit of adventure, love of travel, new places and cultures, and his desire to aid in the pursuit of a more complete understanding of the world in which we live.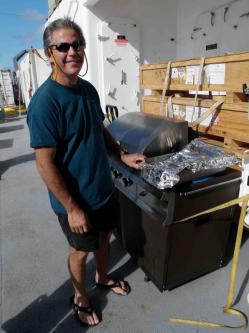 Enlarge image
In addition to being the chief engineer, Dave Seltzer also has to cook Sunday's steaks for dinner.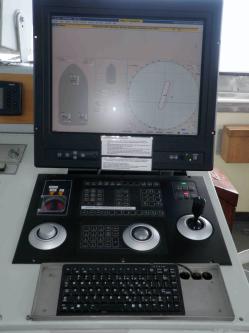 Enlarge image
This is the dynamic positioning system display. With this display and these controls, a person can put the ship directly on station, and then the ship will stay there.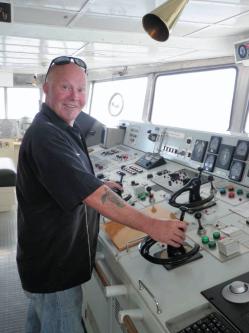 Enlarge image

Enlarge image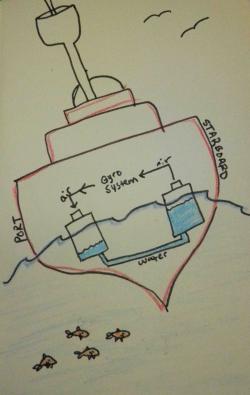 Enlarge image
Representation of the anti-roll system on the Melville.
The little ship that could and her Chief Engineer
Karen Stamieszkin
The R/V Melville was built in 1969 and re-fitted with a lot of new instrumentation and propulsion system in the late 80's/early 90's. She is of "the Order of the Ancient Albatross," Scripps way of saying, "yes, this boat is really old." However, her analog systems- gauges, telephones, controls- give her the air of that old car that kept chugging until the doors rusted off, the one that made you feel like you can travel back in time, just by getting inside and going for a ride. Chief engineer Dave Seltzer explained to me with the enthusiasm of someone who really loves his work, "she's [the Melville] like an old Volkswagen." All of her systems were new, just prior to the digital age, in which we live now.
Dave, or as he is called onboard, Chief has always worked for shipping companies as an engineer. This cruise, CLIVAR P6, is his first with Scripps, and his first since leaving his previous land-based position. His excitement for being at sea shows through his generosity with his time and expertise; he will take a moment (or ten) to explain anything to you, despite also having to manage a crew and make sure that all of the ship's systems are operating properly: no small task. I asked him to explain to me how the Melville is able to stay perfectly on station, pivoting on a dime when necessary, while not running over the cable that attaches the CTD rosette to the ship, which incidentally, may be lowered to over six kilometers while on station.
The Melville has a tripod of thrusters, or directional propellers; there are two at the stern and one at the bow of the ship. These thrusters can be rotated to create propulsion in almost any direction. Due to such maneuverability, and its ability to move sideways in the water, the Melville was chosen to star in the first rendition of King Kong. When a sampling station is reached, someone manually guides the Melville into position, using a Dynamic Positioning system (DP); the suite of instruments that makes up the DP includes a GPS (global positioning system), the thrusters and some environmental sensors. A GPS triangulates a position from satellite signals. The sensors are what "tell" the DP what environmental forces are acting upon the vessel that could make it move off station; ocean currents, waves and wind are all forces that may move the ship. The person using the DP sees all these forces and must counter-balance them with the force of the thrusters, making the net movement zero. On his or her end, there is a screen with a video game-like display; you win by keeping the ship in one place.
The ship sports another stabilizing system, which dampens the rolling effect of ocean swells and waves. It consists of two tanks, with water in them, connected by a tube; overall the system is U-shaped. As the ship rolls, a computerized gyro senses the pitch of the roll, and compensates by pushing air into one of the tanks. This causes the water to shift from one tank to the other, thereby dampening the roll of the ship (see diagram). It is the equivalent of a person bracing themselves against the movement of the ship to keep themselves from falling down as it moves.
Pretty good for an old ship!