| | |
| --- | --- |
| Deep Ocean Exploration Institute | |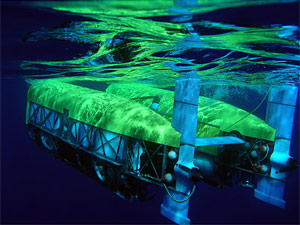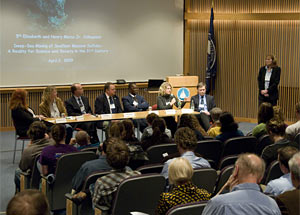 Related Links

The deep ocean covers a large areal extent of our planet and includes a large percentage of Earth's ocean waters, yet little of it has been studied in detail. The Deep Ocean Exploration Institute (DOEI) encourages multidisciplinary study of the physical, chemical, geological, and biological processes in different areas of the deep ocean and in the planet's interior. And it recognizes the need for and fosters the development of the technology needed to access environments in the deep ocean, above, at, and below the seafloor.

In 2009, a number of projects were funded by the DOEI, many under WHOI's new Ocean Ridge Initiative (ORI). The ORI is focused on exploring the largest continuous geologic feature on Earth—the mid-ocean ridge system. It recognizes that the ridge system, 50,000 miles in length, is extremely dynamic, a locus of energy transfer as new crust is created, and a rich target for new discoveries. Funded proposals cover a range of topics and activities:
Henry Dick and Frieder Klein (Geology & Geophysics) are funded to provide input to a new study of life, hydrothermal systems, and the evolution of the ocean crust and mantle at the ultraslow spreading Mid-Cayman Spreading Center (in the Caribbean). They will document the composition and texture of igneous and altered rocks that form the substrate for the hydrothermal systems to be studied there, which will help lay the groundwork for future investigations.
Mark Kurz (Marine Chemistry & Geochemistry) is funded to make new measurements of noble gas tracers (helium, neon, argon) in fluids and solids (basalt glasses, gabbros, peridotites) from this same area, the Mid-Cayman Spreading Center—a portion of mid-ocean ridge that is unique due to its great water depth and very slow spreading rate.
Mark Behn (Geology & Geophysics) will participate in a cruise to the Galapagos Spreading Center, where he will collect information to help in modeling studies aimed at understanding the effects of magma supply on normal fault evolution and eruption dynamics.
Sean Sylva (Marine Chemistry & Geochemistry) will use ORI funds to synthesize and interpret results and prepare a publication describing his new method of calibration for compound-specific hydrogen isotope analysis. This new method is a major contribution to the field, and will greatly enhance the ability of researchers to use hydrogen isotope data to better constrain the sources of hydrogen-bearing carbon compounds.
In spring 2010, Pablo Canales (Geology & Geophysics) is co-leading an international conference on ocean core complexes (OCCs), sections of ocean crust that are exposed on the seafloor as the result of faulting and that provide windows into deep-seated rocks and the processes that form them. He will use ORI funds to provide travel support for WHOI scientists and students to attend and participate in this conference, recognizing that WHOI is a world leader in OCC research.
At the end of 2009 a second call for research proposals went out, yielding seven new proposals to be funded in 2010: four under the ORI and three under the new themes of the DOEI. These new themes were chosen by the DOEI Advisory Committee to encourage research into high-priority areas. The three themes are Deep Ocean Technology, which acknowledges the need for vehicles, sensors and instruments that can operate for long periods of time at significant depth; Dynamic Processes at the Seafloor, which encourages focus on processes occurring at ocean margins (ridges, subduction zones and transform faults) as well as in areas of the deep ocean where physical, chemical, or biological processes create dynamic environments (e.g., from strong bottom currents); and The Role of the Deep Earth and Ocean in Elemental Cycles, which seeks to fill critical gaps in our understanding of global element cycles, including the carbon cycle.

DOEI also continued its support of three Institute fellows. A recent Oceanus magazine article reports and follows up on issues related to proposed mining of deep-sea vent deposits and the MORSS Colloquium held in May and convened by DOEI fellow Maurice Tivey (G&G). Jeff McGuire (G&G) is using recordings of the seismic waves and permanent ground deformation produced by earthquakes to improve our understanding of the rupture process and fault structure, and is working to develop and deploy arrays of ocean-bottom seismometers in the northwest Pacific Ocean.

In 2009, Tim Shank (Biology Department) participated in two cruises, one with the ROV Jason 2 to West Mata, where an actively erupting volcano was observed and sampled and one with the new deep-diving Nereus on its maiden voyage to the Marianas trench and volcanic arc. His fellowship allowed him to study population genetics in these different areas and examine the connectivity of the shrimp at West Mata with those along the Mariana volcanic arc.

Support of education is also integral to the DOEI. In 2009, two graduate students and two post-doctoral scholars received support. Joint Program student Kevin Richberg's research on identifying primary producers in the sub-seafloor was highlighted in the DOEI summer 2009 report [pdf version of report]. Postdoctoral scholar Frieder Klein (G&G) just arrived in November, and is studying hydrothermal processes in the ocean crust and mantle, including serpentinization of peridotite, and the implications of these processes for geochemical fluxes and tectonic processes. Postdoctoral scholar Tetsuo Matsuno (AOPE) has been here since December 2008 and is using marine electromagnetic measurements off the coast of Nicaragua in the eastern Pacific to study the distribution and amount of water input into the Costa Rica-Nicaragua subduction system.

DOEI also provided funds for its very successful multidisciplinary Geodynamics Program. This year's program, Climate Change: Forcing, Responses and Geo-engineering, was supported jointly with the Ocean & Climate Change Institute. The focus was on interactions between geodynamics and climate, such as the impact of mountain building and volcanic out-gassing on climate.