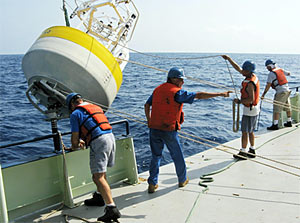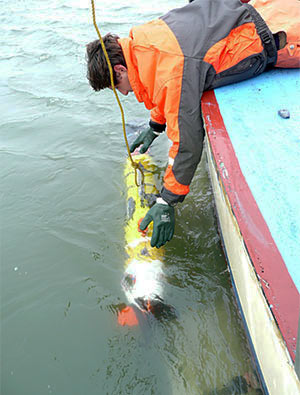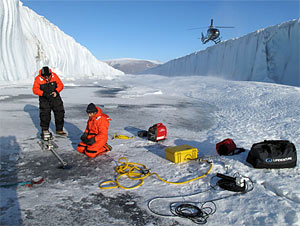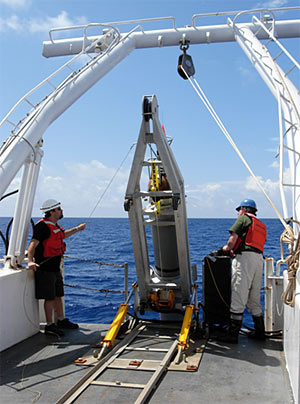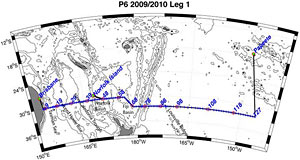 Related Multimedia

Related Links

The oceans that cover 70% of the earth's surface strongly influence Earth's climate and weather. The ocean absorbs heat from the sun in the tropics and carries it toward the poles; it carries cool water from polar regions toward the equator

Researchers in the Physical Oceanography (PO) Department seek to describe and understand this circulation and its variability and thus elucidate the role of the ocean in climate and weather. To investigate the physics of the ocean, they use laboratory experiments, analytical and numerical modeling analysis and synthesis of existing data and new observations at sea. In 2009, as in other years, work done by members of the PO Department was distinguished by a strong heritage and expertise in observing the circulation of the ocean and in developing new observational methods.

Here, we highlight some of the year's accomplishments.
PO Department members Tom Farrar, Steve Lentz, Amy Bower, Dick Limeburner and Jim Churchill continue to do research in the Red Sea under a research partnership with King Abdullah University of Science and Technology (KAUST) [Learn more about 2009 KAUST activities]. In 2009 they deployed an air-sea interaction mooring (Figure 1), a coastal meteorological tower, three coastal moorings, and tide gauges at several coastal sites.


High latitude oceanography remains a focus in the department. Al Plueddemann and Bob Pickart participated in fieldwork on the Alaskan Beaufort shelf in the summer of 2009. They worked with investigators from multiple institutions to study coastal circulation and stratification, sea ice variability, cross-shelf property exchange and marine mammal distributions. Pickart performed CTD surveys and recovered a moored array that had been deployed in 2008. Plueddemann sampled the mid-to-inner shelf using an Autonomous Underwater Vehicle (Figure 2).


With funding from WHOI's Arctic Research Initiative, Fiamma Straneo, Ruth Curry, David Sutherland, and Jim Ryder (AOPE) investigated the intrusion of warm subtropical waters inside three glacial fjords in East Greenland. The fieldwork included deploying moorings, acoustically tracking floats, measuring salinity and temperature, as well as deploying instruments to measure temperature, salinity, and currents from sea-ice or glacial ice or from helicopters. (Figure 3) Dr. Straneo also continued work in Hudson Strait; four moorings recovered there by R/V Knorr in September 2009 will provide the first yearlong record of the net transport of freshwater through Hudson Strait — an important freshwater gateway for the North Atlantic.


A five-mooring array was deployed in December by Mike McCarthy and Paula Fratantoni in the Australian-Antarctic Basin, spanning the continental slope of Antarctica, east of the Kerguelen Plateau, along longitude 113° E. The array is part of their program designed to verify the existence, and quantify the strength, of a newly-discovered cyclonic gyre located south of the Antarctic Circumpolar Current, which is thought to transport as much water as the Gulf Stream.


John Toole and Lou St. Laurent prepared in 2009 for participation in the Diapycnal and Isopycnal Mixing Experiment in the Southern Ocean (DIMES) field program in the Antarctic Circumpolar Current. This current is among the most energetic in the global ocean, and is believed to be the primary conduit for the upwelling of deep water in the global ocean's overturning circulation. John Toole and Lou St. Laurent tested a redesigned Mark II version of the WHOI High Resolution Profiler (HRP) (Figure 4) in 2009 to get ready for fieldwork in DIMES in January to March 5, 2010, on the R/V Thompson.


Department members participated in sampling the basin scale properties of the ocean. Alison Macdonald was Chief Scientist of the first leg of P6 (Figure 5) from Brisbane, Australia to Papeete, French Polynesia (Nov 21, 2009 – Jan 2, 2010). Along with changes in temperature, salinity and dissolved oxygen in intermediate waters, changes in chlorofluorocarbon (CFC) concentrations in bottom waters were also apparent, compared to earlier occupations of P6. Ruth Curry and Elizabeth Douglass will be the chief and co-chief scientists for Leg 2, which ended in Valparaiso, Chile on Feb 11th 2010.


In December, department members Ray Schmitt, Tom Farrar, Dave Fratantoni, Lou St. Laurent and Lisan Yu attended a planning meeting for a new study of ocean salinity. By measuring salinity from new satellites, increasing the number and quality of in-situ salinity measurements and developing better understanding of the ocean mixing processes that affect salinity, oceanographers will make valuable contributions to humankind's concerns with a changing global water cycle. A field program called "SPURS" (Salinity Processes in the Upper-ocean Regional Studies) is being planned for 2012 in the high-evaporation region of the North Atlantic, where the highest open-ocean salinities are found.


Two new scientists joined the department, Jong Jin Park and Anthony Kirincich. Park's research interest is in mixing induced by near-inertial waves and its application to large-scale circulation and energy budget. Kirincich's research is on coastal oceanography, near-shore processes, and biophysical interactions.


Several members of the Department were honored in 2009. Steve Lentz was named a Fellow of the American Geophysical Union. John Toole was named a Fellow of the American Academy of Arts and Sciences. Bruce Warren was named the 2010 winner of the prestigious Sverdrup Gold Medal, awarded by the American Meteorological Society (AMS) "for advancing our understanding of the general circulation of the ocean through observations and dynamical interpretation." Other members continue to work in service to the community: Mike Spall became Chief Editor of the Journal of Physical Oceanography; and Joe Pedlosky was awarded the Editor's Award for his reviews of manuscripts submitted to the Journal of Physical Oceanography.


There are presently 20 graduate students in physical oceanography in the WHOI/MIT Joint Program. Over the past year, four students have graduated from the Physical Oceanography Joint Program with a PhD, with thesis topics ranging from the influence of eddies on western boundary currents such as the Gulf Stream to recent changes in convection in Arctic Seas.
—Robert Weller, Department Chair