OA-related legislation
Federal Ocean Acidification Research And Monitoring Act of 2008 (FOARAM Act)
On July 9, 2008, the House passed the FOARAM Act (H.R.4174), which establishes an interagency committee to coordinate ocean acidification activities among federal agencies. The committee will be chaired by an individual from NOAA, and other participants will come from the National Science Foundation, the Fish and Wildlife Service, the U.S. Geological Survey, and the National Aeronoautics and Space Administration. This committee will organize and expand research efforts designed to understand ocean acidification and identify its consequences on marine resources and society overall.

On April 22, 2008, the FOARAM Act was introduced in the Senate (S. 1581) and placed on the calendar, but it was not voted on during the 110th Congress.
Scientists Testify in Congress about OA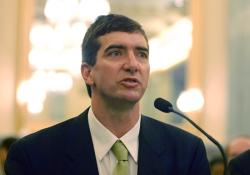 WHOI scientist Scott Doney testifies before the U.S. Senate Committee on Commerce, Science and Transportation's Subcommittee on Oceans, Atmosphere, Fisheries, and Coast Guard on May 10, 2007.

(WHOI)


May 10, 2007: Six witnesses, including scientists Scott Doney, Richard Feely, David Conover, Lara Hansen, and Gordon Kruse provided oral and written testimony before the U.S. Senate Committee on Commerce, Science, and Transportation about the effects of increasing atmospheric CO2 levels on marine resources. They primarily discussed the potential effects of ocean acidification and sea temperature increase and the implications for marine resouce management and research.


April 29, 2008: Joan Kleypas spoke at a hearing on "Rising Tides, Rising Temperatures: Global Warming's Impacts on the Oceans" before the House Select Committee on Energy Independence and Global Warming

June 5, 2008: Scientists Ken Caldeira, Scott Doney, Richard Feely, and Joan Kleypas testified before the House Committee on Science and Technology's Subcommittee on Energy and Environment in a hearing to review the Federal Ocean Acidification Research and Monitoring (FOARAM) Act. View press release.

Scientific meetings
October 6-9, 2008: Second symposium on the ocean in a high-CO2 world (Monaco)

June 10-13, 2008: European Project of Ocean Acidification (EPOCA) Meeting (Nice, France)

June 2-4, 2008: Ocean acidification workshop (University of Tasmania, Australia)

May 19-23, 2008: "The effects of climate change on the world's oceans" (Gijon, Spain)


October 9-11, 2007: Ocean Carbon and Biogeochemistry (OCB) Scoping Workshop on Ocean Acidification Research (La Jolla, CA)