| | |
| --- | --- |
| ITP 4 Deployment Operations | |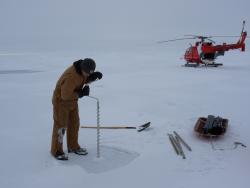 Kris Newhall uses a 2 inch diameter hand auger to survey the ice floe for ITP 4 deployment.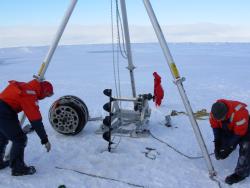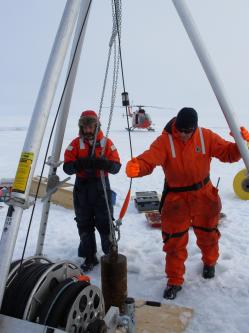 Brian Mackenzie grabs the ITP tether wire to prepare to guide the 250 lb anchor into place.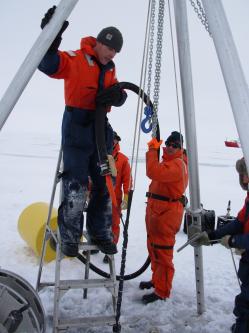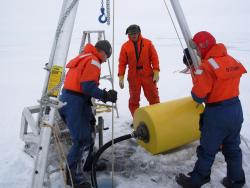 The ITP 4 surface float is slowly slipped into place on the ice.
Photos by Rick Krishfield.

After a morning of shipboard mooring operations, the weather and ice conditions on September 2, 2006 were too good to pass up the opportunity to deploy ITP 4. An hour long helicopter survey found a suitable large floe 3.5 m thick, two hours later the 10 inch diameter hole for the ITP profiler was drilled, and just before the day ended (September 3, 00:00 UTC) the profiler was in the water. All deployment operations were completed an hour later.
Unfortunately, difficulty installing the top of the ice tether to the buoy flange apparently resulted in damage to the wires which connected the modem from the surface package to the profiler, so no profiles were transmitted from this instrument. However, daily status messages were sent from the surface buoy so that the system was able to be tracked. This allowed the ITP to be located and recovered the following summer.
More information and photos on the deployment are also available here and at: http://www.whoi.edu/beaufortgyre/dispatch2006/dispatch29.html.