Figures related to float launch sites and sound source locations are available at right.
Available below the figures are files related to float deployment/surface, source source specifications, etc.
Cruise Schedule, Contacts, and Planning Journal are below.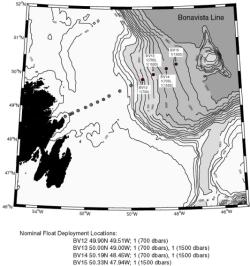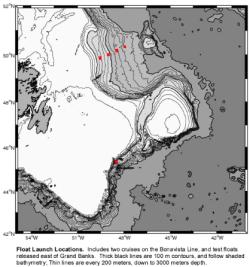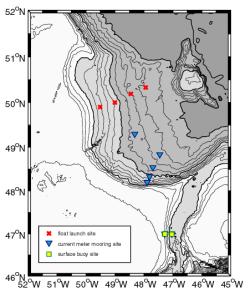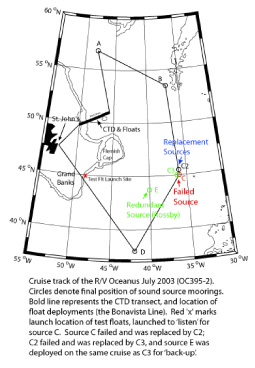 Related Files

Experiment Design


The Export Pathways Experiment was designed to examine the pathways of the Deep Western Boundary Current (DWBC) in the Labrador Sea as it meets and passes by the Flemish Cap. Seedings occur at two levels (700 and 1500 meters) to target two levels of Labrador Sea Water within the DWBC. DLD floats were/are released approximately every three months, whether directly from a ship, or from a time release mooring. Float mission length is two years, and sound source array is designed to be heard by floats in the Labrador Sea and around the Grand Banks into the Newfoundland Basin. The first cruise was on the WHOI R/V Oceanus: on this cruise sound source array was moored, CTD stations were taken, and floats deployed. Each subsequent cruise was/will be from the Candian Fisheries vessels Hudson or Teleost, which performs a repeat survey along the Bonavista Line every May, July, and November. The November deployment will include dual release floats which will release and begin drifting each February 15th.




Cruise Schedule



ship
dates of sail
science crew
floats planned
floats actual
miscellaneous
1.
R/V Oceanus OC395-2
July 9-23, 2003
Amy Bower, WHOI, Chief Scientist
Susan Lozier, Duke, Scientist
Paula Perez-Brunius, WHOI, Res. Associate
Rochelle Reardon, WHOI, Technician
Brian Guest, WHOI, Technician
Brian Hogue, WHOI, Technician
Jaime Palter, Duke, Graduate Student
Ana Rappold, Duke, Graduate Student
6 single release (SR) flts
6 SR
R/V Oceanus Cruise OC 395-2 cruise report.

Photo album
2.
CSS Hudson
Nov 16 - Dec 6, 2003
David Fisichella, WHOI, Research Assistant
Brian Hogue, WHOI, Technician
6 SR, 6 dual release (DR)
5 SR, 6 DR
One float damaged in shipping.
3.
CCGS Cowley
Feb 21- , 2004
George Tupper, WHOI, Technician
(did not sail, but trained crew of ship to deploy test floats at dock in St. John's)
2 SR, with short (3 wk, 6 wk) missions.
2 SR
First test float that surfaced indicated that source C has failed (and D working).
4.
CSS Teleost
Apr 18, 2004
George Tupper, WHOI
6 SR
5 SR
One float damaged in shipping.
5.
CSS Templeman
July 20- Aug 5, 2004
Rick Rupan, WHOI
6 SR
6 SR
Breck Owen's solos to be deployed on this cruise as well.
6.
R/V Endeavor
Aug/Sep 2004
George Tupper, WHOI
source replacement, recovery
successful!
Recovered failed Webb source (C), and replaced with rebuilt Rossby loud source from Lab Basin Exp.
7.
CSS Hudson
Nov 28 - Dec 5, 2004
Brian Guest, WHOI
Nicole Mich, Duke
6 SR, 6 DR
6 SR, 6 DR
The contact in Canada for the Hudson is Bob MacDonald tel. 902-426-6199.
8.
CSS Teleost
April 26 - May 9, 2005
Rick Rupan, WHOI
6 SR
6 SR
Breck Owen's solos deployed on this cruise as well.
9.
CSS Templeman
July 11-29 2005
George Tupper, WHOI
6 SR
6 SR
E. Colbourne states 3-day delay likely. George went to St. John's to initialize floats, crew deployed them.
10.
R/V Thalassa
15 July - 16 August, 2005
George Tupper, WHOI
Soso deployment and recovery cruise. Replacement source C3, and new source E to be deployed.
SUCCESS!!!
Juergen Fisher is primary contact for German cruise on French ship.
mooring C3, revised
mooring E, revised
11.
CSS Hudson
November 28 - December 12, 2005
Brian Guest, WHOI
6 SR, 6 DR
6 SR, 6 DR
Brian will go to St. John's Nov 27-29 2005 to initialize flts, Teleost crew will deploy them (thank you).
12.
CSS Teleost
May 2006
George Tupper, WHOI
8 SR
8 SR
George initialized flts in port, Teleost crew deployed them (thank you!).Two extra floats left over from these returned 'broken in shipment'.
13.
CSS Hudson
November 18 - December 7, 2006
Brian Guest, WHOI
5 SR
5 SR

Floats will be sent initialized, and ready to deploy. These 5 floats are replacements from P. Tillier for flts that were sold to us with the wrong burn wire req's for cold water, causing them to not surface.
14.
R/V Knorr

August 2008

Fiamma Straneo, CS WHOI

Mooring recovery of sound sources C3 and E.

SUCCESS!