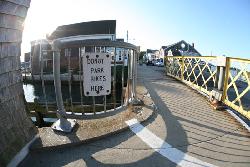 Related Files

The International Committee has several bicycles available for loan (for a minimal cost) to any International Visitor to WHOI. All of our bicycles have been generously donated by people from within the local community. Without these donations this bicycle loan program would not exist. If anyone has an interest in helping with the maintenance of our bicycles and is willing to donate time, please contact the bicycle coordinator.


The Bicycle loan program runs from April 15 to November 1 and operates on a first come, first serve basis. The maximum length of a bicycle loan is 3 months, after which the bicycle must be returned. An extension to the loan may be granted if there is not a waiting list.

Prior to your meeting with the bicycle coordinator, please download the User Liability Release Form (a link can be found on the upper right hand side of this page), read it thoroughly, and bring it signed along with your deposit to your meeting.



Bicycle Program Guidelines




We ask all participants in the bicycle loan program to respect the following guidelines.
Bicycles should be stored in designated bicycle racks situated around the Institution and Institution housing. During rain and snow, bicycles should be stored under cover

.
It is highly recommended that all bicycles are locked using the provided bicycle lock when unattended.
In the event of a lost or stolen bicycle, please call a committee member and the local police immediately.

Information regarding "The Rules of the Road" can be found in Chapter 4 of the Massachusetts Driver's Manual. Please familiarize yourself with road signage and proper conduct. http://www.mass.gov/rmv/dmanual/
Each bicycle will possess a tag indicating it is the property of the International Committee. Please do not remove this identification.
If you want/need to contact your International Committee representative, please find us online here

For information regarding bike paths and maps of the area, see useful links section of the International Committees website.
It is highly recommended that a bicycle helmet be worn while riding a bicycle.
Contact the bicycle coordinator to request or return a bicycle.

Bicycle Coordinator: Andy Beet (Ext. 3376)
If you would like to participate in our loan program or if you would like to return a bicycle after your loan period has expired you will need to schedule a time to meet the Bicycle Coordinator.
Please email anytime to request a bicycle. However pick up and drop off of bicycles are between 9 -10 am on Thursdays only