People
Carolyn Miller, Resarch Associate III
Position:
2017 - Present, Reserach Associate III
2013 - 2016, Post-doctoral Scholar (also working with Ben Van Mooy)

Education:
Ph.D., Boston University, Biology, 2006.
B.S., Wellesley College, Biological Sciences with Africana Studies, 1994.

Research:
Carolyn is in interested in the role of microbial communities in the health of marine mammals. She works on a variety of marine mammal microbiome projects, including the gut microbiome of the Bowheaded whale and the exhaled blow microbiomes of large whales.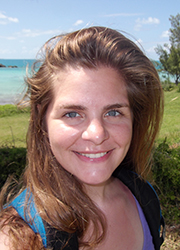 Laura Weber, MIT-WHOI Graduate Student
Education:
B.S., University of Maryland, 2012.

Research:
Laura is a student in the MIT-WHOI Joint Graduate School Program in Oceanography. Laura is interested in coral-associated microorgansims, and especially the role of the mucus layer in attracting microbes to corals. When Laura isn't reading research articles or centrifuging samples, she plays the violin/ viola, sings, cooks, bakes, hikes, sketches, volunteers at the National Aquarium in Baltimore as an exhibit guide, and scuba-dives.
Former members
Shavonna Bent, WHOI Summer Student Undergraduate Fellow, 2017.
Jordan Wison, NOAA Hollings Fellow, 2017.
Cynthia Becker, Semester at WHOI student, Guest Student, 2016 - 2017.
Rita Rachmawati, Guest Student (pursuing Ph.D. at UCLA), 2014 - 2018.
KC Bierlich, Guest Student (pursuing M.S. at Duke), 2015 - 2017.
Liping Xun, Research Assistant, 2014-2016.
Abby Keller, Guest Undergraduate Student (Havelford College), 2016.
Sean McNally, Guest Investigator, 2014 - 2015.
Matthew Neave, KAUST-WHOI Post-Doctoral Investigator, 2012-2015. Now a Research Scientist at CSIRO, Australia.
Luci Kelemen, High School Student, 2015.
Evan Denmark, MIT UROP/WHOI Guest Undergraduate Student, 2014-2015.
Catarina Brighi, WHOI Summer Student Undergraduate Fellow, 2014.
Lauren Goodwin, WHOI Summer Guest Undergraduate Student, 2013.
Last updated: February 13, 2018