People
Carolyn Miller, Post-doctoral Scholar
Position: 2013 - present, Post-doctoral Scholar (also working with Mark Baumgartner and Ben Van Mooy)

Education:
Ph.D., Boston University, Biology, 2006.
B.S., Wellesley College, Biological Sciences with Africana Studies, 1994.

Research:
Carolyn is in interested in the role of microbial communities in the health of marine mammals. She is currently researching the gut microbiome of the Bowheaded whale. She seeks to understand the biogeography of their gut, and the role of microbes in helping maintain the fat reserves that are needed for theirmigration, reproduction and during periods of limited prey availability.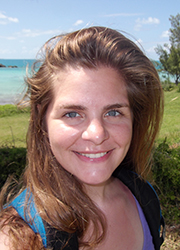 Laura Weber, MIT-WHOI Graduate Student
Education:
B.S., University of Maryland, 2012.

Research:
Laura is a student in the MIT-WHOI Joint Graduate School Program in Oceanography. Laura is interested in coral-associated microorgansims, and especially the role of the mucus layer in attracting microbes to corals. When Laura isn't reading research articles or centrifuging samples, she plays the violin/ viola, sings, cooks, bakes, hikes, sketches, volunteers at the National Aquarium in Baltimore as an exhibit guide, and scuba-dives.
Rita Rachmawati, Guest Student
Rita is a PhD student at the University of California, Los Angeles interested in the impact of coral bleaching on the mirobiome.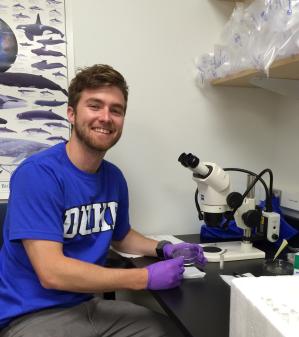 KC Bierlich, Guest Student
B.S., Biology, Sonoma State University, 2014.
M.S., Coastal Environmental Management, Nicholas School of the Environment at Duke University, 2016.
KC is interested in the impacts of anthropogenic stressors on marine animals. He is interested in combining behavior, physiology, and the microbiome as tools for assessing the health of marine animals in order to develop better management and conservations efforts for vulnerable and threatened species.
Cynthia Becker
Cynthia is a Semester at WHOI undergraduate student who comes to us from Ithaca College. She is interested in coral reef seawater microbiology.
Former members
Liping Xun, Research Assistant, 2014-2016.
Abby Keller, Guest Undergraduate Student, 2016.
Matthew Neave, KAUST-WHOI post-doctoral investigator, 2012-2015. Now a Research Scientist at CSIRO, Australia.
Luci Kelemen, High School Student, 2015
Evan Denmark, MIT UROP/WHOI Guest Undergraduate Student, 2014-2015
Catarina Brighi, WHOI Summer Student Undergraduate Fellow 2014
Lauren Goodwin, WHOI Summer Guest Undergraduate Student, 2013
Last updated: September 14, 2016