Research
Coral-associated microorganisms
Corals harbor a complex assemblage of microorganisms including eukaryotic dinoflagellates, bacteria, archaea and viruses. The extent that particular organisms within these groups contribute to coral health is an important area of research. Our research on coral microbiomes is focused on questions that advance understanding about how microorganisms (Bacteria and Archaea) contribute to maintaining a coral's health, play a role in the development of disease, and are affected by altered environmental conditions.
Projects
Fundamental Coral-Microbial Associations
It is generally believed that healthy corals harbor microorganisms that reside in their tissues, but little microscopy-baesd evidence exists to support this idea. We are combining DNA sequencing survey, bioinformatics, and microscopy-based tools to identify microorganisms that reside within corals from reefs in the Florida Keys. We hope to identify microbial groups that may be fundamental to the survival of the coral holobiont.
Funding: NSF Biological Oceanography
Micronesian Coral-Microbes
Across the Micronesian Islands, we are studying the community structure and functional roles of microorganisms associated with the major reef-building corals.
Funding: WHOI Access to the Sea/Dalio Family Foundation
Investigating the Role of Endozoicomonas Associated with Corals
In collaboration with Chris Voolstra at the King Abdullah University of Science and Technology (KAUST), we are investigating associations between Red Sea corals and Endozoicomonas, a group of bacteria associated with diverse species of corals from worldwide reefs. Matthew Neave is a post-doc on this project, and will be working on this project at both WHOI and KAUST.
Funding: KAUST-WHOI Special Academic Partnership Fellows
A Global Survey into the Bacterial Communities of Stylophora pistillata
This is a collaborative study with Chris Voolstra (KAUST), and we are interested in characterizing the bacterial communities associated with Stylophora pistillata corals from worldwide reefs. We are especially interested in understanding if they maintain a role with Endozoicomonas, and even identical Endozoicomonas genotypes, on globally diverse reefs.
Funding: KAUST-WHOI Special Academic Partnership Funding Reserve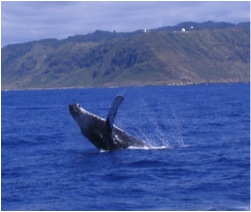 A humpback whale breaches off the island of Oahu, Hawaii.
Marine mammal microbiomes
Recent studies on the microbes associated with our human bodies (our 'microbiome') suggest that these microbial communities play vital and active roles in maintaining our health. The health of marine mammals is of particular concern, with many of these species residing in anthropogenically impacted coastlines, and frequently stranding on beaches. We are studying the virtually unexplored microbiomes of marine mammals to learn more about their health.
Projects
Humpback whale skin microbiome
Skin microbiomes are of particular interest because the skin is directly exposed to the seawater, and may the first surface to exhibit health-related alterations. In collaboration with marine mammal scientists, we are studying skin-associated bacteria from diverse populations of humpback whales.
Collaborators: Jooke Robbins (Provincetown Center for Coastal Studies), Adam Pack (U of Hawaii, Hilo), David Mattila (Hawaiian Islands Humpback Whale National Marine Sanctuary), Tracy Mincer (WHOI)
Funding: WHOI Marine Mammal Center
Examining skin microbiomes from diverse species of marine mammals
We are interested in the skin microbiomes of diverse species of marine mammals, and seek to understand if these different species harbor similar or diverse microbial assemblages on their skin. We are also examining animals of altered health states to understand if and how the skin microbiome reflects anything about animal health.
Collaborators: Jooke Robbins (Provincetown Center for Coastal Studies), Robin Baird (Cascadia Research Collective), Michael Moore (WHOI), Katie Moore (International Federation for Animal Welfare)
Reef water bacterioplankton dynamics
The microbial ecology of coral reefs is increasingly recognized as an important factor contributing to the health of globally threatened coral reef ecosystems, but we know little about bacterioplankton dynamics in this environment. I am interested in how water quality dynamics in a coral reef environment, especially organic matter loading from natural and anthropogenic sources, affect bacterioplankton communities.
Projects
Microbiology of Cuban Coral Reefs: The Last Frontier of the Caribbean
We are collaborating with Cuban scientists from the Center for Marine Research (Centro de Investigaciones Marinas, CIM) of the University of Havana to form a joint exploration of Cuba's largest and most highly productive gulfs. The Cuban scientists are already pursuing expeditions to these gulfs, with the goal of collecting data to map the gulf habitats and examine species diversity patterns, trophic web reconstruction, and genetic connectivity of the macrobiota between the gulfs. Our role in this project is to characterize the microbial biogeochemistry of the gulf waters. The fields of marine microbiology and biogeochemistry rely heavily on new analytical techniques including genomics and isotopic tracers, and this is not an area of expertise that Cuban scientists are currently pursuing. Thus, the integration of this proposed WHOI-led microbial biogeochemistry research into ongoing research to characterize the biota of the gulfs makes for a truly cooperative collaboration. Collaborators: Alyson Santoro (U of Maryland), Patricia Gonzalez (U of Havana), Cuban Marine Conservation and Reserach Program
Funding: Dalio Explore Fund
Microbial Biogeochemistry of Micronesian Reef Waters
Although the seawater surrounding corals is generally thought to be 'oligotrophic', there are actually relatively few measurements of the nutrients and microbial biogeochemical parameters of these waters. On a cruise along the Micronesian Islands, we are studying the microbial biogeochemistry of reef waters.
Collaborators: Alyson Santoro (U of Maryland)
Funding: Dalio Family Foundation
Last updated: June 27, 2015