International Invasive Sea Squirt Conference
April 21-22, 2005
SHARE THIS:

Purpose
Invasive ascidians are impacting ecosystems, creating a nuisance for the aquaculture industry, and are a major component of fouling communities. The aim of this conference was to bring together marine biologists and other people concerned with invasive ascidians, to explore the biology, ecology, impacts, management options for control, and other relevant topics. The format of the two day conference included invited plenary talks, contributed research presentations, posters, and discussions led by an expert panel.
Audience
The conference target audience consisted of marine biologists, shellfishery scientists, representative of the shellfishery industry, members of local, state, and federal agencies concerned with coastal resources, and representatives from sponsoring organizations.
Posters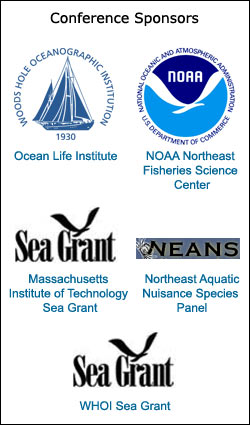 Contributed posters were displayed throughout the conference in Clark Laboratory, room 509. Poster abstracts will be included in the published proceedings.
Location
The conference was held at WHOI, Quissett Campus, Woods Hole, Massachusetts. Conference sessions were held in Clark Laboratory, room 507, located at 360 Woods Hole Road. Attendance was approx. 100 people. Continental breakfast and lunch was served both days to registered participants and an optional banquet, on the evening of April 21, was served in Clark Laboratory.
Registration Fee
$50 for Professionals, $25 for Students.