Jason/Medea Specifications
Information on this page is updated as frequently as possible. However, for cruise planning purposes and specific application details, please contact the Deep Submergence Group directly. For technical questions, contact Matt Heintz (mheintz@whoi.edu); for general questions, contact Catherine Offinger (coffinger@whoi.edu).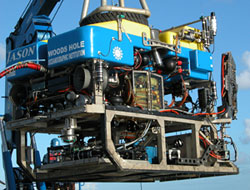 ROV Jason on the crane.
Jason
General
Depth Capability: 6,500 meters
Size: 3.4m (134 in.) length, 2.4m (96 in.) height, 2.2m (88 in.) width
Weight: 4,128kg (9,100 lbs.) in air (approx.)
On-site speed (in tether range): 1.5 knot forward, 0.5 knot lateral, 1.0 knot vertical
Transit speed: 0.5 knot sampling; 1.0 knot no sampling
Descent/Ascent Rate: 35 m/min. (+/- 5 m/min.)
Propulsion: Six brushless DC electric thrusters, each providing 250 lbs. of thrust
Tether: 55m long, 20mm (0.8 in.) diameter, neutrally buoyant
Sampling
Storage: Forward sampling basket, 98cm (38.5 in.) x 1.52m (60 in.) with hydraulic movement; Two swing arms on either side, 51cm (20 in.) x 51cm (20 in.), with hydraulic movement
Payload: 130kg (400 lbs.) maximum, depending on vehicle configuration
Elevator sampler: Mission configurable; Free adescent/ascent; 90kg (200 lbs.) payload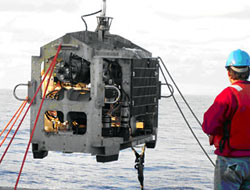 Launching Medea.
Medea
General
Depth Capability: 6,500 meters
Size: 2.3 m (90 in) long, 1.5 m (60 in) high, 1 m (40 in) wide
Weight: 1,360kg (3,000 lbs.) in air (approx.)
Maximum Tow Speed: 1 knot
Main Cable: UNOLS standard 17mm (0.681 in.) steel-armored, electro-optical cable