Profile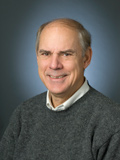 John Stegeman
Senior Scientist
Biology
Senior Scientist
Director, Woods Hole Center for Oceans and Human Health
Office Phone: +1 508 289 2320
Fax: +1 508 457 2134
WHOI Mailing Address:
Woods Hole Oceanographic Institution
266 Woods Hole Rd.
MS# 32
Woods Hole, MA 02543-1050
Education
B.A. St. Mary's College, 1966, Biology
Ph.D. Northwestern University, 1972, Biochemistry
Research Interests
Biochemical toxicology; metabolism and effects of pollutants and natural products; biochemistry, evolution and regulation of cytochrome P-450 isozymes; metabolism of steroid hormones in marine vertebrates; membrane-bound enzymes in deep sea animals; cloning, expression of P450s from diverse species; structure-function relationships involved in metabolism and effects of chemicals, as related to the susceptibility of different animal groups to the action of xenobiotics.
[back]