Past Fellows
SHARE THIS:
2016 Fellows
Erica Cirino
Freelance writer
Katy Daigle
Associated Press foreign correspondent
Doug Fraser
Cape Cod Times
Mara Grunbaum
SuperScience magazine
Melissa Hogenboom
BBC Earth
Joshua Howgego
New Scientist magazine
Ankur Paliwal
Freelance writer
Elsa Partan
Living Lab, WCAI radio
2015 Fellows
Wil Hylton
Author
Christopher Intagliata
Science Friday
Jane Lee
National Geographic
Evan Lubofsky
Freelance
Deborah Netburn
Los Angeles Times
Lois Parshley
Popular Science
Angela Posada-Swafford
Muy Interesante
2014 Fellows
Jonathan Amos
BBC News
Aleszu Bajak
Freelance
Sandrine Ceurstemont
New Scientist
Victoria Gill
BBC News
Johann Grolle
Der Spiegel
Gianna Savoie
Filmmaker
Michael Werner
Filmmaker
2013 Fellows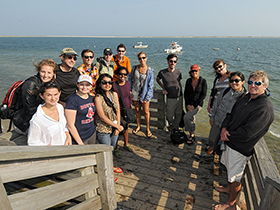 Bobby Bascomb
Public Radio International's Living on Earth
Elisabeth Eaves
Freelance
Sujata Gupta
Freelance
Madison Kahn
Boston Magazine
Brian Owens
Freelance
Laura Petersen
Environment & Energy Publishing
Dinsa Sachan
Freelance
Daniel Schmidt
Freelance
Nate Seltenrich
Freelance
Dan Tritle
WCAI
2012 Fellows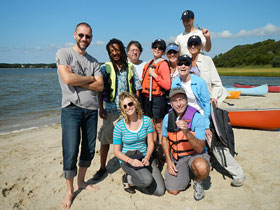 2012 Fellows: (from left, standing): Tomasz Ulanowski, David Richardson, David Appell, Wynne Parry, Linda Zajac, Peter Andrey Smith, Lee Roscoe, Linda Aylesworth, (from left, seated) Katharine Gammon, and David Freeman.
David Appell
Freelance
Linda Aylesworth
Global TV News
Katharine Gammon
Freelance

Wynne Parry
LiveScience.com
David Richardson
Freelance
Lee Roscoe
Freelance
Peter Andrey Smith
Freelance
Tomasz Ulanowski
Gazeta Wyborcza
Linda Zajac
Freelance

2011 Fellows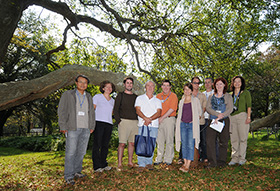 2011 Fellows: (from left): Jingyu Yoon, Rene Schoof, Peter Brannen, Larry Pynn, Ed Ronco, Heather Goldstone, David Jolly, Jeremy Grange, Rebecca Boyle, and Jacqueline Adams. (Jayne Doucette, Woods Hole Oceanographic Institution)
Jacqueline Adams
Freelance
Rebecca Boyle
Freelance
Peter Brannen
Vineyard Gazette
Heather Goldstone
WCAI – NPR
Jeremy Grange
BBC Wales
David Jolly
International Herald Tribune
Larry Pynn
The Vancouver Sun
Ed Ronco
KCAW-FM
Rene Schoof
McClatchy Newspapers
Jingyu Yoon
Korean Broadcasting System
2010 Fellows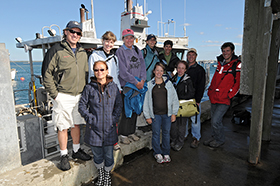 2010 Fellows Front row (from left): Shar Levine, Allison Winter, Emily Gertz.
Back row: Erik Olsen, Brooke Borel, Mindy Todd, Jennifer Barone, Jennifer Weeks, Clarke Canfield, and Frank Pope. (Photo by Jayne Doucette, Woods Hole Oceanographic Institution)
Jennifer Barone
Discover magazine
Brooke Borel
Freelance
Clarke Canfield
Associated Press
Emily Gertz
Freelance
Shar Levine
Author
Erik Olsen
New York Times
Frank Pope
The Times of London
Mindy Todd
WCAI – NPR
Jennifer Weeks
Freelance
Allison Winter
E&E Publishing
2009 Fellows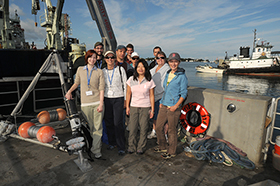 2009 Fellows Front row (from left): Erica Westly, Melissa Gaskill, Jane Qiu, Dinah Pulver and Elise Hugus. Back row: David Levin, Jeff Rubin, Daniel Cressey, David Perlman and Wojciech Mikoluszko. (Photo by Jayne Doucette, Woods Hole Oceanographic Institution)
Daniel Cressey
Nature
Melissa Gaskill
Freelance
Elise Hugus
Falmouth Enterprise
David Levin
Nova Online
Wojciech Mikoluszko
Freelance
David Perlman
San Francisco Chronicle
Dinah Pulver
Daytona Beach News-Journal
Jane Qiu
Freelance
Jeff Rubin
Freelance
Erica Westly
Freelance
2008 Fellows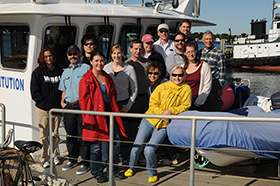 2008 Fellows Front: Alexa Elliott. 2nd row: Sarah Webb, Kirsten Weir Taylor, Peter Brown, Judith Lewis, Thomas Hayden, and Lauren Morello. Back row: Erin Koenig (WHOI), Jim Churchill (WHOI), Kyoichi Sasazawa, Molly Peterson, Ken Weiss, Mike Carlowicz (WHOI) and Sandy Williams (WHOI). (Photo by Jayne Doucette, Woods Hole Oceanographic Institution)
Peter Brown
Scientific American
Alexa Elliott
WPBT Channel 2 (PBS)
Thomas Hayden
The Banff Centre, Canada
Judith Lewis
Freelance
Lauren Morello
ClimateWire
Molly Peterson
KPCC 89.3 FM Public Radio
Kyoichi Sasazawa
The Yomiuri Shimbun Daily News
Kirsten Weir Taylor
Freelance
Sarah Webb
Freelance
Ken Weiss
Los Angeles Times
2007 Fellows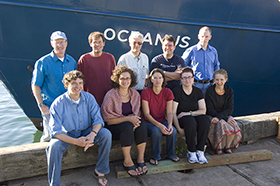 2007 Fellows front: Donovan Hohn, Karen Romano Young, Emily Stone, Lori Valigra, Elizabeth Grossman. back: Kurt Loft, Quirin Schiermeir, John Carey, Scott Dodd, Jonathan Leake. (Photo by Tom Kleindinst, Woods Hole Oceanographic Institution)
John Carey
Senior Correspondent, Business Week (D.C.)
Scott Dodd
Freelance science writer (New York)
Donovan Hohn
Contributing Writer, Harpers Magazine; freelance book author (New York)
Elizabeth Grossman
Freelance environment/science writer and book author (Portland, Ore.)
Jonathan Leake
Science and Environment Editor, The Sunday Times (London)
Kurt Loft
Science Reporter, The Tampa Tribune (Florida)
Quirin Schiermeir
German correspondent, Nature (Munich)
Emily Stone
Freelance writer (Chicago)
Lori Valigra
Editor, Gulf of Maine Times; freelance writer (Cambridge, Mass.)
Karen Romano Young
Children's book author; freelance writer/editor/illustrator and marine science educator (Bethel, Conn.)
2006 Fellows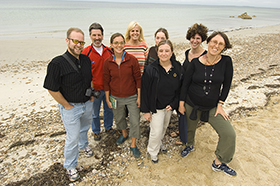 2006 Fellows Peter Rejcek, Brian Hoyle, Maria Frostic, Olive Heffernan, Claudia Caruana, Juliet Eilperin and Marta Paterlini. (Photo by Tom Kleindinst, Woods Hole Oceanographic Institution)
Claudia Caruana
Freelance Science Writer (NY)
Juliet Eilperin
National Environment Reporter, Washington Post (DC)
Maria Frostic
Associate Editor, Soul of Virginia Magazine (VA)
Olive Heffernan
Editor, The Marine Scientist Magazine (England)
Brian Hoyle
Freelance Science Journalist (Canada)
David Lemberg
Executive Producer and Radio Host, Science and Society (CA)
Marta Paterlini
Freelance Science Journalist (Sweden)
Peter Rejcek
Science Writer, The Antarctic Sun (CO)
2005 Fellows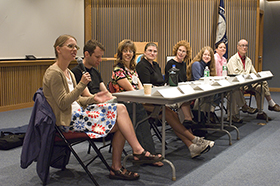 2005 Fellows: Kathleen Schmitt, Paul Thacker, Debbie Salamone, Sara Pratt, Mary Hoff, Lisa Strong-Aufhauser, Jeanna Bryner and Gerald Rising. (Photo by Tom Kleindinst, Woods Hole Oceanographic Institution)
Jeanna Bryner
Assistant Editor, Science World Magazine, Scholastic Inc.
Mary Hoff
Freelance Science Writer/Editor
Sara Pratt
Contributing Writer, Geotimes Magazine
Gerald Rising
"Nature Watch" Columnist, The Buffalo News
Debbie Salamone
Editor for Environment, Growth and Development, Transportation and Government, Orlando Sentinel
Kathleen Schmitt
Science Writer, Earthwatch Radio
Lisa Strong-Aufhauser
Writer/Producer, Strong Mountain Productions
Paul Thacker
Associate Editor, Environmental Science & Technology
2004 Fellows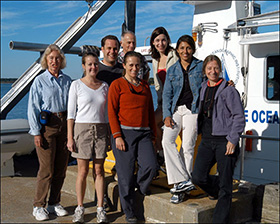 2004 Fellows: April Holladay, Gisele Grayson, Stephanie Renfrow, Cristiano Burmester, Potter Wickware, Christina Reed, Mish Michaels, Liza Miller Gross. (Photo by Tom Kleindinst, Woods Hole Oceanographic Institution)
Cristiano Burmester
Photojournalist (Sao Paulo, Brazil)
Gisele Grayson
Assistant Producer, Science Desk, National Public Radio (Washington, DC)
Liza Miller Gross
Science Writer, Public Library of Science (CA)
April Holladay
Freelance Science Writer (NM)
Mish Michaels
WBZ-TV CBS 4 Meteorologist (Boston, MA)
Christina Reed
Science Writer, Discovery Science Channel (Washington, DC)
Stephanie Renfrow
Science Writer, National Renewable Energy Laboratory (CO)
Potter Wickware
Freelance Science Writer (CA)
2003 Fellows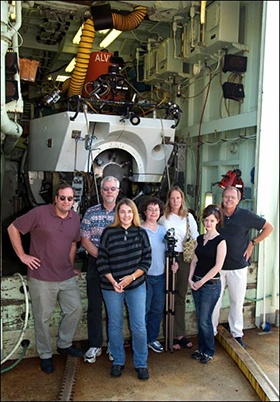 2003 Fellows: Steven Ashley, Peter Spotts, Rebecca Perry, Donna Vaughan, Beth Daley, Mary Carmichael, Michael Fincham. (Photo by Tom Kleindinst, Woods Hole Oceanographic Institution)
Steven Ashley
Editor, Scientific American
Mary Carmichael
Assistant Editor, Science and Technology Newsweek
Beth Daley
Environmental Reporter, The Boston Globe
Michael Fincham
Freelance Science Writer/Television Producer
Rebecca Perry
Editorial Artist, Los Angeles Times
Gary Robbins
Science Writer and New Media Reporter, Orange County Register
Peter Spotts
Science and Technology Correspondent , Christian Science Monitor
Donna Vaughan
Research Producer, ScienCentral, Inc.
2002 Fellows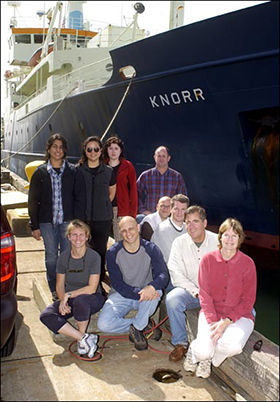 2002 Fellows front: Leigh Fenly 2nd row (l to r) Beth Livermore, Chad Cohen, Charles Petit 3rd row: Bryn Nelson 4th frow: Jonathan Ledgard 5th row (l to r): Bijal Trivedi, Corinna Wu, Natasha Singer, Sid Perkins (Photo by Tom Kleindinst, Woods Hole Oceanographic Institution)
Chad Cohen
Producer, Correspondent, National Geographic Channel ("National Geographic Today")
Leigh Fenly
Quest Editor, The San Diego Union-Tribune (Class of 2001)
Jonathan Ledgard
Foreign Correspondent, The Economist
Beth Livermore
Freelance Science Writer/Editor
Bryn Nelson
Health/Science Writer, Newsday
Sid Perkins
Earth Science Writer, Science News
Charles Petit
Senior Writer, U.S. News & World Report
Natasha Singer
Contributing Writer, Outside Magazine
Bijal Trivedi
Web Writer for National Geographic.com ("National Geographic Today")
Corinna Wu
Radio Producer, "Science Update", AAAS
2001 Fellows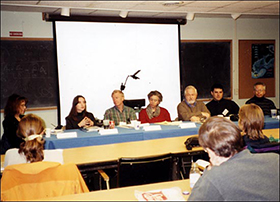 2001 Fellows: Cynthia Fox, Hannah Fairfield, Wallander Robert Biyd, Naomi Starobin, Michael Burns, Curt Epstein, William Hendrickson (Photo by Shelley Dawicki, Woods Hole Oceanographic Institution)
Robert Boyd
Science Writer, Washington Bureau, Knight Ridder Newspapers
Michael Burns
Editorial Writer, The Baltimore Sun
Curt Epstein
Reporter and Senior Producer, Science & Technology News Network
Hannah Fairfield Wallander
Graphics Editor, The New York Times
Leigh Fenly
Quest Editor, The San Diego Union-Tribune (Attended in 2002)
Cynthia Fox
Freelance Science Writer, New York City
William Hendrickson
Managing Editor, Issues in Science and Technology
Naomi Starobin
News Reporter, WSHU Public Radio (CT), National Public Radio
2000 Fellows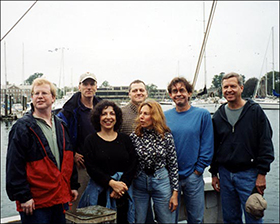 2000 Fellows front: Anastasia Toufexis, Lynne Cherry, 2nd row: Josh Fischman, Richard Hill, Matt Crenson, Tim Friend, Eric Sorenson (Photo by Tom Kleindinst, Woods Hole Oceanographic Institution)
Matt Crenson
National Writer, Associated Press, New York
Josh Fischman
Senior Writer, U.S. News & World Report, Washington, DC
Richard Hill
Science Writer, The Oregonian, Portland, OR
Eric Sorenson
Science Writer, The Seattle Times, Seattle, WA
Anastasia Toufexis
Senior Editor, Discover Magazine, New York City
Lynne Cherry
Children's Science Writer/Illustrator, Thurmont, MD
Tim Friend
Science Writer, USA Today, Arlington, VA