Media Tip Sheet
SHARE THIS:
The following are some of the key talks that will be presented by Woods Hole Oceanographic Institution (WHOI) scientists at the
2014 Ocean Sciences Meeting
in Honolulu, Hawaii from February 23-28.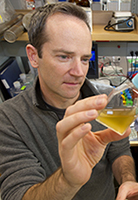 Exploring the 'Plastisphere'
Scientists have discovered a diverse multitude of microbes colonizing and thriving on flecks of plastic that have polluted the oceans—a vast new human-made flotilla of microbial communities that they have dubbed the "Plastisphere."
Plastic marine debris persists much longer than any natural floating debris and provides an attachment surface for thin layers of life. WHOI marine chemist Tracy Mincer will present results from amplicon sequencing surveys of 16S rRNA genes that show the bacteria of the genus Vibrio comprise a major portion of the Plastisphere—at times nearly 25 percent of the bacterial community. Strikingly, "super-colonizer" vibrios were discovered to form measureable biofilms on plastic in a matter of minutes. Characterizing Vibrio attachment to plastic will provide a model for plastic marine debris colonization and clues to the ecological function of this prevalent group of Plastisphere inhabitants.
Presentation Title: Investigation of Microbial Adherence and Virulence Factors Associated with Open-Ocean Derived Plastic Marine Debris: Vibrio Bacteria as a Model System
Date: Monday, Feb. 24
Time: 11:00 a.m.
Location: 316 B
Related link: Colonies of microbes flourish on tiny bits in the ocean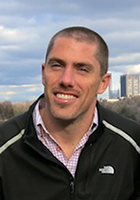 Human-induced Impacts on Tropical Oceans
The U.S. Pacific Remote Island Area includes seven islands, atolls, and reefs in the Central Pacific. WHOI biogeochemist Kristopher Karnauskas combined field data and global climate models to assess how human-induced changes in ocean circulation may reduce warming across these remote Pacific islands. As the Equatorial Undercurrent becomes stronger, warming in the region will lessen, according to projections calculated by the latest global climate models from the Intergovernmental Panel on Climate Change Assessment Report 5. On one island, Jarvis Island, regional warming will be lessened by 5-15 percent while on the Gilbert Islands, warming will be lessened by 7-45 percent. As a result, Marine Protected Areas may not provide refuge from the anticipated rate of large-scale changes, which could exceed the capacity of ecosystems and commercial interests that depend on them to adapt.
Presentation Title: An Undercurrent of Change: Assessing Potential Natural Mitigation of Ocean Warming at the U.S. Pacific Remote Islands Marine National Monument
Date: Monday, Feb. 24
Time: 2:45 p.m.
Location: 317 AB
Related Link: Pacific Islands May Become Refuge for Corals in a Warming Climate, Study Finds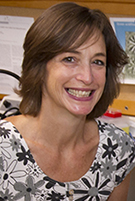 Coral Growth in the Caribbean
Across the Caribbean, coral cover has declined by 80 percent since the 1970s. At the same time, the growth rate of the region's dominant reef-building corals has declined by 50 percent, as shown by 3-D CAT scan images of coral skeleton cores. By examining the historical coral record, WHOI biogeochemist Anne Cohen found that the fluctuations in coral growth over multiple decades strongly correlate with thesea surface temperature variability of the Atlantic Multidecadal Oscillation linked to shifts in marine productivity and fisheries.
Cohen and her research team explored changes in mixed layer depth, nutrients and productivity, and their influence on coral growth across seven sites in the Caribbean. Through fieldwork, lab experiments, and examinations of coral records, they uncovered more about the major role climate change is playing in the demise of Caribbean reefs.

Presentation Title: The Role of Basin-Scale Climate Variability in the Demise of the Caribbean Reefs
Date: Monday, Feb. 24
Time: 3:45 p.m.
Location: 317 AB
Related Link: A Quest For Resilient Reefs- Corals are threatened by the ocean's changing chemistry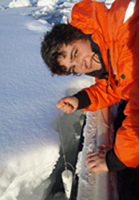 Subpolar North Atlantic Warming and Greenland's Glaciers
Over the past decade as the subpolar North Atlantic warms, ice loss from Greenland's glaciers has increased, doubling the ice sheet's contribution to sea-level rise. As the ocean warms, the ice that meets the ocean has begun to melt faster, a process called submarine melting.
A wide range of other processes such as fjord circulation and meltwater plume dynamics are at play. WHOI physical oceanographer Fiamma Straneo used data collected in a major southeast Greenland fjord, a nearby shelf region, and Argo data from the subpolar gyre as evidence that can explain the mechanisms through which large-scale ocean variability affects the waters in the vicinity of the glaciers and potentially the submarine melt rate.
Presentation Title: Impact of Subpolar North Atlantic Warming on Greenland's Glaciers
Date: Thursday, Feb. 27
Time: 8:45 a.m.
Location: 314
Related Link: A Look Back and Ahead at Greenland's Changing Climate