Letter from Laurence P. Madin, Director of Research
WHOI's Technical Staff
There are many characteristics that set WHOI apart from its peer institutions in the area of ocean research, technology and education, but one of the most important is the Technical Staff. Numbering about 209 men and women, this group is the largest single employee category at the Institution, and its members fill a wide range of responsibilities in labs and offices, ships and shops, under the water and on top of the ice. Their experience, expertise, innovation and work ethic are strengths that make what we do here possible.
The Technical Staff is organized in three 'ladders' according to area of specialization -- Research, Engineering and Information Systems – and two levels – junior and senior. The top levels of Senior Research Specialist, Principal Engineer and Senior Information Systems Specialist are rarefied territory, with a current total of only 15 incumbents, compared to 63 Senior Scientists on the Scientific Staff. At the upper levels, Technical Staff are often Principal Investigators in their own right, or head major groups of other Technical Staff members. At other levels are found experts in laboratory procedures and analyses, engineering design and fabrication, electronics, testing and calibration and at-sea or other field operations.
This is particularly true in the Applied Ocean Physics and Engineering Department, where Technical Staff outnumber Scientific staff by 88:24, and major lab groups like the Ocean Systems Lab (Remus group), Deep Submergence Lab, Advanced Engineering Lab, Instrument Systems Development Lab and Mooring Operations and Engineering Group are composed of Technical Staff, representing many decades of theoretical and practical experience in ocean-related engineering. The largest such group in WHOI's history is the Ocean Observatories Initiative (OOI), a multi-decade program let by Scientific Staff Principal Investigators but staffed with Technical Staff managers and engineers.
In other science departments, Technical Staff at various levels manage, operate and/or maintain state-of-the-art analytical or field facilities like the National Ocean Science Accelerator Mass Spectrometer and the Northeast National Ion Microprobe Facility, the Argo Float group, and the Marine Mammal Center.
Supporting research and education more broadly across the Institution are groups like Computer and Information Services (CIS), Shipboard Scientific Services Group (SSSG), Advanced Imaging and Visualization Lab (AIVL), and the Biological and Chemical Oceanography Data Management Office (BCO-DMO) – all managed and staffed by Technical Staff.
Life for Technical Staff can be intellectually and physically challenging, and unfortunately does not carry the same degree of employment security that Scientific Staff enjoy. When project funding wanes, Technical Staff members may have to seek new opportunities in the Institution and sometimes even reduce their hours during funding gaps. One of the goals of our efforts to increase industry funding for programs like the Center for Marine Robotics is to bring more stability to the Technical Staff support so that these essential and often irreplaceable members of our community remain fully engaged in building the future of oceanography.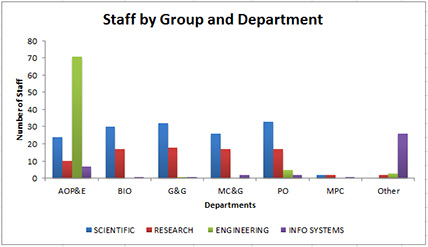 Last updated: October 2, 2013