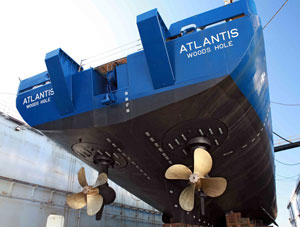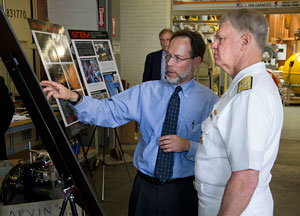 Related Multimedia

Related Links
2011 was a very busy year for the large research ships operated by Woods Hole Oceanographic Institution (WHOI). The ships traveled the oceans in search of scientific discoveries in an effort to better understand the world's ocean, climate and marine life.
R/V's Knorr, Atlantis and Oceanus spent more than 700 days at sea. Atlantis spent most of the year in the Pacific Ocean supporting ROV Jason. Some of the science on these cruises included multi-beam testing, hydrothermal vents and collaborative research. In November, Atlantis transited to Piraeus, Greece to begin research but was called upon by the Greek Coast Guard to respond to a mayday call from a fishing vessel. Following standard safety procedures, Captain A.D. Colburn and the Atlantis crewwere able to safely rescue 93 Egyptian fishermen and deliver them to Kalamata, Greece before departing on the research mission.
R/V Knorr spent the year in the Atlantic, aiding in research from Halifax, Nova Scotia to Nuuk, Greenland and Reykjavik, Iceland. Research included work on eddies, air/sea gas exchange, and GEOTRACES, a project to identify processes and quantify fluxes that control the distribution of trace elements and isotopes in the ocean and to establish the sensitivity of these distributions to changing environmental conditions.
R/V Oceanus travelled from Woods Hole to Barbados and Bermuda to conduct research that included work with a video plankton recorder (VPR), Trichodesmium, an important ocean plankton organism, and carbon export studies. R/V Oceanus also assisted the Ocean Observatories Initiative (OOI) with a successful deployment of at-sea testing equipment. The OOI program is a long-term, NSF-funded program to provide 25-30 years of sustained ocean measurements to study climate variability, ocean circulation and ecosystem dynamics, air-sea exchange, seafloor processes, and plate-scale geodynamics.
The National Science Foundation (NSF) decided that R/V Oceanus after having been operated for 36 years by WHOI would make its last voyage from its homeport at WHOI in November 2011. Oceanus was determined to be the replacement for R/V Wecoma, the retiring research vessel at Oregon State University.
WHOI continues to support the construction of AGOR 27 (Auxiliary General Purpose Oceanographic Research), a new Ocean Class research vessel currently under construction by the U.S. Navy and scheduled to come online in 2015.
The National Deep Submergence Facility (NDSF) continues to be operated by WHOI for the national oceanographic community. Included in NDSF are HOV Alvin (currently out of service being upgraded, and scheduled to return to service in 2013), ROV Jason/Medea and AUV Sentry. Both Jason and Sentry, operated from R/V Atlantis, conducted engineering dives as well as research divesin the Pacific Ocean which.
The Alvin upgrade project is progressing. Certification sea trials are on schedule to be completed by the end of 2012. The new personnel sphere will undergo final assembly and hydrostatic testing in Annapolis, MD, in spring 2012. At WHOI, fabrication and refurbishment of various components continues. We have received and finished testing all of the new 6500m rated syntactic foam, and are making preparations to send it out for bonding and shaping.
Martha's Vineyard Coastal Observatory (MVCO) is a research observatory located at South Beach and in the ocean a mile off the south shore of Martha's Vineyard. It provides real time and archived coastal oceanographic and meteorological data for researchers, students and the general public. MVCO, which is managed by Center for Ocean, Seafloor and Marine Observing Systems (COSMOS), required several deployments of coastal research vessel R/V Tioga for instrument deployments and dive operations. Divers were deployed from Tioga to assist with the Air-Sea Interaction Tower (ASIT) as part of the Optics Acoustics and Stress In-Situ (OASIS) project at MVCO.
WHOI's Access to the Sea endowment funded seven scientific projects in 2011. Scientific research included autonomous underwater glider observations of the Mid-Atlantic Bight shelf, unmanned aerial systems for oceanographic applications, and the enhancement of MVCO ocean observing system web services. Over $290,000 was awarded for ocean science research.
— Robert Munier, Vice President for Marine Facilities & Operations