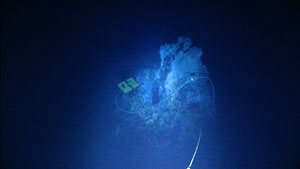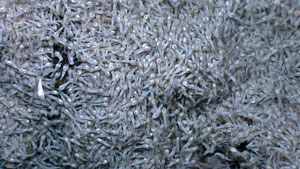 Deep-sea shrimp swarm around one of the hydrothermal vents at the Mid-Cayman Rise. The shrimp feed on microbes that utilize chemicals in hydrothermal vent fluid as an energy source.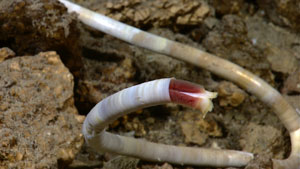 Atlantic Ocean hydrothermal vents are known for large shrimp populations, and Pacific Ocean vents for tubeworms, but both depend on chemosynthetic microbes for food, rather than on photosynthetic organisms. On a 2011 expedition to the Mid-Cayman Rise, scientists found the first Atlantic Ocean tubeworms, at the Von Damm vent site at 2300 meters depth.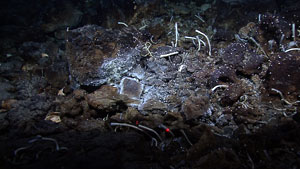 This photo was taken in 2011 at the moment scientists first saw tubeworms and vent shrimp living at the same hydrothermal vent, at the Mid-Cayman Rise. Finding these two animals together in Caribbean raises questions about the evolution of vent communities in the Caribbean Sea, lying between the Atlantic and Pacific Oceans.

Related Multimedia

Related Links
The Department of Geology and Geophysics (G&G) is a diverse and multidisciplinary group of researchers and technical staff who carry out research from hydrothermal vents and associated seafloor volcanic activity to earthquakes and tsunamis to global climate change in the past and more recent historical times, including the effects on ice-sheets, coastline evolution and sea level change.
In 2011 the G&G Department appointed two new Assistant Scientists as part of a cross-department Climate Initiative: Jessica Tierney is an organic chemist who studies oxygen and hydrogen isotopes in leaf wax, and other proxies, to reconstruct past climates in the Tropics, while Kevin Anchukaitis is a dendrochonologist, using tree rings to also study climate change in tropical regions on a more recent, sub-millennial timescale. Adding their expertise to our existing paleoclimate research staff in the G&G Department broadens and strengthens our ability to address research questions that involve the Tropics and multiple timescales and disciplines. In addition to the new two scientists, Research Associate Brian Monteleone joined the Technical staff in the New England National Ion Microprobe Facility under the direction of Nobu Shimizu. There was one departure in 2011 as Assistant Scientist Yajing Liu left for an academic post at McGill University in Canada. This past year Mark Behn, Anne Cohen and Pablo Canales were promoted to Associate Scientist with Tenure, Bill Thompson and Andrew Ashton were promoted to Associate Scientist and John Collins was promoted to Senior Research Specialist.
Several staff members garnered awards in 2011:
Senior Scientist Henry Dick was awarded the AGU Harry H. Hess medal in recognition for his "outstanding achievements in research of the constitution and evolution of earth and other planets" and most notably for "his discoveries, creative efforts and deep insights that have led to the modern understanding of the mantle melting and ocean crust formation along the global ocean ridges."
Senior Scientist Lloyd Keigwin was named a fellow of AAAS for his "distinguished contributions to the study of the oceans role in climate change and for national and international leadership."
In early 2012, Ginny Edgcomb was also awarded the "Seymour H. Hutner Award" from the International Society of Protistologists for outstanding contributions to protozoology.
In research news, climate dynamicist Kris Karnauskas in collaboration with Anne Cohen and others published results of a study that shows that a predicted rise in equatorial Pacific surface water temperatures might be mitigated by the equatorial undercurrent for a string of islands that straddle the equator. This could be good news for coral reef ecosystems and fisheries in these remote areas that are under threat from global ocean warming, and shows that regional conditions are important considerations in assessing impacts from climate change.
Also in the climate world—this time looking back in the past—age-dating specialist Bill Thompson published an improved method of dating fossil coral reef skeletons. Bill found that the corals in the Bahamas document rapid sea level changes during the last interglacial period (120,000 years ago), with sea level oscillating up and down by 4 to 6 meters (13-20 feet) over a few thousand years.
Post-doc and microbiologist Bill Orsi, working in Virginia Edgcomb's Lab on deep sea sediment samples found RNA evidence of fungi living deep within the seafloor amidst ancient eukaryotic organisms and implicates fungi as a source of organic substrate turnover in the marine "subsurface".
Chris German was Chief Scientist on board the Okeanos Explorer as he made the first ROV investigation of one of the deepest hydrothermal vents discovered to date; the Piccard site on the Mid-Cayman Rise (ca. 5000 m depth), as well as the shallower Von Damm vent (2300 m), named after noted vent chemist Karen Von Damm who passed away in 2008. The Von Damm vent site is notable for the discovery of the first tubeworm colony ever seen in the Atlantic. Typically, Atlantic vent sites are dominated by shrimp while Pacific vents have tubeworms, so this new discovery blurs that biogeographical boundary.
Finally, 2011 saw another devastating subduction-zone related earthquake (magnitude 9), this time in Japan, with an unprecedented tsunami that led to a nuclear power plant disaster. Several scientists from Woods Hole including G&G geochemist Chris German and seismologists Jian Lin and Jeff McGuire helped in the response and documentation of this major event. In the hopes of being more prepared for such a catastrophic event off the Washington and Oregon coasts, seismologists Jeff McGuire and John Collins also continued with the community-wide Cascadia experiment: new ARRA-funded ocean bottom seismometers (OBS) along with WHOI's Keck broadband OBS's were installed to capture the complete range of earthquake behavior, from slow slip to rupture, across a wide area of the Pacific seafloor adjacent to the Pacific Northwest.
—Maurice Tivey, Department Chair