| | |
| --- | --- |
| Letter from Dana Fernandez, Interim Co- Vice President, Finance and Administration | |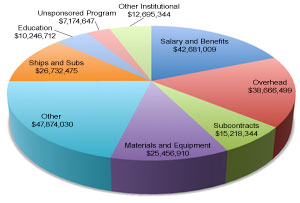 2011 Operating Expenses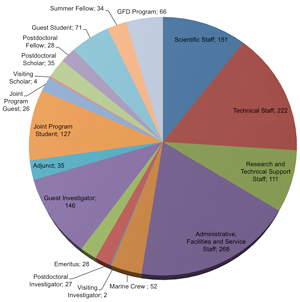 2011 People

WHOI employees totaled 861 in 2011, students, postdocs, and scholars totaled 391, and others affiliated with the Institution totaled 181.


We are pleased to present the CY 2011 unaudited financial statements of the Woods Hole Oceanographic Institution (WHOI). The Institution faced several challenges in 2011 that ranged from managing funding shortfalls in our pension plan to identifying and establishing stronger controls and processes associated with large project management, with year-end results stronger than expected. This was primarily attributable to a strong endowment, healthy increase in revenue, improved operational efficiencies, and the support of organizations and individuals who recognize the long term benefits of basic research.
S&P Rating AA-with Stable Outlook
The Institution recently received the results of our Standard & Poor's (S&P) annual Bond Rating Review, which was conducted in April, 2012. The Institution was notified in May 2012 that the current rating of AA- with a stable outlook remains unchanged. This continued favorable rating will enable the Institution to negotiate better banking terms, easily establish partnering relationships for federal government grants, and provide potential donors and foundations with evidence of a stable financial outlook to go along with WHOI's scientific reputation.
Statement of Financial Position
WHOI continues to have a strong balance sheet. At December 31, 2011, WHOI's total assets were $497 million, total liabilities were $234 million and total net assets were $264 million.
Net assets represent the accumulated financial strength of a not for profit organization and are an important gauge of its ability to carry out its mission. Included in the liabilities is the Massachusetts Health and Educational Facilities Authority bond debt of $60.6 million.
The endowment, $341 million represents 68% of the total assets at December 31, 2011.
Statement of Activities
WHOI's total operating revenues increased by $18.0 million; from $203 million in CY 2010 to $221 million in CY 2011; and the Institution's change in net assets from operating activities was ($5.8) million.
$16.9 million of endowment income and appreciation was distributed to operations as follows:
Education $6.7 million
Research $6.1 million
Unrestricted $4.1 million
The Institution had overhead costs of $87.6 million, and approximately 65% of that amount, $56.7 million, was recovered from the government and non-government research. The remainder was institutional expenses.
WHOI paid $5.0 million in interest during CY 2011 and $1.4 million in principal payments on the $60.6 million outstanding debt in CY 2011. The Federal government allows interest and depreciation for real property and equipment in the Institution's overhead rates for reimbursement.
Summary
The Institution's commitment to understanding the oceans is unchanged; however, the federal funding environment continues to provide a challenge. WHOI is looking to expand its sources of revenue by leveraging its industry recognized core skills in both the federal and industry marketplaces. We are also continuing the process of evaluating our administrative systems and allocating resources to support our science and an evolving organization.
— Dana Fernandez, Interim Co- Vice President, Finance and Administration