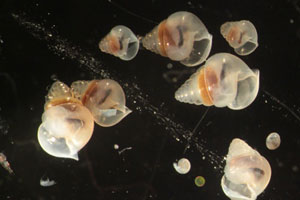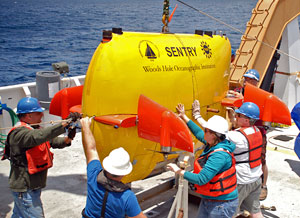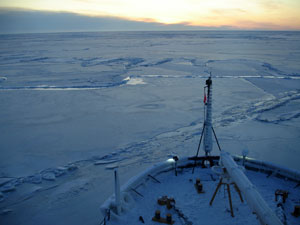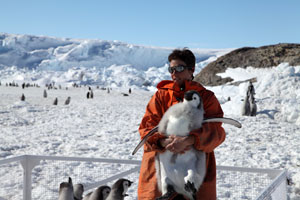 Related Multimedia

Related Links
Members of the Biology Department at WHOI seek to understand life in the oceans and the interactions of marine life with its environment. WHOI biologists study a variety of organisms including bacteria and archaea, viruses, protists, phytoplankton, zooplankton, fish, seabirds, and whales. Their research covers all levels of biological organization, from molecules and cells to communities and ecosystems, and occurs around the globe and in the laboratory.
In 2011, WHOI biologists engaged in several exciting field expeditions:
Gareth Lawson led a multidisciplinary cruise on R/V Oceanus with colleagues from three WHOI Departments to study pteropods ("sea butterflies", a kind of snail) in the North Atlantic and the potential effects of ocean acidification on this important group of animals.
Craig Taylor and colleagues from MG&G went on a cruise on R/V Atlantis to the eastern Mediterranean Sea where—in addition to some unexpected excitement—they carried out the inaugural deployment of his Submersible Incubation Device – In Situ Microbial Sampler (SID-ISMS), a robotic micro-laboratory that was used to study the protozoan community inhabiting deep-sea brine environments.
Tim Shank participated in several cruises to assess the potential impacts of the Deepwater Horizon oil spill on deep-water coral communities in the Gulf of Mexico, while Cabell Davis led a cruise in the Gulf of Mexico to study plankton and marine snow in the Deepwater Horizon region.
During the second of NASA's two ICESCAPE expeditions to the Arctic, Sam Laney, Heidi Sosik and other WHOI researchers observed an unprecedented phytoplankton bloom under the Arctic sea ice cover in the Chukchi Sea. The bloom, paradoxical because people thought that the ice-covered ocean was too dark for blooms to occur, is possibly the most productive patch of ocean ever sampled. Measurements with a seagoing Imaging FlowCytobot (originally developed by Sosik and Rob Olson) provided information about the phytoplankton species in this unique phenomenon. Laney also teamed with other WHOI scientists and engineers to develop optical sensors for long-term under-ice profilers in the NSF's Arctic Observing Network. The 2011 deployment of these systems provided the first high-resolution measurements of phytoplankton changes with seasons under ice cover in the Arctic Ocean.
Also in the Arctic, Carin Ashjian led a 6-week cruise on the icebreaker USCGC Healy to investigate ocean biology, physics, and chemistry in the Chukchi and Bering Seas during the beginning of the Arctic winter. Despite conditions ranging from sub-zero temperatures and complete sea ice cover in the Chukchi Sea to raging winter storms in the Bering Sea, they collected some of the first early winter data from these seas.
At the other end of the globe at about the same time, new Assistant Scientist Stephanie Jenouvrier conducted Antarctic field research during the austral summer, studying emperor penguins and the potential impacts of climate change on penguin populations.
Not all expeditions occurred in forbidding environments, though: Jesús Pineda and Ann Tarrant taught Joint Program students during a field course in Tropical Marine Ecology at the Liquid Jungle Lab on the Pacific Coast of Panama.
Biology Department scientists also carried out a variety of other research activities in 2011, some of which were reported in 124 published papers involving department members. These are some of the important research advances WHOI biologists made this year:
Lauren Mullineaux and collaborators discovered that surface-generated eddies extend down to the deep seafloor, transporting the larvae of hydrothermal vent species away from the vents and demonstrating a mechanism for long-distance transport of vent larvae.
Sonya Dyhrman helped lead a consortium that sequenced and annotated the genome of a brown tide alga, providing insight into why brown tide blooms occur where they do.
Several scientists reported new research on marine mammals. Peter Tyack and colleagues showed that beaked whales change their behavior when exposed to naval sonar. Darlene Ketten launched a new website as a portal to her unique database of computed tomography (CT) images from a wide range of marine species; the web site includes over 3500 images, dozens of animations, and other materials. Tyack, Ketten, Michael Moore, and collaborators published a paper from a workshop held to explore how deep-diving marine mammals deal with decompression stress. And Mark Baumgartner developed a low-frequency detection and classification system (LFDCS) for calls made by baleen whales, and is working with WHOI engineers and physical oceanographers to deploy it on ocean gliders for long-term monitoring of whale behavior.
Additionally, Aran Mooney reported for the first time the ability of squid and cuttlefish to respond to sound.
When not at sea or in the lab, many Biology Department scientists are leaders, internally and at national and international levels. Biologists lead WHOI's Ocean Life Institute (Simon Thorrold), NOAA's Cooperative Institute for the North Atlantic Region (CINAR; Don Anderson) and WHOI Sea Grant Program (Judy McDowell), WHOI's Center for Ocean, Seafloor & Marine Observing Systems (COSMOS; Heidi Sosik), the NIH/NSF Center for Oceans and Human Health (COHH; John Stegeman), and WHOI's Marine Mammal Center (Michael Moore). At the national level, Don Anderson took a leadership role in fighting budget cuts for extramural research funding in NOAA and advocated on behalf of harmful algal bloom (HAB) research.
The Biology Department recognized excellence in research by promoting Ann Tarrant to Associate Scientist, Sonya Dyhrman to Associate Scientist with Tenure, and Carin Ashjian to Senior Scientist. Scientist Emeritus John Waterbury received the prestigious Gilbert Morgan Smith Medal from the National Academy of Sciences "for the discovery and characterization of planktonic marine cyanobacteria, and viruses that infect them, setting in motion a paradigm shift in our understanding of ocean productivity, ecology, and biogeochemical cycles." And Judy McDowell stepped down after a successful five-year term as Biology Department Chair, leaving the department in great shape and with a strong cohort of young scientists who will carry us into the future.
—Mark Hahn, Department Chair