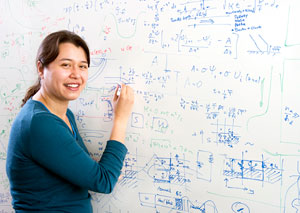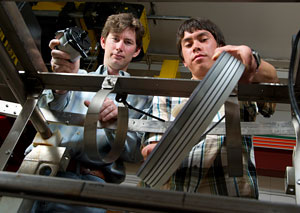 Related Multimedia

Related Links
The strength of all the WHOI education programs is the close linkage with the WHOI research mission and projects and we are very proud of the ways our students and postdocs contribute to WHOI research.
We believe that one of our obligations is to make sure that young scientists understand the responsibilities they have when conducting research. In 2011, we started a regular program for graduate students, postdocs and summer fellows about the responsible conduct of research (RCR). The topics we discuss in both small and large groups range from responsible animal care to plagiarism to cooperative research. Participants interpret and discuss scenarios related to RCR themes, and those discussions are often very lively.
Also in 2011, WHOI, along with the New England Aquarium and other organizations, participated in a project funded by the National Science Foundation (NSF) entitled National Network for Ocean and Climate Change Interpretation (NNOCCI). As the science partner, Joint Program graduate students were responsible for providing accurate information on climate change and its effects on the ocean and ocean animals to interpreters at zoos and aquariums from around the country. As a result of these interactions, Joint Program students learned how to discuss complicated and controversial issues with the public—a skill that should help their careers and our field in the future.
In preparation for an NSF proposal to continue NSF funding for some of our summer fellows, we were able to locate 88% of the 151 WHOI summer undergraduate fellows in our program from 2007-2011. At the time of our survey, 54 were still undergraduates or graduating in spring 2011, with as yet unannounced plans for the fall. Of former fellows that we located, 65% of those who had graduated from college and settled their plans for fall 2011 were in science graduate programs. The 3 graduate programs having the highest number of our former summer fellows are the MIT-WHOI Joint Program (13 students), Scripps Institution of Oceanography (6 students) and University of Washington (5 students). Eleven former fellows have full-time technical positions in ocean science or related fields and 5 are working in other areas (e.g., the Peace Corps).
In 2011, WHOI Academic Programs developed a 2-week, non-credit, short course on basic principles in ocean science for 18 BP employees involved in the BP Environmental and Safety Divisions supporting offshore operations around the world, including Gulf of Mexico, North Sea, Arctic, and in waters off Angola and Trinidad. WHOI technical and scientific staff members and WHOI postdocs gave the lectures, tours, and demonstrations that comprised the course. The course was very successful and will be offered again in fall 2012.
During the 2010-2011 academic year, the Massachusetts Institute of Technology-WHOI Joint Program awarded 20 masters and doctoral degrees in ocean science and engineering. As of Fall 2011, the Joint Program (JP) had awarded 894 degrees. Enrollment is stable at 130 students in residence.
WHOI awarded 15 Postdoctoral Scholar positions in 2011 and for the first time, the number of WHOI postdoctoral Scholars, Fellows and Investigators in residence topped 100. There was a near 50:50 gender balance among postdocs and about 50% of the postdocs were foreign nationals from 21 different counties.
Students and postdocs bring energy, enthusiasm and new ideas to WHOI's research portfolio and help us move in new directions. We appreciate the support we receive from individual donors and foundations that support these fine education and training programs.
—James Yoder, Vice President for Academic Programs & Dean