| | |
| --- | --- |
| Woods Hole Center for Oceans and Human Health (WHCOHH) | |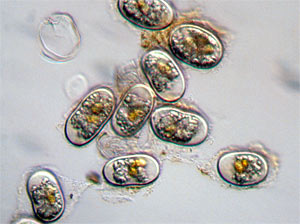 Related Links

Centers for Oceans and Human Health (COHH) seek to improve public health through a better understanding of how oceanic processes affect the distribution and persistence of human pathogens and toxin-producing organisms, and the Woods Hole COHH addresses the distribution of such biological agents in the temperate coastal ocean. Research projects focus on harmful algae, bacterial human pathogens and parasitic protists with complementary studies of physical ocean properties, and include methods of advanced genomics, population biology, and coastal hydrodynamics.



New Findings




New insights into what controls harmful algal blooms
In spring-summer 2010, WH-COHH investigators participated in four NOAA-sponsored cruises studying the toxic dinoflagellate Alexandrium fundyense in the Gulf of Maine. Based on the high abundance of resting cysts observed in coastal sediments the preceding fall, the 2010 bloom was expected to be severe. However, observations from research vessels at sea and coastal shellfish monitoring programs documented a below-average "red tide" season.

What factors prevented a large A. fundyense bloom from occurring? Researchers detected significant water mass anomalies indicating regional-scale changes in ocean currents and circulation. These changes had a direct influence on the ecological niche of A. fundyense: near-surface waters were warmer, more layered, and contained lower nutrient concentrations than usual. In addition, weaker-than-normal currents lessened A. fundyense transport along the coast. Overall, oceanographic conditions in 2010 were outside the envelope of those in the "training set" (from 2003-2009) used to develop the existing computer model that was used to forecast A. fundyense blooms. These new findings from 2010 are being utilized to improve forecasting capabilities for future predictions.



Outreach and Impact




Center Leadership and Investigators participated in the Oceans and Human Health Symposium and Workshop in Washington, D.C. in April 2010. This meeting included presentations for Congressional members and Staff on OHH issues.

Center Director John Stegeman presented a perspective on the U.S. program on Oceans and Human Health at the EurOCEAN 2010 conference in Ostende, Belgium in October. The talk, available online, was requested by the organizers to help the European marine science community in planning for initiatives to propose to the EU for the next decade.

Center Member Mitch Sogin (MBL) participated in research on microbial populations in the Gulf of Mexico in the aftermath of the Deep Horizon oil blowout. Studies to assess microbial assemblages are important to understanding the fate of hydrocarbons in the Gulf.

Center Investigators also made presentations at OHH sessions at several society meetings, including the Gordon Research Conference on Oceans and Human Health.



Productivity


The Center investigators have continued to produce publications reporting their findings. As of December 2010, 84 papers from Center research have been published in highly respected journals.