| | |
| --- | --- |
| Woods Hole Sea Grant Program | |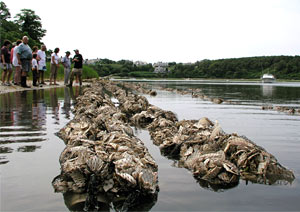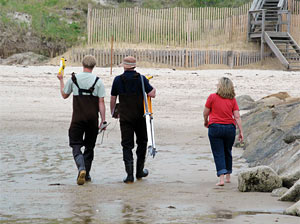 Related Links
For nearly 40 years, the Woods Hole Sea Grant Program has supported research, education, outreach and extension projects that encourage environmental stewardship, long-term economic development and responsible use of the nation's coastal and ocean resources.
Part of NOAA's national Sea Grant network of 32 programs, the program promotes cooperation between government, academia, industry, scientists, and the private sector to foster science-based decisions leading to better understanding, conservation, and use of coastal resources.
More than half of Woods Hole Sea Grant's annual budget of $1 million supports multi-year research projects in environmental technology, estuarine and coastal processes, and fisheries and aquaculture, as well as smaller, "new initiative" grants. Sea Grant research addresses local and regional needs, and many projects have national or even global implications.
In 2010, Sea Grant supported 13 projects at WHOI and other institutions that focused on topics ranging from modeling bay scallop populations to the mitigation of the risk to whales from lobster fishing. Andrea Cohen and Dan McCorkle are studying the impacts of ocean acidification on larval shell formation in four shellfish species, while Porter Hoagland, Hauke Kite-Powell and Di Jin of the Marine Policy Center are developing new institutions for managing ocean zoning.
Other studies are focused on the movement patterns and spawning site selection of horseshoe crabs and the integration of experiential field work with a marine ecology curriculum for middle school students.
More than one-third of Woods Hole Sea Grant's budget is dedicated to outreach and education, including the translation and dispersion of research to the general public. Sea Grant reaches its audience through one-on-one advice, training programs, web sites, workshops and lectures.
Collaboration with the Cape Cod Cooperative Extension service brings outreach, demonstration projects and unbiased technical assistance to local communities in fisheries and aquaculture and coastal processes. Successful projects in 2010 included the coordination and distribution of seed oysters to towns across Barnstable County for use in "remote set" programs, the start of an eelgrass restoration program, the mapping of longshore sediment transport and littoral cells on Cape Cod and assisting in surveys of Off-Road Vehicle Corridors.
In the ocean science education field, Woods Hole Sea Grant held workshops for K-12 teachers on topics of concern to the public, such as ocean acidification, and continued to distribute the extremely popular Beachcomber's Companion©, an award-winning publication and Web site highlighting common Atlantic marine invertebrates.
Woods Hole Sea Grant is proud of its track record of creating opportunities to promote effective research—through outreach partnerships with WHOI, as well as initiating efforts to reduce marine debris and plastics in the ocean. In 2010, marine debris efforts included the organization of several beach cleanups with community groups and concerned residents, collecting nearly 300 pounds of trash, and technical support to a major study on plastics in the Atlantic Ocean.
—Judith E. McDowell, Program Director