| | |
| --- | --- |
| Letter from Laurence P. Madin, Director of Research | |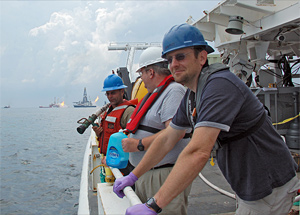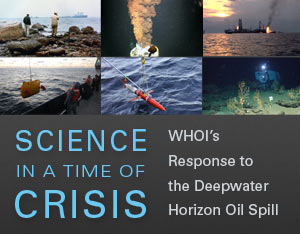 Related Links
Events in the Gulf of Mexico made 2010 a spotlight year for WHOI. Our research tools and experience found valuable applications enabling WHOI staff to make significant contributions to understanding the extent of the oil spill. Later in the year our autonomous vehicles were on another applied mission, mapping the wreck site of HMS Titanic for future study and a public exhibit. Tools and techniques developed for ocean research carried out a well-publicized mission to the world's most famous shipwreck.
While activities like these were getting the public attention, back in Woods Hole our basic research operations were 'operating normally'. That means that our 140 Scientific Staff and many of our Senior Technical staff were, in addition to doing research, writing 921 research proposals for submission a hundred different government, private, foreign or WHOI internal funding sources. Normally also means that Administrative Professionals in the science departments were preparing budgets according to the various agency requirements, that Department Administrators and Chairs were assembling and reviewing the proposals for scientific and technical accuracy, and the Grants and Contracts office was making final checks, clarifying confusion, negotiating terms and when all was in order, 'pushing the button' that electronically submitted the full proposal to the solicitingagency. There are major peaks of activity in February and August for the main NSF deadlines, but the proposal machinery hums along all year long. It's important for this machinery to work well because the grants and contracts that result from over 60% of the proposal submissions are the lifeblood of the Institution, and the investigators who write them are important fund raisers for WHOI.
All those grants and contracts supported some of the hundreds of projects that were underway at WHOI during 2010. Most of them didn't get the publicity of the oil spill, but, like every year, there were many important discoveries and advances made across the Institution. Here are three examples.
Sound waves are a powerful means of detecting, measuring and communicating in the ocean, and WHOI has a long history of research in ocean acoustics. In 2010 Tim Stanton and Andone Lavery of the AOPE Department demonstrated the value of a new broadband acoustic systems that emits and analyzes a broad range of acoustic frequencies. The resulting resolution allows much more accurate identification of fish, zooplankton and even turbulence in the water. The improvement is described by Stanton as like "the difference between black and white TV and High Definition".
WHOI is famous for the discovery of hydrothermal vents in 1977, and for much of the research that has gone on around them since then. Even 30 years later there are new discoveries. Lauren Mullineaux and her colleagues completed a study of re-colonization after a vent community was 'paved over' by volcanic eruption. They expected that new colonists would be similar species to those wiped out, arriving as larvae from the nearest and most similar sites. But the pioneers turned out to be from hundreds of kilometers away and of very different species. What's perplexing is how the larvae could travel so far – they are slow swimmers and don't live long before settling. One possible answer is that they ride rapid bottom currents, or jets, that provide a highway for long distance transport and colonization in the deep sea.
In another region known for underwater volcanic activity, the Gulf of California, WHOI Geologists Dan Lizzaralde and Adam Soule used seismic methods to discover a previously unsuspected mode of ocean crust formation. Usually new ocean floor forms when lava erupts along a mid ocean ridge, pushing tectonic plates apart. Instead, the WHOI group found that magma was pushing up into the thick sediment layers away from the ridge center, forming sills that remained buried in the sediment. One effect of this seems to be the release of nutrients from the sediments that nourish deep sea life, and of far more CO2 and methane than would come from normal volcanic activity. The importance of this for the global carbon cycle, and climate change, are just beginning to be examined.
These are only three of many projects underway in 2010 that led to new discoveries or new capabilities to observe and understand the ocean. Supported by some of those 921 proposals submitted in 2010, or the 4,472 submitted since 2006, WHOI researchers worked in all corners of the world ocean, and every year there is something new, astonishing and important to report. All part of 'operating normally' at the Woods Hole Oceanographic Institution.