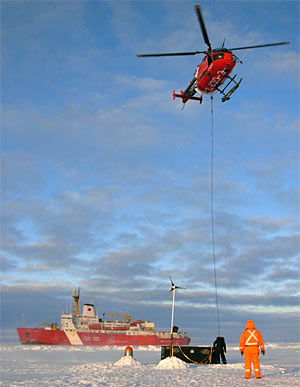 Related Multimedia

Related Links

Our branch of ocean science focuses on the physics of ocean currents, the role of those water flows in Earth's climate, and their interaction with the ocean's geochemical- and eco-systems. Physical oceanographic research involves a blend of approaches including direct observation at sea using human-operated or autonomous instruments, laboratory experiments, and analytical approaches to solving equations for a given problem. In December 2010, the Physical Oceanography (PO) Department had a scientific staff of 31, plus 7 scientist emeriti and a combined 8 postdoctoral scholars or investigators, all of whom collaborate with and are supported by a technical staff of 64. Three new Assistant Scientists joined the Department this year: Irina Rypina, Jake Gebbie and Hyodae Seo. There are currently 21 MIT-WHOI Joint Program students enrolled in a physical oceanography curriculum.

Our department's research spans all the major oceans and nearly from pole to pole, from the very near shore regions to the deep. A summary of some of the projects follows, from north to south.



Arctic regions



PO Department members carried out research projects in the Arctic Ocean and adjoining subpolar seas in 2010, many of which contribute to the long-term Arctic Observing Network (AON) effort.
Rick Krishfield supported the WHOI Ice-Tethered Profiler (ITP) program of drifting buoys deployed on Arctic sea ice, and also Andrey Proshutinsky's sustained measurement program, the Beaufort Gyre Observing System (BGOS), in the Canada Basin northeast of Alaska. One focus of this research is the changing amount of low-salinity surface waters that occasionally flood south where they may affect the ocean circulation and climate.
Closer to the coast, Al Plueddemann led a team that deployed an autonomous underwater vehicle under the sea ice near Barrow, Alaska, and Bob Pickart deployed moorings to measure flows on the continental shelf and did sampling on two cruises, with postdoc Emily Shroyer. These studies are documenting how Pacific Ocean waters enter and flow in the Arctic Ocean.
In theoretical studies, Andrey Proshutinsky continued to direct the international Arctic Ocean Model Intercomparison Project, whose annual meeting this year had more than 100 participants. Mike Spall used models to investigate overturning circulations (the sinking of dense water) in far northern and southern waters. And Jiang Yang used models to study the flow of that dense water.
Fiamma Straneo, who is investigating the ocean's influences on Greenland glaciers, led a team to Sermilik Fjord to make the first wintertime observations of the ocean waters touching the base of the glacier, and then returned to Greenland's fjords in August-September to recover moorings deployed in summer 2009. Complementing this field work, Claudia Cenedesi has designed laboratory experiments to investigate how fjord ocean water interacts with a glacier tongue.
Subpolar and subtropical latitudes
Amy Bower and German investigators are studying deep waters flowing through the "Charlie Gibbs Fracture Zone", a series of deep passages through the Mid Atlantic Ridge; with moorings to be in place for two years. Mike McCartney's glider program, funded by the WHOI Ocean and Climate Change Institute and the Arctic Research Initiative, is studying the southward-flowing dense waters near the Grand Banks. Dave Fratantoni also contributed to several research efforts using gliders, including using these autonomous instruments to acoustically track whales.
At subtropical latitudes in the North Atlantic, Ruth Curry and Kurt Polzin started a research program measuring deep currents between Bermuda, Puerto Rico and the Mid Atlantic Ridge, to better understand the deepest water circulation in this region. Despite significant interruption by Hurricane Igor, their first cruise in September successfully placed moorings on the eastern flank of the Bermuda Rise. Curry is also involved in the "Line W" long-term monitoring program with Terry Joyce, John Toole, McCartney and Lamont-Doherty Earth Observatory scientist Bill Smethie, measuring the equator-ward flow of a deep sea current southeast of Woods Hole. The 6-element Line W moored array was successfully recovered and redeployed in October.
Joyce, Young-Oh Kwon, Fratantoni, Straneo, J.J. Park, postdoc Xujing Davis, and others continue to analyze wintertime observations of the Gulf Stream, and (with Steve Jayne, Tom Farrar and postdoc Liz Douglass), make comparisons to the Kuroshio current in the North Pacific.
Anthony Kirincich installed a new multiple-antenna radar system at the Martha's Vineyard Coastal Observatory (MVCO) that he will use to investigate the near-shore ocean circulation. Meanwhile, Rypina is planning a massive surface drifter experiment within Kirincich's measurement area. Complementing this fieldwork, Ken Brink and Steve Lentz are doing theoretical studies of water flow along the coastal ocean's bottom topography.
In the far western North Pacific, Jayne, Douglass, and Ken Decoteau participated in a cruise studying cold sea surface temperature wakes that develop behind typhoons (and hurricanes)—calling for a careful balance between the need to sample close to a storm—but not too close! In other Pacific Ocean research, Glen Gawarkiewicz, Karl Helfrich and St. Laurent worked to analyze data from the East and South China Seas. Postdoc Magdalena Andres joined a research cruise studying flow through the Ryuku Island arc in Japan.
Several PO Department members contributed to measurement programs in the Gulf of Mexico after the Deepwater Horizon oil platform disaster. Marshall Swartz prepared and mounted instruments aboard ships to sample water properties in the area of the spill; Dan Torres sailed on two of those cruises. Breck Owens and colleagues operated an ocean glider that surveyed the oil spill region autonomously, sending back data in real time via satellite. Jayne assisted the U.S. Coast Guard with their evaluation of proposed oil spill mitigation strategies.
Bower, Lentz, Farrar, Dick Limeburner and Jim Churchill were again involved in Red Sea research in association with Saudi Arabia's King Abdullah University of Science and Technology, including an extensive hydrographic survey of the eastern Red Sea, moored instrument deployments and recoveries, and a course Jayne developed and taught to 60 students at KAUST.
Ray Schmitt continued laying groundwork for a study of sea surface salinity variability to be done in conjunction with the NASA Aquarius satellite. Lisan Yu and Bob Weller will also contribute to this study using their ocean evaporation data base.
The Upper Ocean Processes (UOP) group serviced long-term surface moorings in the North Atlantic, off Hawaii and in the Southeast Pacific.
South Pacific Ocean
Weller and Farrar investigated ocean eddies and mixing about the UOP mooring off Chile, to quantify cooling and freshening in the upper ocean under the persistent stratus clouds in this region. Kudos go to Jeff Lord and Ben Pietro for their efforts aboard the vessel B.I.C Humbolt to rescue this buoy, that went adrift in July, and to Hazel Salazar for assisting with the logistics of that charter.
UOP also designed, built, provided to the Australian Government, and helped deploy a surface mooring south of Tasmania as part of the Australian Integrated Marine Observing System.
Curry and Douglass completed a cruise to study currents at 32°S in January/February (Tahiti to Valparaiso), and were fortunate to return home just before the major earthquake that struck Chile that month.
The Southern Ocean
St. Laurent, Toole, Krishfield, Decoteau and Dave Wellwood were aboard the R/V Thompson, on a Southern Ocean cruise southwest of Chile at the time of the earthquake—far enough from the epicenter to experience no effects. Tragically, earlier on this cruise, the Thompson's Captain Phil Smith suffered a major heart attack and died. Despite this terrible event, an extensive survey of the anthropogenic tracer that Applied Ocean Physics and Engineering Department (AOPE) scientist Jim Ledwell deployed one year earlier was completed, along with other observations.
Neutrally-Buoyant Sediment Traps (NBST), developed by Jim Valdes with MC&G scientist Ken Buesseler, collect sinking biological material in the upper ocean. In 2010, Valdes and associates deployed NBST instruments off Bermuda and near the Antarctic Peninsula in the Southern Ocean–including the 100th NBST deployment since the first in 2004. Valdes began testing the next generation of these instruments, which he also helped develop: the "Twilight Zone Explorer".
In mid December, Dick Limeburner and Will Ostrom (AOPE) traveled to Antarctica to install velocity, temperature, and salinity sensors below the floating tongue of the Ross Ice Shelf, the largest ice shelf in the world. The sensors transmit data to an electronics package atop the ice and then via satellite to WHOI, the first real-time data from under an Antarctic Ice Shelf. At the same time, Rick Krishfield supported New Zealand investigators deploying an ITP adjacent to the ice shelf. That ITP is sending temperature and salinity profile data from 8-400 meters depth.
Awards, Anniversaries, Honors, Notes, and Service
December 2010 marked the 50th anniversary of the first mooring deployment by the WHOI Buoy Group. The descendents of that facility: the WHOI Rigging Shop, Upper Ocean Processes Group, and Subsurface Mooring Operations Group, led by Rick Trask, Jeff Lord and Scott Worrilow respectively, are sustaining the Buoy Group tradition of excellence, now having deployed nearly 1500 deep-ocean moorings.
Amy Bower received an Unsung Heroine Award from the Massachusetts Commission on the Status of Women, and was elected Fellow of the American Meteorology Society.
Glen Gawarkiewicz was recognized by the Taiwan National Science Council and U.S. Office of Naval Research for 10 years of effort in support of three research programs.
Department members continue their service to the community in 2010: Mike Spall serves as Chief Editor of the Journal of Physical Oceanography and Ken Brink assumed a lead-editor position this year with the Journal of Marine Research. Dave Fratantoni and Andrey Proshutinsky were named editors for the Journal of Atmospheric and Oceanic Technology and Journal of Geophysical Research, respectively. Ray Schmitt served on two National Academy Panels: "Advancing the Science of Climate Change" for the "America's Climate Choices" study, and "Marine and Hydrokinetic Energy Technology Resource Assessments." Bob Weller was appointed by the Secretary of the Navy to service on the "Ocean Resources and Research Advisory Panel." Spall continued to serve on the Scientific Steering Committee for CLIVAR (Climate Variability and Predictability program).
Joint Program students Jessica Benthuysen, Beatriz Peña-Molino, Tatiana Rykova and Katherine Silverthorne were awarded Ph. D. degrees, and Rebecca Walsh Dell earned a MS degree and is continuing in the program.
Lastly we sadly note the unexpected passing of Emeritus Scientist Bruce Warren on September 2.

— John M. Toole, Department Chair