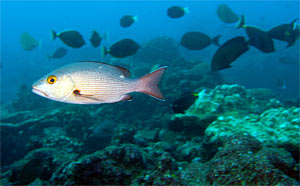 Related Files

Related Links
The Ocean Life Institute (OLI) supports groundbreaking basic research related to conservation science and biodiversity in marine ecosystems. We support WHOI scientists through OLI fellowships, postdoctoral and graduate student awards, and research grants. OLI-sponsored research during 2010 was aligned with targeted themes of biodiversity in the ocean, the health of marine ecosystems, and new tools for ocean biology.
Research initiated with OLI funding over the past year include the use of high throughput DNA sequencing techniques to examine biodiversity and phylogenetics of fungi from Delaware Bay, a new laser-based method for visualizing movements of microscopic zooplankton, the influence of the Gulf Stream on silver hake distributions, and the effect of unique temperature and salinity "staircases" on zooplankton distributions in the tropical northwest Atlantic Ocean. New research on marine mammals was also supported by OLI to examine acoustic prey recognition by toothed whales and to refine passive listening devices for remotely monitoring marine mammals.
Research fellows Marco Coolen and Mak Saito continued their cutting-edge research on ancient DNA in marine sediments and ocean carbon and nitrogen cycling, respectively. An OLI-sponsored WHOI postdoctoral fellow, Amy Apprill, identified unique microbial communities associated with the skin of healthy and stressed humpback whales. Finally, OLI support to MIT/WHOI Joint Program students Joanna Gyory and Maya Yamato assisted with studies of planktonic larvae of coastal invertebrates and the morphology of auditory systems in baleen whales.
In addition to supporting individual-based research, OLI has worked on two new initiatives:
Ecosystem-based management (EBM) of the ocean: OLI's efforts to stimulate research in the area of EBM and modeling observing systems helped to establish a new multi-institutional NOAA-funded Cooperative Institute for the North Atlantic Region, for which WHOI is the lead institution.
Coral reef research: Research on coral reefs supported by OLI is being conducted throughout the world's tropical oceans. We are developing a new collaborative research initiative focusing on the Phoenix Island Protected Area (PIPA), the world's second largest marine protected area located in central tropical Pacific Ocean. The Liquid Jungle Laboratory on the Pacific coast of Panama continues, with OLI support, to provide WHOI researchers access to a number of tropical coastal habitats including coral reefs.
Finally, I would like to extend my sincere thanks to all who have supported the mission of the Ocean Life Institute so generously during the past year. I will work to ensure that OLI continues to help forge collaborations between WHOI scientists conducting cutting-edge science and those agencies and institutions charged with the conservation and sustainable management of life throughout the world's oceans.



—Simon Thorrold, Institute Director