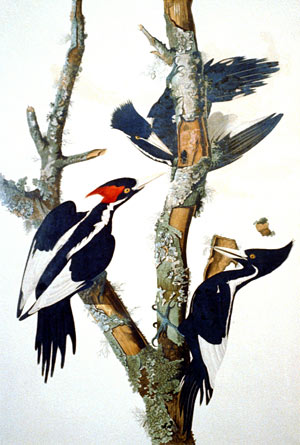 Related Links
Methods developed at WHOI to address questions in the ocean sometimes make it ashore and are used to address similar questions on land. Over the past 20 years, Senior Scientist Andy Solow has been working on statistical methods for inferring the extinction of a species from the historical record of its sightings.
This work was originally motivated by a lingering question about the fate of the Caribbean monk seal (Monachus tropicalis). The earliest record of the Caribbean monk seal dates to the second voyage of Christopher Columbus in 1494. The species was last seen in 1952. The basic question in inferring extinction from a sighting record is: How long must a species go unsighted before it can be confidently declared extinct? In 1993, Solow developed a method for answering this question, applied it to the modern sighting record of the Caribbean monk seal, and concluded that this species can with high confidence be declared extinct.
Last year, Solow received a call from a government scientist asking about the application of this method to the sighting record of the Ivory-billed Woodpecker (Campephilus principalis). The Ivory-billed Woodpecker was once common in the southeastern US, but its numbers dwindled as a result of forest clearing and hunting. The last sighting of the Ivory-billed Woodpecker that is widely viewed as real was in 1944, although there have been a number of questionable sightings since then. Then in 2005, a paper in the journal Science reported that a brief video recording of a male Ivory-billed Woodpecker had been made at an undisclosed location in Arkansas in April 2004. This claim was immediately questioned, with a number of experts identifying the bird in the video as a Pileated Woodpecker (Dryocopus pileatus). The argument raged.
The question, incidentally, is not purely academic. In response to the 2004 sighting, the US Fish and Wildlife Service developed a multi-million dollar recovery plan for this species. The expenditure of millions of dollars of taxpayer money and the promulgation of regulations to protect a species that most experts believe is extinct is controversial to say the least. At a minimum, there is a need for a more rigorous assessment of the sighting record of this species. In response, Solow worked out a method that accounts for uncertain sightings – including the one in 2004 – and applied it to the record of the Ivory-billed Woodpecker. The results provide substantial, but not overwhelming, support for the extinction of this species.
Interestingly, despite considerable effort – and a large cash reward – no convincing sightings of the Ivory-billed Woodpecker have been made since 2004. On the other hand, in 1998 a paper appeared in the journal Oryx entitled "Circumstantial evidence for the presence of monk seals in the West Indies."