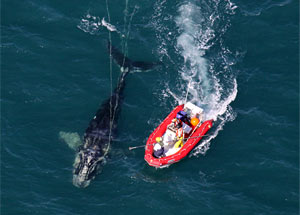 Related Links
Marine mammals have a special hold on our imagination. There is enormous diversity in marine life, but humans are mammals, and we respond to a tension between the familiarity and strangeness of mammals that spend their lives in the sea. Imagine a mammal that can dive a mile below the surface holding its breath for an hour and a half, keeping its body temperature as warm as ours while living in water a few degrees above freezing. Mammals evolved on land, so it is surprising that animals with terrestrial traits such as air-breathing were able to compete with life forms that evolved in the marine environment. Think about it--life originated in the sea. Some organisms managed to evolve adaptations that allowed them to survive on land, but marine organisms continued to adapt to the ocean environment. What could mammals have developed to give them a competitive edge that allowed them to reenter the marine environment, which seems so hostile to mammalian life? In spite of these problems, marine mammals have evolved as top predators of the sea. The main threat they have faced is another top predator--humans. Whalers decimated the populations of whales over the past few centuries, and hundreds of thousands of marine mammals are killed each year in fishing gear. These threats have endangered marine mammal species, which now have a special conservation status in the US and many other countries.
Today the threats to marine mammals are less obvious than when whalers devastated whale populations, but the new threats may be just as dangerous. Fisheries compete with marine mammals for food; chemical and noise pollution threatens them. Our ignorance about the effects of these threats makes it nearly impossible to manage the impacts of human activities on the ocean environment. Protecting marine mammal populations requires the best science and technology for objective assessment of risks and for creative approaches to reduce these risks.
The mission of the WHOI Marine Mammal Center (MMC)—now in its third year—is to develop strength in basic research and technology, concentrating on conservation applications through strategic partnerships and interdisciplinary approaches. The Marine Mammal Center, funded in May 2008 by a generous gift from Pete and Ginny Nicholas and family, builds on WHOI's expertise, capabilities and facilities—including ships, vehicles, and a state-of-the-art laboratory, testing, and imaging facility. To better study marine mammals and improve prospects for their conservation, the MMC promotes the development of interdisciplinary teams and new opportunities, new research initiatives in critical areas, and important outreach activities.
During the past year, WHOI scientists have made bold breakthroughs developing new methods to save marine mammals. Michael Moore, a senior research specialist in the Biology Department, has developed a new way to deliver drugs to large whales at sea. Twice this year, when teams were unable to disentangle endangered right whales from fishing gear, Moore was called in to deliver sedatives and antibiotics to the whales. Within 40 minutes the whales became approachable, and the teams were able to free the whales from life-threatening fishing gear. [Publicly available photos]
The WHOI MMC has partnered with the Nicholas School of the Environment at Duke University to enhance opportunities for graduate education with a competitive fellowship for graduate students at either Duke or WHOI to perform conservation-related research projects with scientists at the other institution. The 2009 call for applications resulted in the funding of six Duke graduate students to work with WHOI advisors from several departments. This fellowship program has created significant opportunities for education, research, conservation, and outreach.
For example, one of the Duke students, Heather Heenehan, was interested in the effects of oil and gas exploration on marine mammals. She arrived just after the blowout of the Deepwater Horizon oil well in the Gulf of Mexico, and she studied the importance of the oil spill site for sperm whales, which are listed as endangered species by the US. Her review of the literature revealed that biologists identified the oil spill site as an important hot spot for sperm whales in the Gulf of Mexico. The importance of this habitat seldom entered public discussions of potential effects of the blowout, and Heather was able to make these points to a large audience in an op-ed in cnn.com.
The WHOI MMC has a commitment to bring scientists together across disciplines to continue to support WHOI's tradition of innovation in studying marine mammals. Here I will highlight two research areas where support from the MMC may help position WHOI for breakthroughs.
The first area involves synergy between ocean engineers and acousticians who are developing sonars that can distinguish different marine organisms based upon echoes, and biologists who study how dolphins use their own biosonar to select prey. Most fish-finders now just use one or two frequencies of sound, but dolphins use broadband clicks to find prey. Engineers at WHOI are using broadband sonars to study the acoustic properties of echoes from marine organisms, using information from more frequencies to improve their ability to discriminate organisms. Dolphins have been working this problem for tens of millions of years. Understanding how they use broadband signals to find and select their prey may help human engineers improve our own capabilities to use sound to census marine life.
The MMC is also working to improve the ability of scientists to work with stranded marine mammals on Cape Cod. Over the past eight years, an average of 220 marine mammals were stranded dead or alive on Cape Cod each year, a remarkably high number for such a small area. Live stranded animals pose an animal welfare problem while all stranded animals provide unique opportunities for research. The WHOI MMC has strategic partnerships with: the International Fund for Animal Welfare Marine Mammal Rescue and Research Division (formerly the Cape Cod Stranding Network), which finds and cares for animals on the beach, and the National Marine Life Center in Bourne, Mass., which is building a state-of-the-art rehabilitation facility for marine mammals and sea turtles. The WHOI Marine Mammal Center contributes a state-of-the-art necropsy and imaging facility, where researchers can study these animals.
The MMC will be working with our partners and the broader Boston biomedical community to develop research opportunities with stranded marine mammals, consistent with the highest standards of animal welfare and husbandry. These partnerships include an animal welfare organization that decides about the disposition of animals on the beach, a rehab facility responsible for top quality care of captive animals, and the research group at WHOI. The relationship offers a unique opportunity for research on animals that simultaneously meets needs for animal welfare, conservation and research. We believe that this collaboration can create new opportunities for basic research on diving, physiology, cognition and neurobiology of marine mammals. At the same time, the research can help to identify factors contributing to suffering and mortality from strandings, entanglement in fishing gear and other conservation issues.
— Peter Tyack, Center Director