| | |
| --- | --- |
| WHOI Partnership with King Abdullah University of Science and Technology (KAUST) | |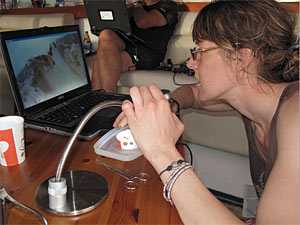 Related Links

At the end of 2010, researchers at WHOI have completed a third year of field work, data and laboratory analysis, and model building as part of the research agreement with King Abdullah University of Research and Technology (KAUST). Fieldwork has included a large-scale cruise in the eastern Red Sea; tagging of the world's largest fish, whale sharks; hydrographic measurements of coral reefs; coring and sampling corals; and dialogs with Kingdom of Saudi Arabia Fisheries. In fall 2010 WHOI Director of Research Larry Madin visited KAUST to discuss the research projects and ways to further the research partnership between KAUST and WHOI. The continued success of all the studies has lead to two years of extended research under the partnership. The added time will enhance the existing knowledge of the Red Sea and its ecosystems and give WHOI scientists, technicians and students more time to work with KAUST scientists and staff as KAUST continues to grow.

Amy Bower led a successful large-scale hydrographic and current survey in the eastern Red Sea in March 2010, where the air-sea interaction is most intense at this time of year. Participants included scientists and technicians from WHOI, KAUST, American University of Cairo, and King Abdulaziz University. Continuous shipboard measurements gathered data on the vertical and horizontal structure of currents from the sea surface to 600 meters depth, resulting in an unprecedented high-resolution view of boundary currents and eddies. For Richard Limeburner's and Bower's project, near-surface current drifters were deployed during the cruise, and a persistent large eddy centered in the central Red Sea was documented. Analysis of remote sensing data and in situ observation by WHOI MIT Joint Program student Ping Zhai indicates that the Red Sea is dominated by such mesoscale eddies, rather than by a slow overturning circulation.

Nearer to shore, Steve Lentz and Jim Churchill have been measuring currents, temperature, salinity and chlorophyll variability on a reef system and the adjoining shelf to determine the factors that influence across-shelf and shelf–reef exchange of water masses. For the past two years they have collected data from a reef system south of KAUST and have compared exposed and protected reefs relative to offshore waves. Postdoctoral scholar Kristen Davis constructed a heat budget model to describe the temporal and spatial variations in temperature over these reefs due to currents driven by offshore wind conditions. She is investigating wave build-up and passage of waves over reefs. Her analyses incorporate temperature and current data collected by WHOI biologist Jesús Pineda and colleagues on reefs near KAUST.

Tom Farrar has recovered another year of data from the KAUST meteorological tower and the met buoy that were both established in 2008. During this time, the tower and the buoy have been sending hourly-averaged meteorological data to WHOI every four hours. These data and derived quantities such as air-sea heat flux and evaporation have been made available to WHOI and KUAST modelers studying air-sea interactions and researchers describing the variability of wind, waves and temperature over coral reefs near KAUST.

For the past three years Richard Limeburner, Bob Beardsley and colleagues at KAUST have been characterizing regional tidal and lower-frequency variability in the central Red Sea from along-shore pressure temperature and salinity measurements at three coastal sites. These along-shore measurements, along with cross-shore measurements by Steve Lentz, are incorporated into the regional circulation models developed by Larry Pratt and colleagues to understand regional circulation. The data have improved understanding of wind-driven currents in the Red Sea and have been integrated into local and regional numerical tidal models.

The Coastal Ocean and Atmospheric Modeling project, with Larry Pratt, Houshuo Jiang, Dave Ralston, and Changsheng Chen (the University of Massachusetts-Dartmouth) has developed an advance ocean circulation model for the Red Sea and Saudi Arabian coast. As part of this effort, a tidal model has been completed and work continues on the FVCOM model (Finite Volume Coastal Ocean Model) of the Red Sea. Waves appear to be an important force driving flows over coral reefs, and understanding the spatial heterogeneity of the wave field could explain differences among reefs. Dave Ralston is simulating wave height and period in the Red Sea using a wave model that incorporates complex bathymetry. This model is coupled with the high-resolution results of an atmospheric model (known as WRF) developed by Houshuo Jiang. Wave measurements made in Farrar's and Lentz's studies are being used to evaluate the wave model. The WRF model has also been used to analyze wind forcing over the Red Sea due to winds passing through the Tokar Gap Jet, a phenomenon also responsible for generating dust storms.

Corals and coral reefs are being investigated in a number of projects. Coral reef flats are a highly stressed part of the reef, subject to extreme daily temperature variation depending on location on the reef. Biologist Jesús Pineda, researcher Vicke Starczak, and post-doctoral scholar Kristen Davis are measuring the daily variability of temperature across the reef flat. Temperature fluctuations can depend of location of the reef with respect to offshore waves, and are being investigated in physical models of heat budget over the reef. On a scale of several kilometers, Pineda, post-doc Jonathan Blythe, and Jose da Silva (University of Lisbon) are documenting differences in seasonal temperature variability from inshore to offshore reefs. Pineda and Starczak have conducted a coral transplant experiment of the coral Stylophora pistillata to determine whether coral symbionts alter when exposed to different temperature regimes on the reef. Identifying coral symbiotic clades (genetic groups) by molecular sequencing, Biologist Ann Tarrant and post-doc Adam Reitzel have found clade differences with respect to small-scale temperature variation on reef flats.

Surveys and samples of corals taken along the length of the Red Sea by Konrad Hughen and his lab members (Marine Chemistry and Geochemistry Department) show a distinct gradient of coral stress. Organic compounds are being compared between healthy and stressed corals, and microbial assemblages associated with healthy and stressed corals are being characterized using DNA sequencing. WHOI-MIT joint program student Jessie Kneeland is using a new thermal stress index based on lipid compounds to describe the effects of pathogens on coral symbionts. Also, trace metals contained in coral skeletons can used to infer past changes in the environment of the Red Sea. Cores of coral skeleton taken along the north- south temperature gradient are being analyzed for strontium, which reflects sea surface temperatures, and for barium, a common element in dust and thus a marker of past wind events. Data on elements recorded in coral skeletons from the past 20 years to 250 years can help validate climate models and improve regional forecasts of environmental changes in the Red Sea.

Anne Cohen, post-doc Neal Cantin and Tarrant have finished the fieldwork portion of their project measuring seasonal, spatial and historical skeletal growth and calcification in three species of reef-building corals from the Central Red Sea. Using 3-D computed tomography (CT) scanning and image analysis of coral skeletal cores, they found that Diploastrea heliopora skeletal growth and calcification has declined by 30% and 18%, respectively, since 1998, corresponding with rising sea surface temperatures. Their research has also focused on factors that can enhance skeletal growth of corals. Tissue analysis of Porites lutea colonies indicates that surplus stored energy in the form of lipid reserves is positively related to calcium carbonate production, suggesting that corals with greater energetic reserves can invest more energy in skeletal growth. Tarrant has also measured coral egg development in D. heliopora and P. lutea colonies to identify the timing of reproduction and the gender (male/female) of each colony, to help us understand how reproductive development influences seasonal growth rates. To quantify rates of recovery and to assess the resilience of skeletal growth, such factors as symbiont type, calcium carbonate production, and environmental factors (such as temperature, salinity and nutrients) are being correlated with the seasonal variability of coral colony energetic reserves. These results will improve our understanding of coral reef communities and our ability to predict how they will respond to the increasingly frequent stress events of a changing climate.

Marine chemist Dan McCorkle has been working with multiple projects analyzing the water chemistry of the eastern Red Sea. In collaboration with Cohen, Tarrant, and Cantin, he has analyzed near-reef seawater carbonate chemistry, an important factor controlling coral skeletal growth. His group is also measuring nutrient concentrations and carbonate chemistry of samples collected on Amy Bower's Red Sea Hydrography cruises. The basin-scale samples from Bower's cruises give a broad picture of the chemistry in the Red Sea, while the reef sampling documents the immediate chemical environment of corals and the influence of reefs on seawater chemistry. Whitney Bernstein, a WHOI/MIT joint program student taking part in the hydrographic measurements, is analyzing the carbonate chemistry of samples taken in reef surveys made by Konrad Hughen. She is also analyzing nutrients, salinity and carbonate chemistry to estimate reef-scale net calcification rates in the reef system studied by Steve Lentz and Jim Churchill.

Red Sea fish are an important coastal resource that Hauke Kite-Powell, Andy Solow, and Porter Hoagland and Di Jin of the Marine Policy Center and biologist Mike Neubert have been modeling, using data supplied by Saudi Arabia Red Sea fisheries. Their models describe the condition of fish stocks and to characterize the biological and economic value of marine reserves. Initial models considered data from traditional fisheries and found overfishing of stocks. More comprehensive data sets including industrial fishing in the southern Red Sea and fishing in central Red Sea are integrated into models that will support the effective management of fisheries and the design of marine reserves to rebuild and maintain healthy fish stocks and reef ecosystems on the Saudi Red Sea.

Biologist Simon Thorrold and colleagues, in collaboration with Michael Berumen (KAUST), have been studying the movements of fishes in Red Sea habitats. They have successfully tagged 47 whale sharks, the world's largest fish. Movement data from reporting tags suggest that although the whale sharks swim considerable distances, many remain within the southern Red Sea for periods up to 1 year. Kelton McMahon (WHOI-MIT Joint Program) successfully defended his doctoral thesis, which included a detailed study on the movements of juvenile snapper between mangroves, coastal reefs, and oceanic reefs, including those of the Red Sea, using carbon isotope signatures recorded in fish ear bones (otoliths). He found that while adult fish on coastal reefs use mangrove nursery areas, juveniles apparently settle directly into adult habitats on oceanic reefs. This result has important implications for the design of marine reserves to conserve coral reef ecosystems.

With three years of data, results of studies on the climate, hydrography, biology and chemistry of Red Sea are now being published. We anticipate furthering the WHOI-KAUST collaboration and seeing more exciting results come to fruition in 2011. The Red Sea Research Center at KAUST will officially open in spring 2011, and WHOI scientists will be there to welcome it into the scientific community.