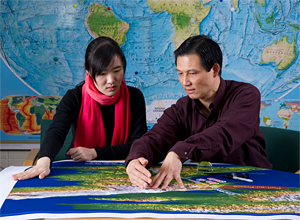 Related Multimedia

Related Links

The Scientific and Technical staff in the Department of Geology and Geophysics (G&G) carry out research on a diverse range of topics, from earthquakes and volcanoes, to paleoclimate as clues to future climate change, to the response of coastlines to sea-level rise and increased storminess.

Devastating earthquakes marked the beginning of 2010 with major temblors in both Haiti and Chile, occurring within weeks of one another. G&G Senior Scientist Jian Lin was called to comment on and assess the extent of the impact of these earthquakes, finding, for example, that the Haiti earthquake fractured a previously unknown fault.

Closer to home, Jeff McGuire and John Collins and the WHOI Ocean Bottom Seismometer (OBS) group are part of a major west coast experiment to image the earthquake-generating seismogenic zone of the Cascadia subduction zone margin (where one tectonic plate slides under another) along the Washington and Oregon Coast. They are in the planning stage for deployment of OBSs and other instruments over the next year and a half. The Cascadia margin has itself seen major earthquakes in the past, and this timely experiment will begin to build a realistic assessment of the hazard posed by a subduction zone so close to the US mainland.

In late spring, 2010, a major volcanic eruption on Iceland severely impacted trans-Atlantic air travel, grounding aircraft across Europe for days and weeks. The eruption brought into focus how important it is to understand Earth's geologic processes—even on questions as basic as how volcanoes work. One example of basic research in the department is the work of G&G scientists Adam Soule and Dan Lizarralde and Marine Chemistry and Geochemistry department colleague Jeff Seewald. They documented the presence of widely distributed magma under the seafloor, surprisingly far from the known axis of volcanic activity in the heavily sedimented Guaymas Basin in the Gulf of California. Based on their previous geophysical work, they discovered communities of organisms living off chemical energy in these distributed warm seep areas on the seafloor as far as 50 km away from the mid-ocean ridge spreading center.

In the Atlantic, Chris German used the newly commissioned and outfitted autonomous underwater vehicle Sentry in a science survey of the Haakon Mosby mud volcano in the Barents Sea. The sensor suite of multi-beam, sub-bottom sonar and chemical sniffers was utilized a few months later to document the extent of underwater oil contamination at the Gulf of Mexico BP Deepwater Horizon oil spill site.

In other science operational news, the R/V Knorr long core system, under the guidance of Chief technician Jim Broda, proved its worth in an extensive 4 cruise program this past year, bringing back 59 seafloor cores with an average length of 30 meters. Finally, among the new projects on tap for 2011 is a major multi-million dollar NSF Continental Dynamics collaborative project to study the Okavango and Malawi African rift systems with G&G scientists, Rob Evans, Mark Behn, Dan Lizarralde, Pablo Canales and Alison Shaw.

Other news from the department for 2010 includes appointments and promotions, departures and arrivals. Joan Bernhard was promoted to Senior Scientist, Dan Lizarralde was promoted to Associate Scientist with Tenure, and Jurek Blusztajn was promoted to Research Specialist. Senior Scientist Debbie Smith returned to the department after 3 years at NSF as a rotator in the Ocean Sciences (OCE) division. Senior Scientist Bob Detrick continues as NSF Division Director for Earth Science (EAR) for another year. Departures included the retirement of Senior Scientist Hans Schouten after 35 years at the Institution and Research Assistant II Skye Moret-Ferguson who left the coastal group to join a polar research ship as the science research technician.

Three new Assistant Scientists joined the G&G staff in 2010 in the general area of geochemistry:
Sune Nielsen is an isotope geochemist who has pioneered geochemical tracer work on the "non-traditional" stable isotopes of the elements Thallium (Tl) and Vanadium (V). Sune has broad and diverse research interests that span early Earth and mantle processes related to element cycling, the chemistry of the oceans, the impact of hydrothermal systems on that chemistry and the potential use of Thallium as a paleoceanographic tracer.
Horst Marschall is a metamorphic petrologist with an interest in the dynamics of Earth's crust and mantle—using classical metamorphic petrology and field geology, but also applying modern isotope geochemistry and numerical modeling. His work to date has focused on the processes associated with subduction at convergent tectonic plate margins.
Weifu Guo is a rather unique blend of isotope geochemist who is a top-notch experimentalist and analyst but also extremely strong in the theoretical and modeling aspects of isotope geochemistry. He is one of a new wave of leading practitioners of "clumped isotope geochemistry," investigating carbon and oxygen isotope ratios in carbonates to estimate ancient sea temperatures.
As always, members of the G&G Department traveled to all corners of the world over the course of the year to carry out their research. Staff participated in research cruises in the Pacific and Atlantic Oceans with ports of call in Australia, Azores, Bahamas, Barbados, Bermuda, Chile, Fiji, Galapagos, Greece, Guam, Hawaii, New Zealand, Philippines, Saudi Arabia, South Africa, Tahiti, US Virgin Islands, and fieldwork around the US and in Alaska, Costa Rica, Ghana, Greenland, Gulf of Mexico, Mexico, Antarctica, Spain, Romania, Oman, and Panama.