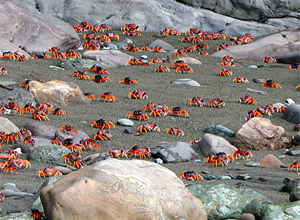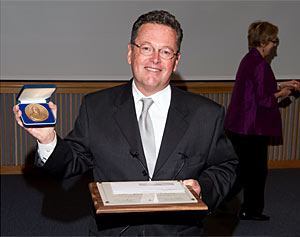 Related Files

Related Links
My second year as Director of the Coastal Ocean Institute (COI) was full of excellent scientific research and challenging times. COI was able to support many scientists, postdoctoral scholars, and graduate students in a broad range of coastal research projects. The Deepwater Horizon oil spill in the Gulf of Mexico presented many challenges and opportunities for me and many other WHOI scientists and engineers. I feel comfortable stating that WHOI has played a key role in the science of this unfortunate coastal event.
Some highlights of 2010 include the presentation of the 15th Bostwick H. Ketchum award in April to Dr. James E. Cloern, United States Geological Society, for his excellence in estuarine ecology especially his conceptual models of important estuarine processes, collaborations within the US and abroad, and ability to translate his results to policymakers. When Dr. Cloern was present at WHOI, he gave two talks, one on his long-term monitoring work in San Francisco Bay and another on how to write scientific papers. Both of the presentations were well attended and received.
Our efforts to improve our web content included the translation of the COI-sponsored tsunami website into Delhevi, which is the official language of the Maldives. The content and design is well underway for a beach water-quality website with an anticipated launch in May/June 2011.
COI supported five research grants from our annual call for proposals:
Associate Scientist, Liz Kujawinski, and WHOI/MIT Joint Program student, Dave Griffith, (Marine Chemistry & Geochemistry) are studying the concentrations and fate of sewage-derived estrogens in Massachusetts Bay.
Postdoctoral Scholar, Gordon Zhang, and Senior Scientist, Dennis McGillicuddy (Applied Ocean Physics & Engineering) along with Senior Scientist, Glen Gawarkiewicz (Physical Oceanography) are working on an interdisciplinary modeling of the New England Shelf Break, where the continental shelf gives way to a steep downward slope to the abyssal seafloor
Associate Scientists, Ann Mulligan (WHOI Marine Policy Center) and Matt Charette (Marine Chemistry & Geochemistry) are studying the element radium to understand how groundwater flows into the coastal ocean.
Postdoctoral Investigator Andrea Hawkes and Associate Scientist, Jeff Donnelly (Geology & Geophysics) are developing a microfossil-based approach to estimate past intensities of hurricanes.
Assistant Scientist, Irina Rypina (Marine Chemistry & Geochemistry) is investigating the stirring of waters on the Martha's Vineyard inner-shelf using a combination of surface drifters, high-resolution high-frequency radar systems, and techniques from advanced theory.
—Christopher Reddy, Institute Director