| | |
| --- | --- |
| Cooperative Institute for the North Atlantic Region (CINAR) | |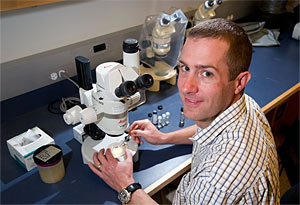 Related Links

In 2009, The National Oceanic and Atmospheric Administration (NOAA) awarded WHOI the Cooperative Institute for the North Atlantic Region (CINAR). The Institute, which began its operations on July 1, replaced the 10-year-old Cooperative Institute for Climate and Ocean Research (CICOR), which focused predominately on climate observations, with some emphasis on other areas of marine research.

Cooperative institutes are important structures that enable NOAA to fund extramural research. The CINAR award was a result of a competition that WHOI won in partnership with the University of Maryland Center for Environmental Science, Rutgers University, University of Maine and the Gulf of Maine Research Institute (GMRI).

The geographic domain of CINAR is the U.S. northeast continental shelf from Cape Hatteras to Nova Scotia. Because of the importance of large-scale climate and biological connectivity in the North Atlantic, CINAR's geographic scope also includes basin and global-scale processes that affect the shelf ecosystem. The overall goal of CINAR is to engage NOAA and academic scientists in cutting-edge research that enables NOAA to make informed decisions about sustainable and beneficial management of the U.S. northeast continental shelf ecosystem.

A major focus of CINAR is Ecosystem-Based Management. An ecosystem approach to management differs from current strategies that focus on a single species, by considering interconnections within the ecosystem (for example, between feeding levels or species) and among environmental regimes (terrestrial, oceanic, atmospheric), and by integrating social, economic and institutional perspectives as well. CINAR has therefore been formulated with the explicit recognition that effective management of human activities on the northeast shelf requires an understanding of how these activities interact with each other and with other processes, to affect the regional ecosystem and its resources. An understanding of climate variability must also be integrated if the causes of variability are to be identified and understood.



Research Highlights



The HabCam optical and acoustic imaging vehicle was integrated into the National Marine Fisheries Service Annual Sea Scallop Survey. A total of 787,832 images were collected with footprints of about 1 m2 each. Techniques were developed to process all images for lightfield and color correction, image distortion, and conversion to jpeg format for visualization as ground overlays in Google Earth. All image data for the survey cruise HS_20090623 and associated Google Earth kml files are available through the HabCam website: http://habcam.whoi.edu
GMRI worked with the Northeast Seafood Coalition and their sector (fishing collective) vessels in developing the electronic logbook software, "Fishtrax". GMRI staff also developed a fishermen‐friendly training manual for using Fishtrax. The use of electronic trip reports provides an opportunity for fishermen to transmit catch and effort data in a timely manner to the National Marine Fisheries Service (NMFS) and their respective sector managers. This will substantially reduce the time between data receipt, evaluation, and response, thus providing both NMFS and sector managers an improved ability to manage and respond to fishing activity. To date, a total of 39 vessels representing 13 sectors have thus far expressed interest in participating in this project; currently 5 vessels representing 3 sectors are actively participating.
GMRI convened leading members of the groundfish industry and formed a consensus on how $1.2 million for dockside monitoring will be divided among the 17 groundfish sectors. The sectors represent the full range of groundfishing activity, from small community‐based groups operating from remote, island ports to large, offshore vessels that spend a week on Georges Bank.
A database was established containing all humpback whale entanglements over the past decade using the categories and definitions given by the New England Aquarium and Provincetown Center for Coastal Studies.
The Marine Resource Education Program (MREP) of GMRI conducted one full session of the MREP 100 program (one Fisheries Science module and one Management Process module) and one workshop. MREP created an opportunity for fishing industry members to interact directly with the fishery survey scientists and crew, and engage in discussion about a process that has historically been the subject of concern and skepticism. This program increased the industry's understanding of survey methodology, leading to improved relationships between industry and NOAA Fisheries, and increased trust in the fisheries science contributing to management decisions.
—Donald Anderson, CINAR Director