| | |
| --- | --- |
| Applied Ocean Physics & Engineering | |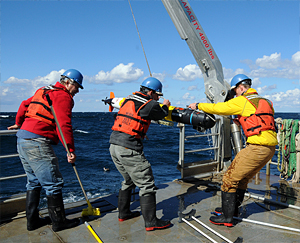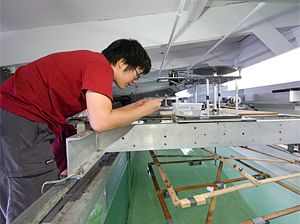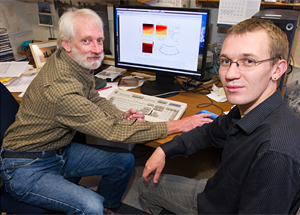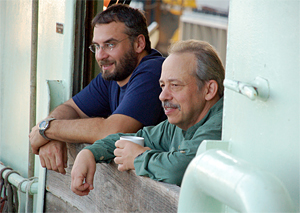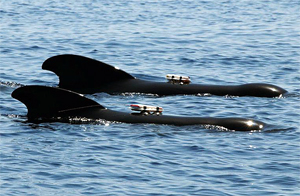 Related Multimedia

Related Links
During 2010, Applied Ocean Physics & Engineering (AOPE) scientists, engineers, and research staff investigated ocean processes from the deepest depths to the ocean surface, from the turbulent surf zone to calmer inlets and rivers, and from the Arctic to the Southern Ocean. Ongoing projects examine the mechanics of deep-sea larvae dispersal, sediment distribution, ocean acoustics, and the mixing that occurs between distinct ocean water masses.
Mathematical models are continually developed and refined to predict and explain ocean processes. During the past year, Scientist Tim Duda and Research Associate Ilya Udovydchenkov created a model to describe the effects that increased ocean acidification will have on sound propagation. WHOI/MIT Joint Program graduate student Wu-Jung Lee analyzed sonar echoes reflected from squid to determine how dolphins use sonar to distinguish squid from other animals.
Instruments and analysis methodologies are also developed to generate novel and improved measurements of oceanic processes. Scientists Tim Stanton and Andone Lavery developed two advanced broadband acoustic systems that could mean a major upgrade in the ability to count and classify fish and pinpoint tiny zooplankton in turbulent waters. Collectively, the systems span 1.5 kHz to 600 kHz and are used to study fish, zooplankton, and turbulence.
AOPE investigators responded to the Deepwater Horizon oil spill by conducting on-site analysis of flow rates and studying plume movement. Scientists Rich Camilli and Dana Yoerger deployed the autonomous underwater vehicle (AUV) Sentry and equipped it with an underwater mass spectrometer to identify and map the plume. Software was added to analyze chemicals in naturally occurring oil, gas, and other hydrocarbons leaking from the seafloor. Camilli and Yoerger also gave Sentry the ability to change its course and operating mode based on the chemicals detected, allowing it to act more like a human investigator as it sees and analyzes its environment.
The remotely operated vehicle (ROV) Jason also took part in a cruise that helped researchers identify oil-damaged corals seven miles from the Deepwater Horizon oil spill. Extensive portions of coral colonies were found to be either recently dead or dying, and samples and data were collected for further testing and analysis. Jason completed six cruises in 2010 in areas such as the Mariana Arc, the Juan de Fuca Ridge, and the Gulf of Mexico; and had 64 deployments, the longest lasting 86 hours.
The Autonomous Benthic Explorer (ABE) was lost at sea on a research expedition off the coast of Chile while searching for hydrothermal vents and cold seeps. ABE had reached the seafloor during its 222nd dive when all contact with research vessel Melville ceased. ABE was one of the first successful unoccupied and untethered submersible vehicles. While ABE will be missed, its functionality will be replaced by that of newer vehicles.
Research Associate Brendan Foley, along with Greek and Swedish colleagues, conducted an ancient DNA and quantitative imaging project in Greece. As the first foreign scientists ever granted access to the Ministry of Culture artifact collection, they collected non-destructive DNA samples from several 5th century B.C. amphorae and performed three-dimensional stereo-imaging and photogrammetry (making measurements from photographs) experiments. Foley and engineers Greg Packard and Robin Littlefield also used REMUS 100 AUVs to survey eight square kilometers of sea floor, while dive teams visually searched the near-shore underwater slopes for shipwrecks. They discovered one 1,000-year-old wreck, recovered an amphora for DNA contents analysis, and surveyed three other ancient wrecks.
The Ocean Observatories Initiative (OOI) team deployed its first East Coast test mooring. The team installed the Electro-Optical-Mechanical (EOM) test mooring at the OOI Pioneer Array site on the shelf break about 100 miles south of Woods Hole. The mooring, which is in 150 meters of water, is intended to determine the longevity of optical fibers built into high-stretch mooring hoses. The deployment will also test the first WHOI use of a Fleet Broadband 250 satellite telemetry unit on a surface buoy.
The "Diapycnal and Isopycnal Mixing Experiment in the Southern Ocean" (DIMES) investigation led by senior scientist Jim Ledwell involved a 50-day cruise and a successful survey of a patch of tracer compound that was released west of Chile at 1500 m depth in the Antarctic Circumpolar Current. Research associate Cindy Sellers and senior engineering assistant Brian Guest participated in the cruise, with colleagues from the Physical Oceanography and Biology departments. Shore support was provided by scientist Dennis McGillicuddy and research associates Valery Kosnyrev and Larry Anderson with satellite remote sensing data of sea surface elevation.
Scientists Steve Elgar and Britt Raubenheimer assembled a team of researchers, including WHOI/MIT Joint Program Student Melissa Moulton and research assistants Levi Gorrell, Evan Williams, Dana Giffen, Regina Yopak, Seth Zippel, and Sean Kilgallin, to determine the "impulse response" of the surfzone to disturbances in the form of artificially created deep holes in nearshore sands. The team deployed and maintained a dense array of sensors and collected data under a variety of conditions ranging from flat calm to hurricanes.
Researchers in the Digital Recording Tags lab tagged pilot whales, beaked whales and Risso's dolphins in the Alboran Sea near Spain for behavioral and acoustic studies. The team also studied the ecology and feeding behavior of right and humpback whales in the Gulf of Maine and interactions of pilot whales with the pelagic longline fishery offshore of Cape Hatteras, NC.
— John Trowbridge, Department Chair and Sheila Hurst, Administrative Professional