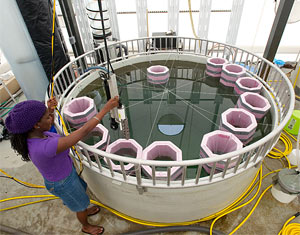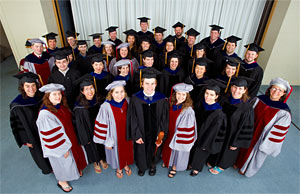 Related Multimedia

Related Links
Our big event of 2010 was our on-campus Joint Program graduation in June, which is held on the WHOI campus only every 5 years. The inclement weather did not prevent an outstanding ceremony led by Chairman of the Board, Newt Merrill. Dr. Rita Colwell, WHOI Corporation Member, was the commencement speaker and gave an excellent and meaningful speech to the graduates and their parents. Director Susan Avery also had an upbeat message for the graduates. Rev. Deborah Warner (Church of the Messiah, Woods Hole) presented the Invocation, which contained beautiful words of wisdom for graduates and in fact, for all scientists in the audience. All and all, it was a successful event in spite of the weather.
During the 2009-2010 academic year, the Massachusetts Institute of Technology/WHOI Joint Program awarded 24 masters and doctoral degrees in ocean science and engineering. As of Fall 2010, the Joint Program (JP) has awarded 867 degrees. We had an excellent recruiting year, with 33 new students enrolling in the program in 2010 bringing the total fall enrollment to 131 students.
Thirteen Postdoctoral Scholar awards were made, 6 women and 7 men, with a 10:3 split between U.S. and foreign nationals. At any given time, WHOI averages about 65-70 postdoctoral Scholars, Fellows and Investigators in residence.
The topic for the 2010 GFD summer program was "Swirling and Swimming in Turbulence". Ten fellows attended, 6 men and 4 women. Nine guest students, 56 staff members and one guest lecturer also participated in the program.
Thirty-three Summer Student Fellows (SSF) representing 29 colleges and universities were chosen from 238 applicants. These undergraduates and a few recent graduates spent 10-12 weeks in the summer working on research projects with WHOI scientists, attending lectures and workshops, and enjoying themselves on Cape Cod (time permitting!) The Woods Hole Partnership Education Program (PEP) students joined the Summer Fellows aboard the vessel Tioga for a series of day trips where they were introduced to marine sampling techniques and equipment. Both groups were also able to take advantage of a rare opportunity to tour the Knorr while the research vessel made a brief stopover in Woods Hole this summer. The SSF program is enthusiastically supported by WHOI scientists who enjoy working with the undergraduates and appreciate how much they contribute to WHOI research programs. Many later apply for graduate school in the JP and other ocean science graduate programs.
Jim Price retired from WHOI in the spring and thus stepped down as Associate Dean. We appreciated Jim's keen interest in higher education, and his calm and steady hand in the Associate Dean's position, which he held for 4 years. We're fortunate to have Dr. Meg Tivey as his replacement.
Students and postdocs bring energy, enthusiasm and new ideas to WHOI's research portfolio and help us move in new directions. We appreciate the support we receive from individual donors and foundations that support these fine education and training programs.
—James Yoder, Vice President for Academic Programs & Dean