The IEEE/OES/CMTC EIGHTH CURRENT MEASUREMENT TECHNOLOGY CONFERENCE
---
| | | |
| --- | --- | --- |
| 28-29 June 2005 | | Southampton, U.K. |
---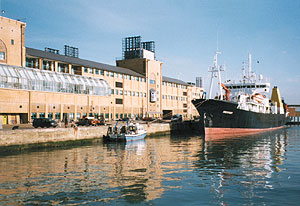 FOR THE FIRST TIME IN EUROPE!

Sponsored by the Current Measurement Technology Committee of
The IEEE Oceanic Engineering Society and hosted by Southampton Oceanography Centre,
at the University of Southampton, Southampton, UK
Abstracts must be submitted no later than February 1, 2005
The Conference Theme will be
EXPERIMENTAL, PRACTICAL AND OPERATIONAL CURRENT AND WAVE MONITORING SYSTEMS AND APPLICATIONS
Topics will cover recent advances in:
River Flow and Transport Measurement Techniques
Operational Measurement Programs

Real Time Monitoring Systems
Integrated Ocean Observing System (IOOS) Regional and Pilot Programs

Direct Measurement Techniques Including:

Lagrangian Drifters and Floats
Measurements from UUVs
Acoustic Instruments and Profilers
Mechanical and Electromagnetic Instrumentation

Indirect Measurements Including:

H/F Radar and Micro-Wave Radar
Hydrography
Satellite Imagery and Altimetry
Synthetic Aperture Radar (SAR)

Renewable Energy and Offshore Power
Abstracts of 200 words should be submitted no later than February 1, 2005. Authors of papers selected for presentation and publication in the Conference Proceedings will be notified no later than February 15, 2005. Detailed instructions for the preparation of final manuscripts will be provided online following notification of selection. Final manuscripts must be received by April 15, 2005. Oral presentation is contingent on receipt of manuscript, with publication contingent on presentation of manuscript.

Abstracts can be sent to:


Or submitted online.