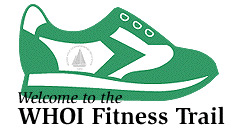 ---
The Fitness Trail is located along 1.5 miles of wooded paths encompassing over 60 acres in the most beautiful and peaceful walking areas of WHOI's Quissett Campus. The trail consists of a 20-station exercise system with instructional signs and exercise structures. The self-guided, self-paced system combines the three essential elements of total fitness (stretching/flexibility, muscle toning, and cardiovascular conditioning) into a balanced exercise routine. You perform the recommended exercises at each station and proceed through the routine with warm-up, conditioning, and cool-down exercises. Heart-rate guides allow you to gauge exertion levels and properly pace your workout.
You can see a description of each station by clicking on the numbered links in the map to the right. --->

Water is available at a
fountain near Station 15,
at 85 Oyster Pond Road.
Our fitness trail represents a continued commitment on the part of the Institution to employee wellness. It is also an excellent addition to our recreational complex. We hope you'll find it an ideal resource to improve your health and a fun way to reach your fitness goals. Proper footwear is recommended.
Watch out for poison ivy and ticks. . .
and
HAVE FUN!
Your suggestions for improvements to or maintenance of the trail can be directed to Ernie Charette.