12.01.07
Packing day.
This morning we finished up the last of our CTD Operations and we're steaming back to Manzanillo (we won't arrive there until Monday morning). We will spend all of today packing up our science gear and putting it in the hold. I've posted a few more pictures under background, including a station map. A station is a location where we plan on doing scientific work (or have done). This is my last entry of the cruise, but don't let that stop you from e-mailing me with questions.
I'd like to thank everyone on board -- the crew, the Alvin Group, SSSG, the mooring team, and all the scientists onboard.
Good cruise everyone!
Left: Andreas Thurnherr (Photo: Ken Decoteau). Right: Sunset a few days ago. (Photo: Skylar Bayer)
11.30.07
9:00 pm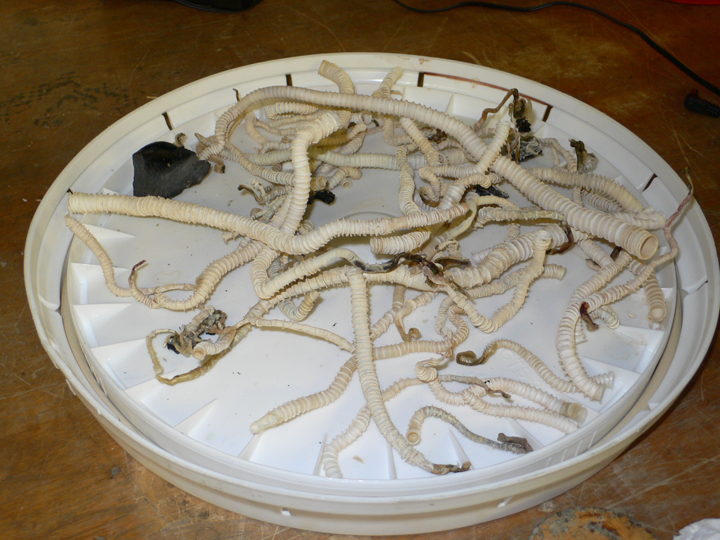 Top Left: My shrunken cup collection, soon to be gifts. Top Right: A piece of basalt from the EPR. Bottom: Empty Tevnia tubes. (Photos: Skylar Bayer)
________________________________________
3:00 pm
Today is probably the last day of operations (plus CTD/Microprofiler work tonight). Also, today is possibly the last Alvin dive of the trip (AD 4373). If we don't need to do another Alvin dive tomorrow then we will head back to Manzanillo in the morning. Today we're recovering Plankton Pump moorings L22 (on-axis) and L22 (off-axis). I will hopefully post some more pictures in the mean time, sometime between today and Sunday. Scroll down for pictures from my Alvin dive if you like. Also, I should note that the site we thought was Finn may not actually be Finn after all.
If you have questions about the pump moorings, see entry 11.22.07. After we get each pump up we take out the filter and rinse it out with cold seawater in the coldroom first. Then we sieve the samples from the buckets through a 63 micron mesh, and then preserve the sample with ethanol (EtOH).
Unfortunately I have no pictures to post with this entry today, but either tonight or tomorrow I will probably try to post several more pictures of samples, deployments and people. E-mail me with questions.
11.29.07
Today I posted a new section entitled "Questions" as you can see up at the top. So far I just have some Atlantis Jeopardy questions (courtesy of Ben and Carly). If you have any questions I can try to answer (or find someone that can) them annonymously. Also, if you have good questions that you think would be worth putting up (even if you know the answer), please send them along.
Tomorrow is the last Alvin Dive (4373). I know some of you have probably tried the framegrabber link below but I don't think it's working because I believe that data might currently only be accessible to the ship. However, I do know that somewhere on the WHOI website you can access the framegrabber of all Alvin dives (once they've been put on the website).
I only have a few days left to post about the cruise -- Saturday we head back to Manzanillo. I will try to get more up as soon as possible, it can be difficult though with other things going on.
One of my main tasks to do today is finish writing a dive report with Andreas for AD 4372. That's one of the requirements of being port and starboard observers during an Alvin dive. The reports are kept and used for future reference. They are very important especially in regards to samples collected and future reference (visiting the sites again in the future).
Left: Yellow-fin tuna caught by our Bosun last night. Right: Recovery of Microprofiler in the rain this morning. Photos by Susan Mills.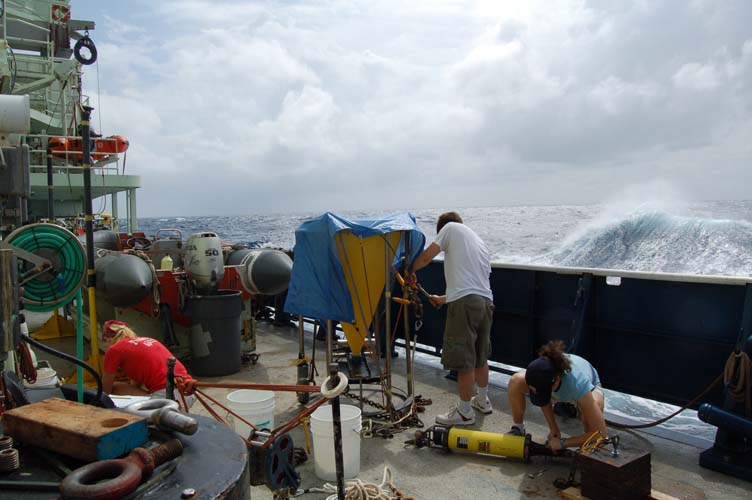 Preparing the sediment trap for deployment (11.28). Left to right: Carly, Ben and Lauren. Photo by Susan Mills.
11.28.07
Yesterday was Alvin Dive 4372. I was the starboard observer, Andreas Thurnherr was the port observer and Bruce Strickrott was the pilot. As we descended the water became very dark very quickly. Soon there was bioluminescence all over the place. When we finally landed on the bottom it was like landing in a giant canyon. We could see below us where the lava had paved over the bottom from the last eruption (January 2006). Pillars and collapsed lava pillows were everywhere.
We started be checking out one of the moorings that was being released that day. Next we headed over to the site "Sketchy" and recovered and deployed the meiofauna group's sponges and TASCs, and the Mullineaux group's hobos (instruments that record temperature) and settlement sandwiches.
We headed south and picked up a tide gauge (large and yellow, as you'll see in the pictures below) and then stopped at a site called "Finn." This site was very active with lots of tevnia (type of tubeworm), with very few riftia (type of tubeworm) growing in. We then collected a few rocks with limpets and continued down south to explore. We saw lots of pillars and collapsed lava pillows and then stopped a site called "arches" (the rocks form an arch over the tube worms) and saw that it was still an active site. We continued south and found a "dumbo" octopus (Grimpoteuthis), which landed on the tide gauge! Then it came up to the pilot's window and sort of check us out. After that we headed to the surface.
It was an amazing dive -- and actually I was able to call my dad from the sub! The reason was because they wanted to do a test call from a landline number, through the Atlantis to the Alvin for an educational outreach on the next cruise. Bruce, the pilot said I could call someone so I decided to call my dad. It was very cool -- calling from underwater sounds very different than from a regular phone. You pick up all sorts of noises down there -- water conducts sound better than air. We even heard dolphins (or maybe whales) on the way back up to the surface.
Try to connect here to see the framegrabber (from the cameras on the sub) for more dive pictures. Click on 4372 on the bottom. Below are some pictures from the dive.
Left: Andreas and me before our dive. Right: Me waving good-bye! (Photos by Susan Mills)
Left: Sketchy. Middle: One of the sandwiches being recovered. Right: Basalt block broken off by Alvin. (Photos: WHOI Alvin Group/LADDER III Cruise)
Left: Close up of tevnia and crabs from Finn. Right: Shot of Finn from inside the sub. (Photos: WHOI Alvin Group/LADDER III Cruise)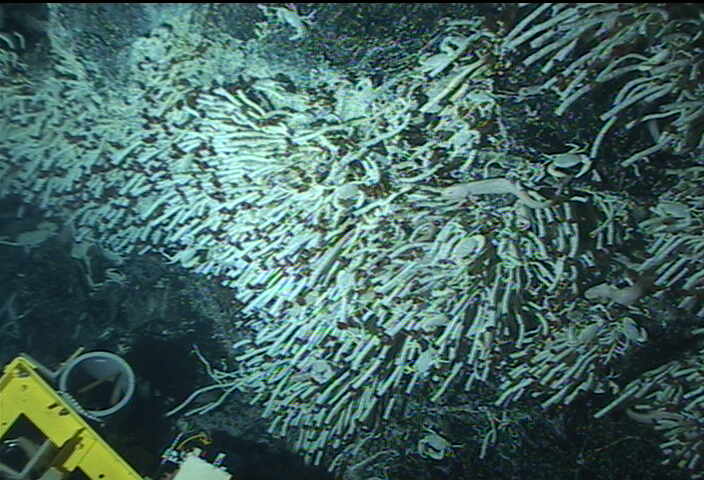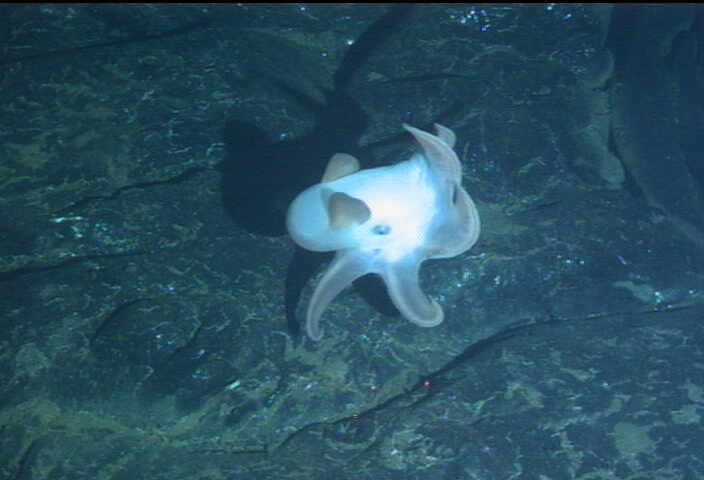 Left: Shot of Finn. Right: The beginning of our encounter with the dumbo octopus. (Photos: WHOI Alvin Group/LADDER III Cruise)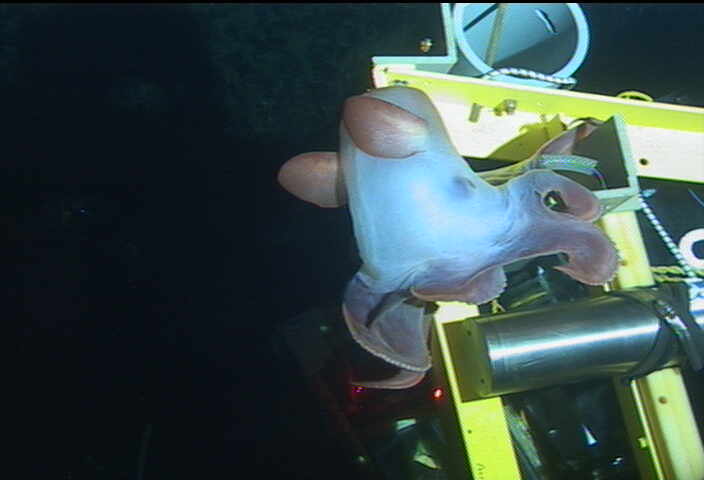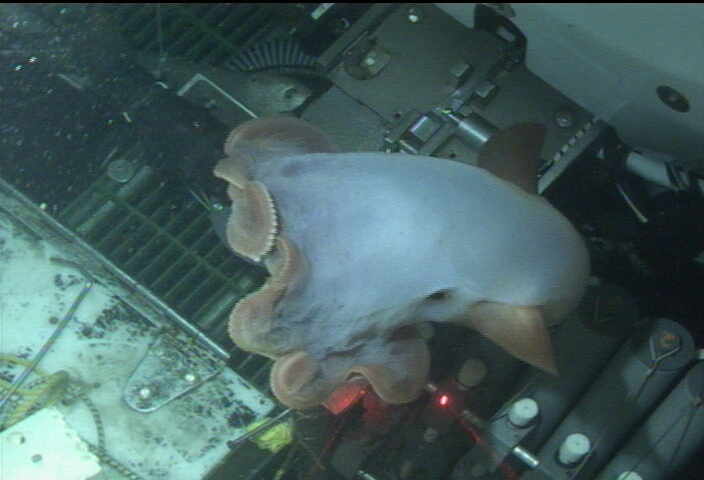 Left: Dumbo landing on the tide gauge. Right: Dumbo checking out the Niskin bottles.

(Photos: WHOI Alvin Group/LADDER III Cruise)
Left: Shot of Dumbo over the tide gauge from inside the sub. Middle: Dumbo. Right: Nice shot of the three of us in the sub.

(Photos: WHOI Alvin Group/LADDER III Cruise)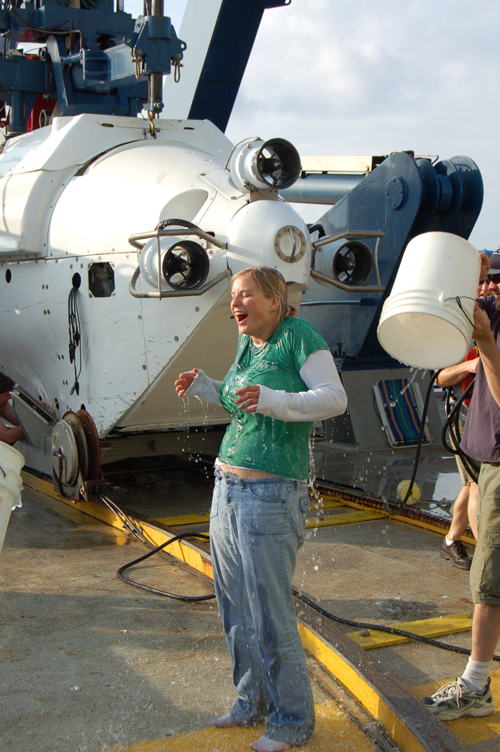 And Finally... what all first time divers get afterwards: A good ice cold water soaking. (Photo by Susan Mills)
11.25.07
The next set of Alvin dives started today. Check back on Tuesday or Wednesday for an update on my dive (Tuesday).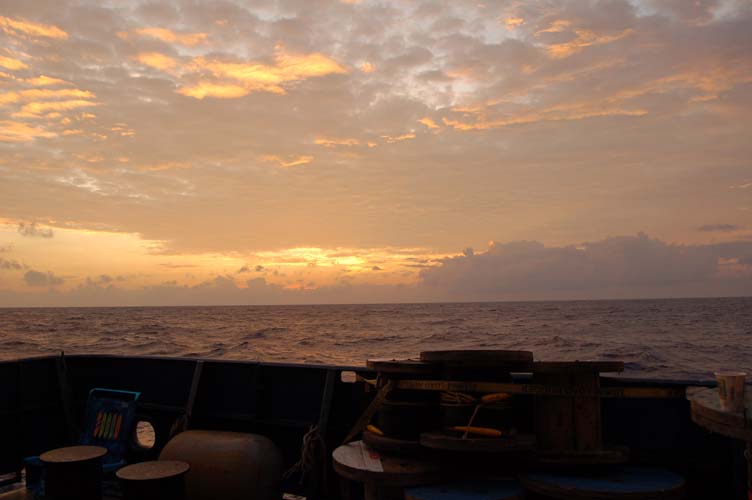 Photo by Susan Mills.
11.24.07
This is the last day of our two day break before the next set of Alvin dives and more pump recoveries and deployments. I've put up information about everyone's projects on board on the background website. There's even a drawing of where the EPR is. Also, there's some quick definitions of words I've used a fair amount in my logs.
Soon to come... more pictures. Please send me emails with questions and I will try to answer them in this section or on the background page.
REMEMBER: There are no such things as stupid questions! I don't expect anyone reading this to be excessively familiar with oceanography, physics or biology. So if something is too inaccessible or you don't understand, please let me know.
Also, requests for photos might help me decide which ones to post!
Happy Thanksgiving!
Today was probably the busiest day for us. First, we had AD 4369 which requires getting up really early. Next, we had to recover two pump moorings (two pumps each), preserve those samples and then get the pumps ready for the second set of deployments later tonight. Preservation means a lot of time in the cold room which burns a lot of calories so it's easy to get tired in there.
Next, the samples from Alvin (10 sandwiches and 6 blocks, the most we've had to process yet) were processed, taking about 3 hours. During that we had the other half of the Mullineaux group -- Ben, Carly and Lauren -- prepping and deploying the pump moorings.
Now, I don't think I've mentioned this before, but when each mooring is set down it is attached to a wire that lowers it to the bottom with a tracking device on it. This tracking device allows us to use navigation on the mooring to make sure we're placing it in the right place. It's a lot more accurate than just dropping it in the water and hoping it lands where we want it.
So, as a result each mooring takes about THREE to FOUR hours until we can deploy the next one!
The moorings we've been doing lately are on and off axis with the Ridge and the pumps at are at heights 3 and 75 meters above bottom (mab). We compare between the different depths and between on and off axis. We expect that the pumps off axis would have less larvae than those on axis.
Anyway, it's been a very busy day and it's not over quite yet! But we did manage to have a turkey dinner thanks to the galley crew (steward, cook and messmate).
I was able to call my family today and that was very exciting.
Before I end my entry, I'd like to urge any students reading this to please email me questions. You must have a ton, especially since I haven't had a chance yet to explain what LADDER means or what a CTD is, stuff like that. Plus, I haven't been able to put up all the deployment pictures yet. So, e-mail me.
I'm schedule to dive in Alvin next week, but we'll see what the weather brings us, I'm crossing my fingers.
Hope everyone enjoys their break from school. Study hard!
11.20.07
The past few days have been busy with deployments and retrievals of moorings, pumps, the microprofiler and CTD casts. Below I've posted a picture of one of the recruitment sandwiches that were set out during the LADDER II cruise back in December 2006 at P Vent. You can see the vestimentiferans, or tube worms that have settled onto the sandwich grew into adults. Check the map to see P Vent's location.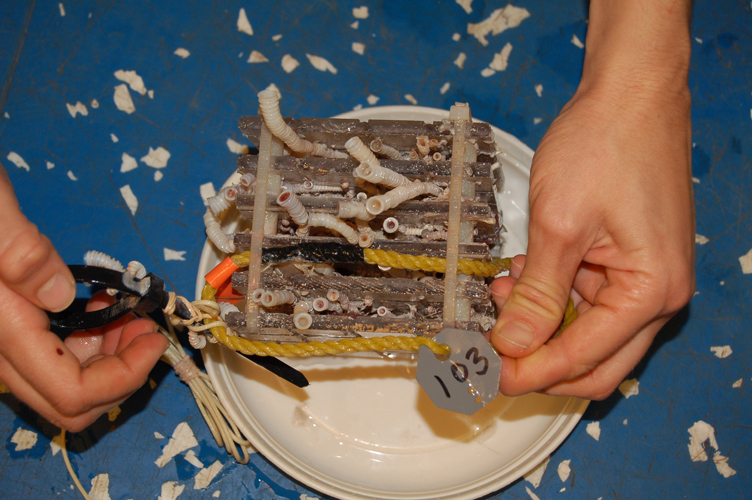 Photo by Susan Mills of the Mullineaux Lab (WHOI).
Later on during the cruise I'll provide definitions and pictures of the microprofiler, the CTD and what LADDER is all about. In short, the LADDER cruises (I, II and III) study larval dispersal of deep sea hydrothermal vent organisms on the East Pacific Rise. Please e-mail me with specific questions for now (especially if you're a student, I'm sure your teachers encourage you to). Check the Calendar for scheduled activities.
11.17.07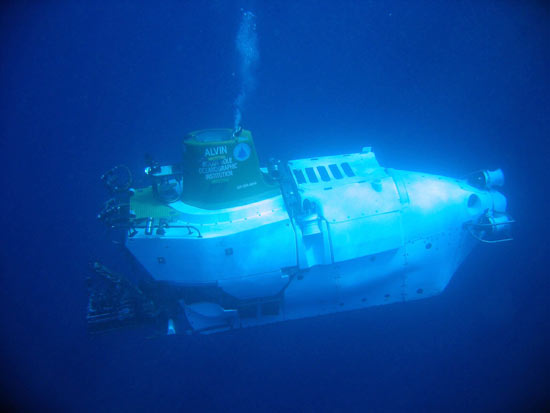 DSV ALVIN. From WHOI.
Today was the first Alvin dive of the cruise. On the WHOI site it'll be listed at AD 4366. Susan and Ben were the Port and Starboard observers with Bruce as the pilot. Some pictures will be up shortly.
In addition, the sediment trap came up showing a year's worth of larvae and particles that had been caught on their way down to the bottom.
When the sub came up we had to sort through the recruitment sandwiches, sieve the contents that fell off and take pictures. I had to work in the cold room looking through the sieve samples before they were preserved in ethanol to find Ctenopelta porifera and Lepetodrilus tevnianus for my senior thesis project. I had to put them in formalin instead of ethanol.
11.16.07
So folks, after some delay, I am finally able to post again. This time, it will be relatively substantial. It's important to note that after the cruise I will be able to upload more photos and refine some of the other pages. Here's a run down of the previous few days:
11/16 - We deployed two sets of moorings today! One on the ridge axis, one off. Each mooring has two pumps at different set distances from the bottom. Because we are unsure if the moorings landed in the correct locations (or within 20 meters of it), we will use the RSV ALVIN to ensure that the moorings have landed in the right spots.
11/15 -Arrive at site a little after 1100. We collect a current meter mooring that has been set out on the EPR for a little over a year. We do our first sets of CTD casts and testing of the microprofiler. (MORE ON CTD AND MICROPROFILER to come!)
I might be able to show some of the data.
The Mullineaux Group spends most of the day prepping the pumps for our deployments tomorrow.
Also, a pod of pilot whales was spotted off the port side of the ship. There were about 7 of them.
11/14 - Still in transit to our site, smooth sailing...
11/13 - We set sail and are in transit to our site at 9 N on the East Pacfic Rise.
11/12 - A few last minute details to attend to before setting sail at 0900 on November 13th.
11/11 - Continued to unpack and prep set up the lab for science! One of the experiments we're setting out are recruitment blocks where larvae of worms, snails, and other invertebrates settle near the hydrothermal vents.
11/10 - My arrival in Mazanillo! Mostly unpacked and enjoyed the place. We stayed at the Colonial Hotel.
11.11.07
Arrived in Manzanillo, Mexico yesterday. Today we spent most of our time unpacking.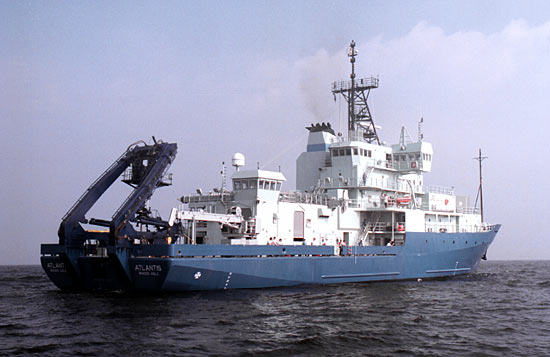 R/V Atlantis. From WHOI.
11.09.07
I leave for Mexico tomorrow, check for updates in about a week or so.