Meet the Team
Dr. Natalie Nevarez
Chief Diversity, Equity, and Inclusion Officer
natalie.nevarez@whoi.edu
(508) 289-2699
Dr. Natalie Nevarez is a diversity, equity, and inclusion (DEI) leader and scholar known for her comprehensive and data-guided approach to enhancing diversity and promoting inclusivity in academic and research institutions. In August 2021, she was appointed as Chief Diversity, Equity, and Inclusion Officer (CDEIO). Natalie earned her Ph.D. in Biospychology (Behavioral Neuroscience) from the University of Michigan (UofM) and completed her postdoctoral fellowship in Psychiatry and Behavioral Sciences at Stanford University. During her time at UofM and Stanford she played a key leadership role in the organization of community-wide diversity initiatives.
Prior to joining WHOI, Natalie served as the Associate Director for Faculty Diversity and Development at Columbia University, Faculty Arts & Sciences, and as Development Manager for the Fellowship for the Future for the science non-profit 500 Women Scientists-a grassroots organization dedicated to promoting diversity and equity in science, and empowering women scientists to serve as leaders and advocates in their communities.
Reporting directly to the President and Director, Natalie is responsible for developing and implementing a comprehensive strategy to enhance diversity, equity, and inclusion across all members of the WHOI community.
Dr. Julie Huber
Senior Scientist, Marine Chemistry and Geochemistry
jhuber@whoi.edu
Julie is a Senior Scientist in the Marine Chemistry and Geochemistry Department working to advance knowledge of the deep ocean. She is interested in how basic earth processes- rocks forming, fluids moving, sediments accumulating- interact to create and maintain microbial life in the deepest and darkest parts of the ocean. Julie has led and participated in ocean expeditions around the world using deep submergence technology, and she also enjoys mentoring the next generation of scientist and communicating their work to others. Through these efforts and her work with the CDEI, she hopes to make her lab, WHOI, and the fields of ocean science and engineering more diverse, equitable, accessible, and inclusive.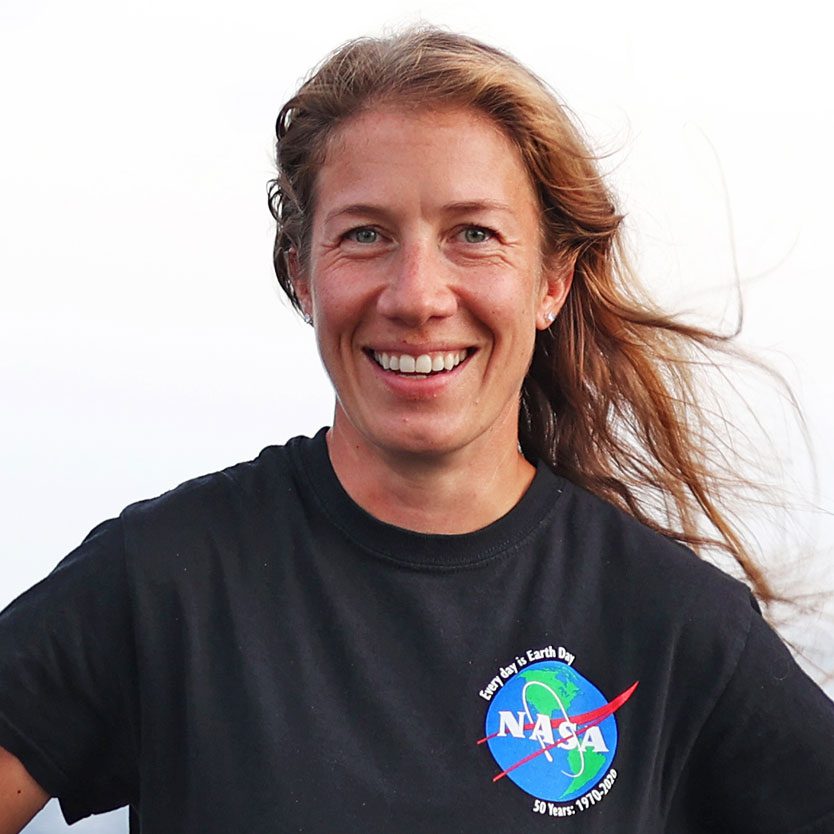 Dr. Catherine Walker
Associate Scientist, Applied Ocean Physics and Engineering
cwalker@whoi.edu
Catherine is an Associate Scientist in the Applied Ocean Physics and Engineering Department studying ice-ocean interactions on Earth (in places like Antarctica) and in space (on planets like Mars and Ocean Worlds like Europa). Before coming to WHOI she received her Ph.D. in Atmospheric Oceanic and Space Sciences from the University of Michigan, and completed postdocs at Georgia Tech and NASA's Jet Propulsion Laboratory. Her overarching research goal is study how changes in physical environment modulate or drive morphological changes and surface feature formation on Earth (glacier loss, sea level rise) and planets (habitable niches) using satellites, developing new technologies, and modeling. Catherine has participated in field and ocean expeditions in far off places, and she is committed to mentoring the next generation of scientists and engineers in the process. As a long-term member and current co-chair of the CDEI, she hopes to help WHOI lead the way in becoming a more equitable, inclusive, and diverse place where the spirit of exploration thrives in everyone.
Alexandra Padilla
WHOI URGE Postdoctoral Scholar, Applied Ocean Physics and Engineering
alexandra.padilla@whoi.edu
Alexandra (Alex) Michelle Padilla joined WHOI as a joint WHOI-USGS Postdoctoral Scholar in August 2022 and was awarded the WHOI URGE Postdoctoral Extension in March 2023. Before joining WHOI, Alex received a Ph.D. in Ocean Engineering at the University of New Hampshire and a B.S. in Mechanical Engineering at the University of Puerto Rico - Mayagüez. As a research scientist, she focuses on understanding bubble dynamics and how we can use new technology to sense gas dissolution in the ocean. In addition to her scientific work, she dedicates time to DEI efforts with academic institutions. During her time at UNH, she was a co-pod leader for the Ocean Mapping and Engineering pod and a co-developer of an interactive BIPOC resource map that was designed for BIPOC community members at UNH. Currently, at WHOI, she is member of the CDEI Undergraduate Recruitment Working Group.