Overview
In planning for a cruise there are many issues that must be addressed in advance
to ensure a successful cruise. The following is a breakdown of the responsible
parties involved in planning a cruise using Jason. The figure to the right shows the
flow of information from the scientists to DSL personnel.
Chief Scientist
The Chief Scientist is the primary point of contact for DSL personnel to
become familiar with the objectives of the cruise. It is therefore of the utmost
importance that the Chief Scientist establish a good line of communication early
in the planning process to ensure that the appropriate actions are taken by the
operational group. First contact may be with the CSDS, but subsequent
information flow is primarily with the DSL POC and Expedition Leader
File cruise objectives via the Cruise Planning Questionnaire at an early stage in cruise
preparations
Enter all items necessary to accomplish science objectives in the
Questionnaire, including standard and custom science gear
Provide an outline of the cruise objectives in the Questionnaire
Contact and begin a dialog with the DSL POC to ensure that information from
the Questionnaire is discussed with lead personnel
Chief Scientist for Deep Submergence (CSDS)
May serve as first point of contact for potential ROV users
Will ensure user-operator communications are effective and that perceptions
of capabilites and operations are accurate
Will provide support and guidance to DSL POC in an advisory role as
operations plans mature
Deep Submergence Laboratory Point of Contact (DSL POC)
Central information point for all cruise related issues
Keeps cruise issues organized and coordinated
Initiates and coordinates communication between the Chief Scientist, DSL
lead engineers, Expedition Leader and Navigation and Data personnel
Coordinates all DSL operations logistics
Expedition Leader
Works with the Chief Scientist through the DSL POC and Cruise Planning
Questionnaire to gain a full understanding of the cruise objectives
Ensures that all of the science objectives listed on the Questionnaire are
addressed and understood
Ensures that all ROV gear necessary for a cruise gets aboard the ship
At sea, is in charge of all ROV operations including launch and recovery of
vehicles, safety concerns, and scheduling daily operations
Formal at-sea liaison between the Chief Scientist and operations team
Electrical and Mechanical Lead Engineers, Lead Navigation and Data Personnel
Within each area of expertise, ensures that:
all necessary supplies are available on board
spares are inventoried and ordered
science gear interface preparations are accomplished
necessary vehicle upgrades are performed
day-to-day engineering tasks are accomplished
pre-cruise information is provided to the Chief Scientist as necessary
Pre-Cruise Meeting
Based on input from the Cruise Planning Questionnaire
Intended to establish formal dialogue about cruise-specific engineering and
data requirements
Can be held at WHOI with the Chief Scientist and operational team and/or via
conference call
Minimally, the meeting is held three months prior to a cruise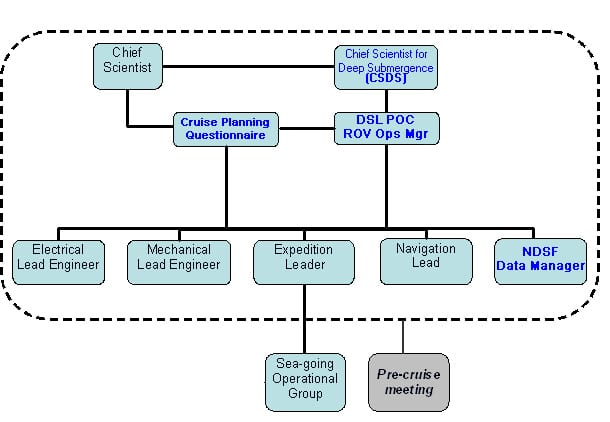 Flow of information in pre-cruise planning.