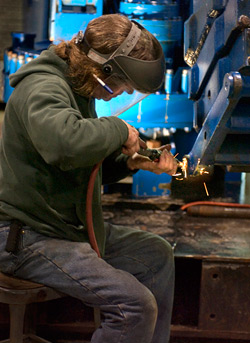 Related Links

The Mechanical Shop

consists of three different groups.



Instrument Group


The

Instrument group

is a fully equipped prototype machine shop with three-axis CNC milling capability and a CNC lathe. Its function is to design, (or assist with the design of), construct, modify, and repair precision components or assemblies of oceanographic instrumentation. The staff consists of highly experienced experimental machinists who are knowledgeable about the stresses induced by the oceanographic environment. Shipboard needs are also addressed when equipment repairs or installations are required on WHOI's fleet of vessels. This group can handle complex shaping and turning operations on ferrous and non-ferrous materials. In addition, complete capabilities, including welding, exist for fabrication of plastic components. A satellite shop resides at Clark South.



Mechanical Group


The

Mechanical group

staff has skilled mechanics who accomplish heavy repairs and installation of shipboard equipment including engines, generators, and winches. They assist with shore-side repair of the Institution's physical plant. Our mechanics assist the scientific staff with heavy construction of such scientific apparatus as mooring structures, dredges, and core samplers and lend a hand to the machinists by rough machining components.



Welding Group


The

Welding group's

capabilities include the ability to cut, form, and weld a wide variety of ferrous and non-ferrous materials. Heavily involved in shipboard repairs, installations, and cruise preparation , our welders are Mil-Std certified for shipboard pipe welding. Ultra-precision and delicate work is also part of this group's expertise as exhibited by the miniaturized welding done for stainless steel tubing on mass spectrometers. This shop is located in the Iselin building in the Village.