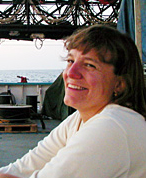 Related Files

Contact Information


Dr. Amy Bower
Physical Oceanography Department
MS #21, Clark 325A, Woods Hole, MA 02534
508.289.2781 office | 508.457.2181 fax
abower@whoi.edu



Research Overview


Observation and analysis of large- and meso-scale ocean circulation; structure and dynamics of western boundary currents; inter-gyre exchange processes; structure and dynamics of isolated vortices and their role in the distribution of water properties; marginal sea circulation and overflows; pathways and fluxes of the Atlantic Meridional Overturning Circulation; Lagrangian methods.


Related Links
Tracing the Pathways of Deep Ocean Currents with Acoustically Tracked Floats

Hidden Currents in the Gulf of Mexico
Five years after the Deepwater Horizon oil spill, RAFOS floats are mapping out the deep currents of the Gulf of Mexico

OceanInsight
Collaboration with Perkins School for the Blind

RAFOS Users Forum

AFB AccessWorld
Technology and People Who Are Blind or Visually Impaired

Guidebook for Visually Impaired Students
Resources for college-bound visually impaired students

WomenOceanographers.org

Future Reflections
"Testing the Current"
From the Editor: A few years ago I read a book called Seven Tenths: Love, Piracy and Science at Sea, by David Fisichella (Leapfrog Press, 2010). The author recounted his adventures on shipboard expeditions with his wife, Amy Bower, a blind oceanographer. Recently I had the pleasure of conducting an interview with Amy herself for Future Reflections.